posted on October 30, 2014
This place is written as [旧相馬株式会社ビル] in Japanese.
Soma Company building(相馬株式会社) is located near Bay Area, just opposite Hakodate City Museum of Northern Peoples. This was built in 1913 and has Renaissance like architectural style. 
Soma Company building is one of the important historical buildings in Hakodate also it is the Landmark in the west area of Hakodate city. When you walk around Shuehiro-cho, you will find a outstanding peppermint colored building, which attracts you to look at that even if you aren't interested in architecture. The streetcars running in front of it, you are going to feel the retro city of Hakodate.
Hakodate city is one of the fascinated city which is mixed with New and Old. Soma Company Building shows us as a good old one. Soma Company was founded by Teppei Soma in 1863, which dealt rice at that time. After that, the company dealt fishing or fishing products and real estate, he got huge money and spent his own funds to construct public buildings or facilities such as the former Public Hall of Hakodate Ward or Koryu-ji temple.
From Spring to Autumn, The retro streetcars called 'Haikara Go' are supposed to run just in front of the building. This is the most big chance for taking a picture with you. Don't miss it!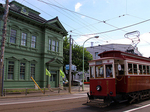 Access
 Take a tram to Suehiro-cho(末広町) and 2 min walk.
Neighborhood
The Former Soma Residence (旧相馬邸)
The Former Public Hall of Hakodate Ward(旧函館区公会堂)
The Former Branch Office of Hokkaido Government
Motomachi Roman Catholic Church
Hakodate Orthodox Church
Hakodate Episcopal Church of Japan
Foreigners' Cemetery
The Former Russian Consulate
Related Article