posted on October 30, 2014
This place is written as [旧函館区公会堂] in Japanese.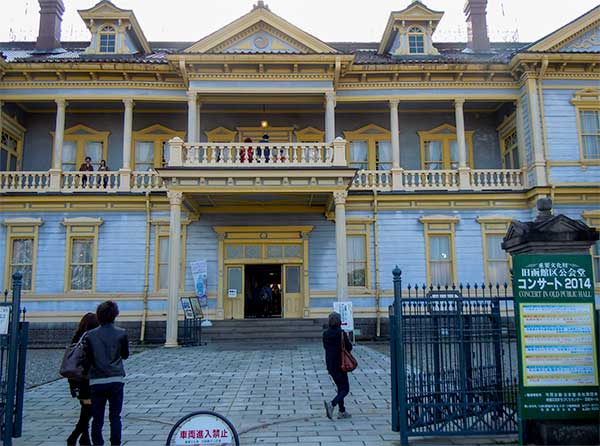 Closed to March 2021 due to repair-work.
The Former Public Hall of Hakodate Ward(旧函館区公会堂) is located in the foot of Mt.Hakodate, just above Motomachi Park.
This remarkable wooden building was founded with the contribution by a wealth marchant, Teppei Soma, his residence is just next this hall. Also located at the top of Motoizaka slope, it is so nice to see Hakodate city from the 2nd floor balcony.
As blue gray walls and yellow pillars, you will find the building easily. This is one of the popular sights in Hakodate sightseeing. The Former Public Hall of Hakodate Ward is completed in 1910, which is mixed with European and Japanese style. Without any advices for architect by foreigners, Japanese craftsmen and carpenters got through to make all of them. They had learned European style building and decoration as looking other buildings. So interior decoration is so beautiful that you realize the high quality technic of the Japanese craftsmen at that time. A room for honored guests was used by Japanese imperial family, which attracts you with splendid interiors. You can dress up with a rental long-dress for cosplay at Haikara Dress Shop(ハイカラ衣装館) and enjoy taking some pictures in an atmosphere of Meiji era. This is also a popular attraction for visitors.
Access
 Take a tram to Suehiro-cho(末広町) and 7min walk.
Open
April to Octover 9:00 – 19:00 November to March 9:00 – 17:00
Close
Admission Fee
Adult: ¥300 (group: ¥240)
Student/Child: ¥150(group: ¥120)
*Group admission fees apply to groups of 15 persons or more. When visiting on school field trips, even individual students can utilize group admission fees.
Discount ticket available for visiting more than two museums including these museum below:
The Former Public Hall of Hakodate Ward(旧函館区公会堂)
The Former British Consulate(旧英国領事館)
Hakodate City Museum of Literature(函館市文学館)
Hakodate City Museum of Northern Peoples(函館市北方民族資料館)
Visit Two museums available Adult: ¥500 Sturent: ¥250
Visit Three museums available Adult: ¥720 Sturent: ¥360
Visit Four museums available Adult: ¥840 Sturent: ¥420
Neighborhood
The Former Soma Residence (旧相馬邸)
The Former Branch Office of Hokkaido Government
Motomachi Roman Catholic Church
Hakodate Orthodox Church
Hakodate Episcopal Church of Japan
Foreigners' Cemetery
The Former Russian Consulate
Related Article