posted on October 28, 2014
This place is written as [旧相馬邸] in Japanese.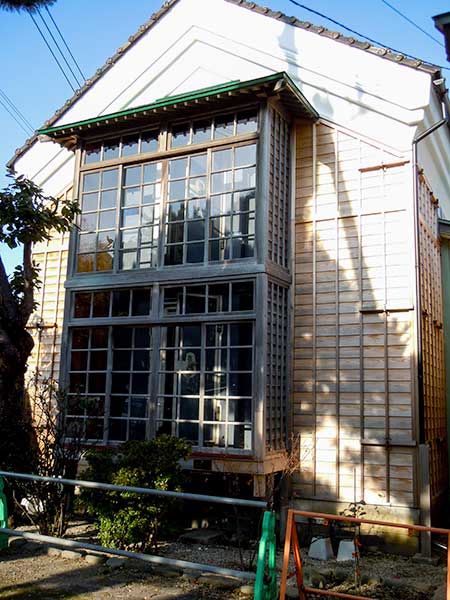 The Former Soma Residence is located in Motomachi next to Motomachi Park and upper site next to the Former British Consulate.
Teppei Soma (相馬哲平), the founder of the residence, who was from Echigo in the end of Edo era, now Niigata prefecture, came to Hakodate in 1861 when he was 28 years old.
At that time, Hakodate was just in Hakodate War, where Takeaki Enomono and Toshizo Hijikata were fighting the Meiji government troops. He saw people running away from the war and thought rice price higher than ever before after the end of war. He bet it and won it. He piled up vast money. After that, he invested fishing of herring, which brought more money and he became to be a man of the greatest wealth in Hokkaido.
He dedicated to build some public facilities by his own money such as Old Public Hall of Hakodate Ward, Hakodate library and so on. He is one of the most famous person of Hakodate. The former Soma Residence was built from 1908 to 1911. The residence is dominating British Consulate. It is the rare case for foreign consulates is located in lower-site than one of citizen's house in Japan.
Access
Tram: Take an tram to Suehiro-cho-dentei(末広町電停) via Hakodate Doc mae (函館ドック前行) and 5min walk.
Bus: Take a No.1 bus to Kokaido-mae (公会堂前) via Koryu-ji-mae (高竜寺前行) and 3min walk.
Admission Fee
Adults: 900 yen
University students: 800 yen
High school students: 500 yen
Under Junior high school students: ¥300
75 years old and above: 700 yen
handicapped person: 700 yen
repeaters: 700 yen
free coffee and maccha tea for visitors at cafeteria which have you a nice view of Hakodate city.
Open
Closed
every Wednesday and Thursday
4th November – 25th Spring
Contact
TEL: 0138-26-1560
FAX: 0138-26-1646
E-mail: info@soumatei.com
If you need a explanation  by sign language or Korean language, make a reservation in advance.
Facilities
cafe
rental rooms for tea ceremony and other events
Paintings, documents and antiques
Neighborhood
Old Public Hall of Hakodate Ward
Old Branch Office of Hokkaido Government
Motomachi Roman Catholic Church
Hakodate Orthodox Church
Hakodate Episcopal Church of Japan
Foreigners' Cemetery
Old Russian Consulate
Related Article