posted on September 26, 2017
This place is written as [知床観光クルーズ船] in Japanese.
Foods, Wild Nature, Mount Climbing, Treking etc,. There are many things to enjoy Shiretoko. But there is a thing I want to do, Shiretoko Cruising. It is a tour to see Shiretoko peninsula by a small cruiser. I want to see the top of Shiretoko peninsula at least once of my life.
Shiretoko is derived from Shirietoku by Ainu, which means "End of Earth". Yes, Shiretoko is the end of East Hokkaido.
Shiretoko is one of the national park in Japan, that is designated UNESCO World Natural Heritage site in 2005. It is strictly banned to enter the park without special permission so that we can not get inside freely. Some major sightseeing courses are to walk around Shiretoko Go-ko, five ponds and climbing Mt.Rausu. If you want to go to the end of Shiretoko Peninsula by walk, you can not. The only thing is to watch it from the sea. That's why I got Shiretoko Cruising.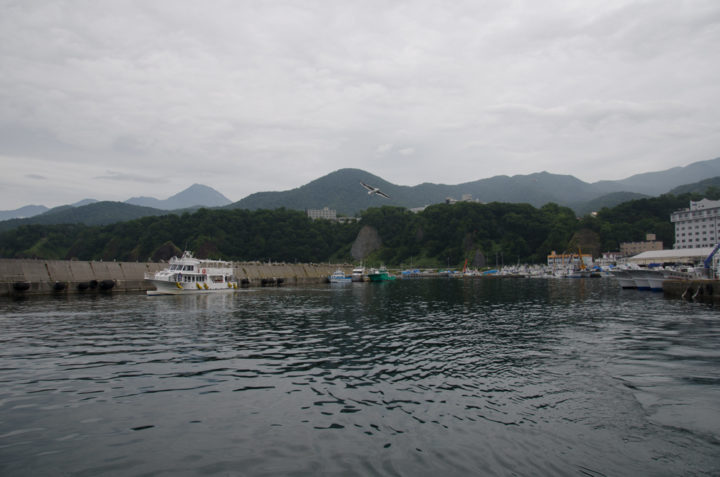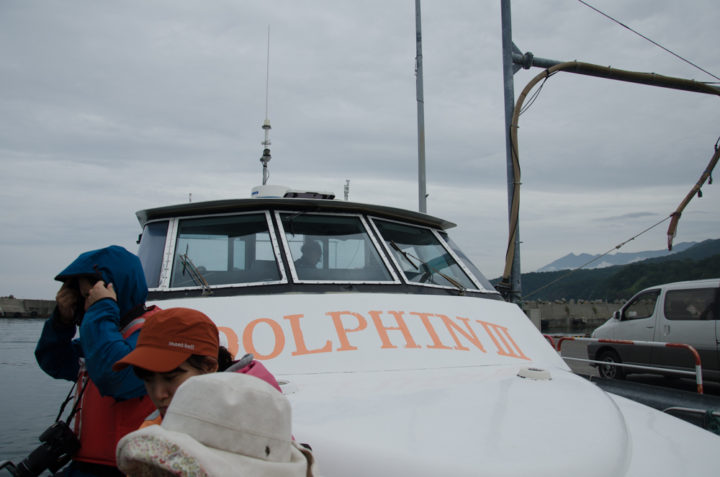 Shiretoko Sightseeing Cruiser Dolphin, I chose, is a small cruiser, max 48 passengers, leaving port at Utoro faced the sea of Okhotsk. There are other cruisings at Rausu, the opposite side of Shiretoko faced the Pacific Ocean.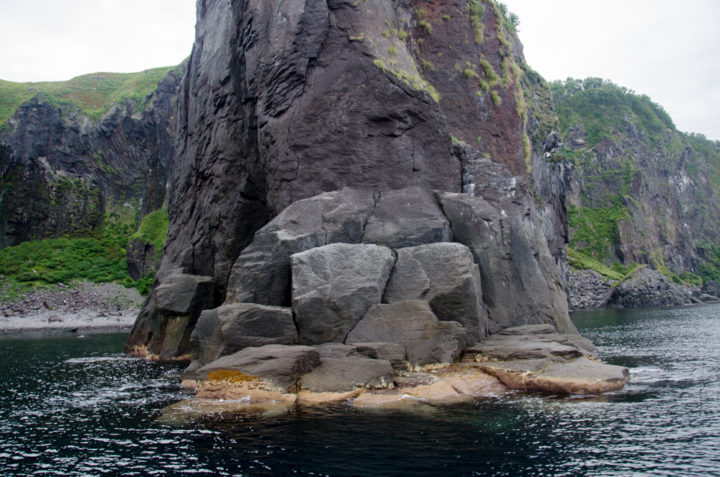 There are five companies which operate Shiretoko cruising tours, mostly 1 hour to 3 hours. I took a 3 hour cruising via the top of Shiretoko peninsula, cruising beside the coastline closely and watching not only falls and strangely shaped rocks, also wild animals like Higuma = brown bears or deers on the land and dolphins or whales on the sea. Only The small cruiser can do to close the coastline avoiding shore reef. This is a big advantage for 3-hour full Shiretoko Cruising.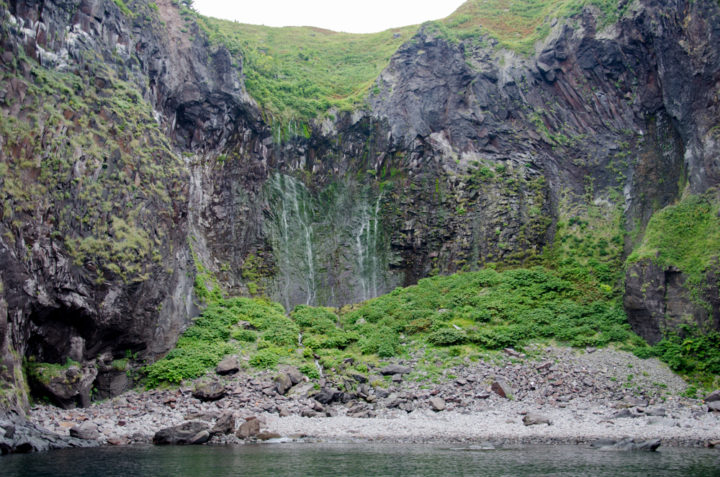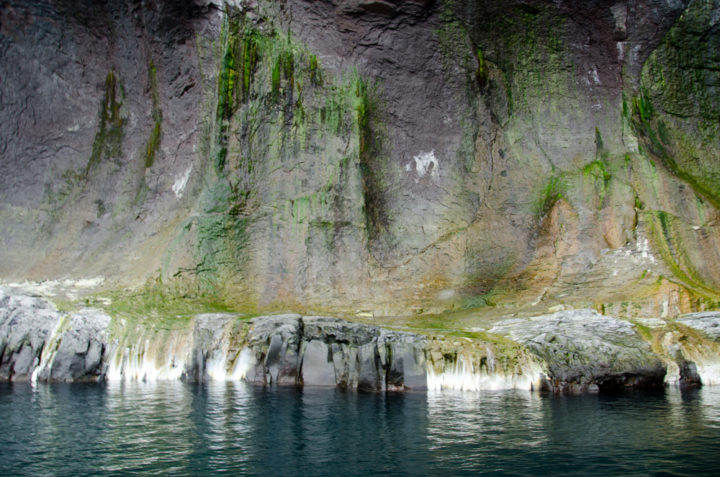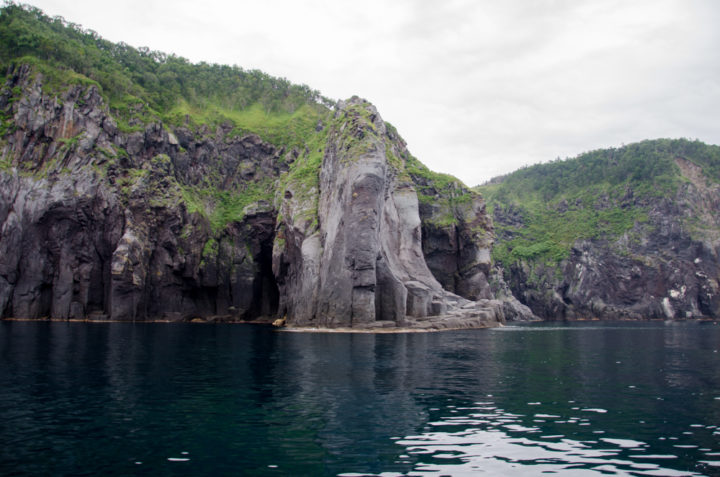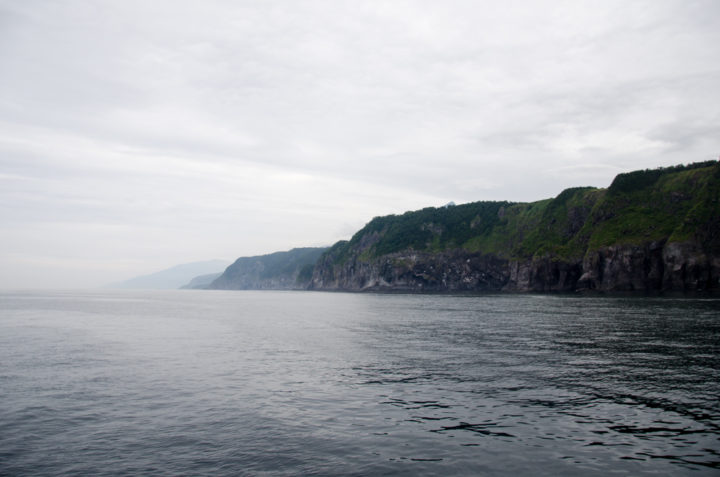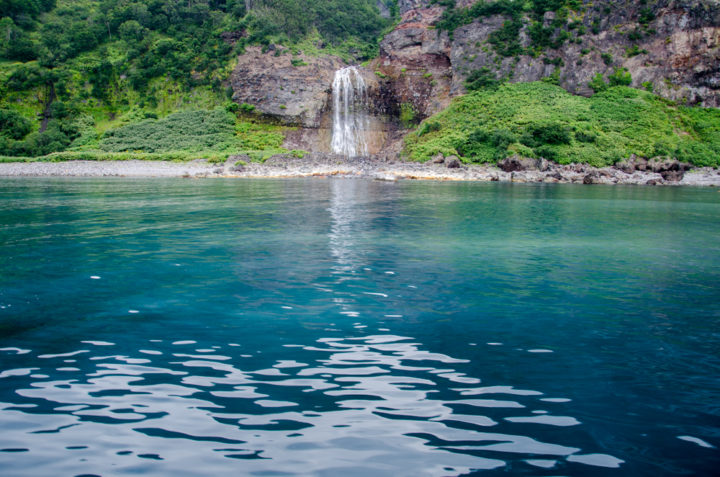 On the evening of August 23, 2017, we could meet one higuma, deers and dolphins(Phocoena dalli) by luck. It seems that Higuma comes up to capture salmons which are swimming upstream to lay their eggs. A cruiser's guide said to watch some higumas every day so today was lucky day as well.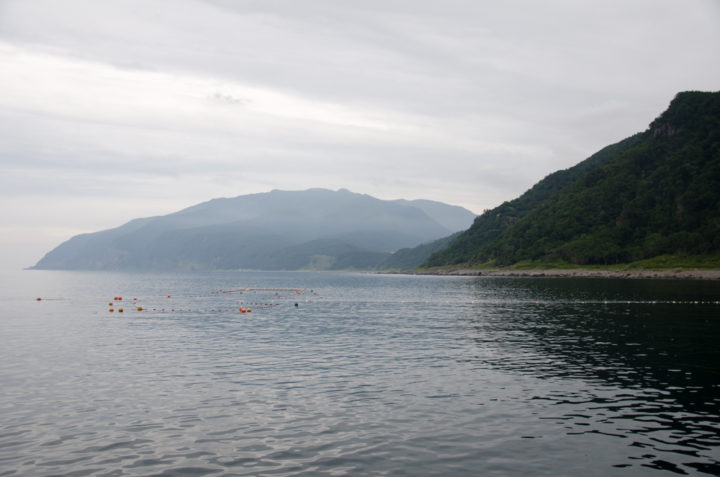 When our cruiser got through the half of peninsula, the coast flatten there and there is a small river. The guide announced, 'I found a higuma visible in the very far distance like a bit of sesami. Did you find that?'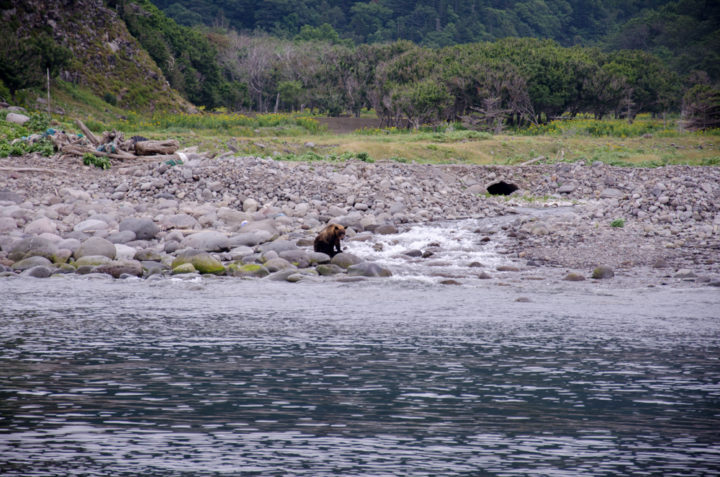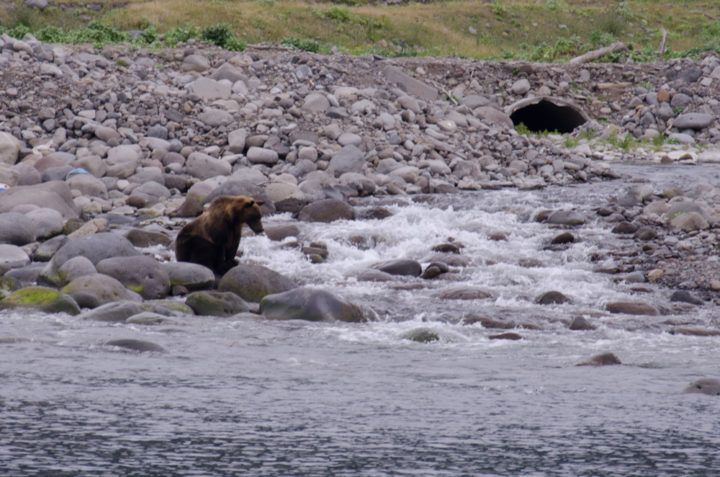 The cruiser was closing to the bear. He was not moving just watching the river to get salmons. He is really like a ornament bear. Also we found other wild animals, Ezo-shika, four Hokkaido deers far opposite side from the bear.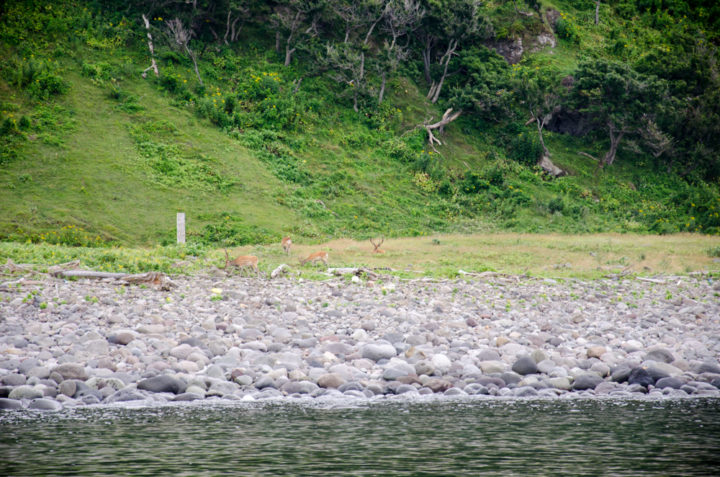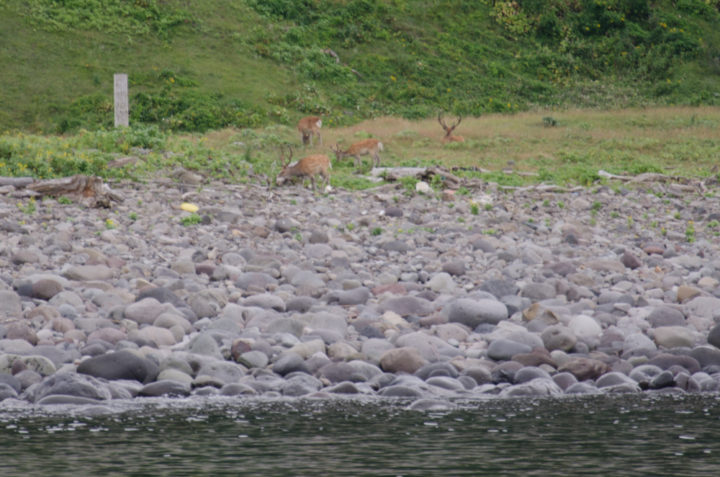 There are several fisherman's house called 'Banya'. Fishermen used to stay in Banya when they catch salmons from summer to autumn.  They set a fixed shore net along river mouth. It seems their single net set usually get 10,000,000 yen = 90,000 dollars a day for salmon and trout. Utoro fishermen get income for one year by catching salmon. The net is settled widely-opened toward the sea and get salmons closing to the coast-river. The end of the net is rectangular-shaped and once salmons get inside they never go out. The many salmon are pooled in the last square net which Utoro fishermen called 'Cashbox'. I agree its name, which brings a big money at one night.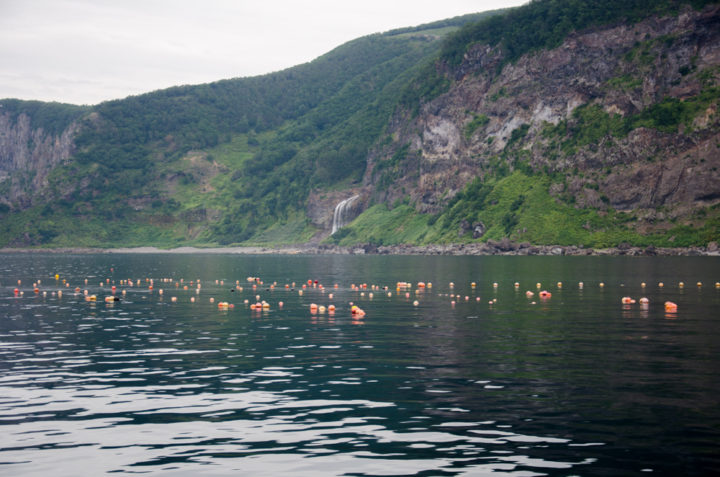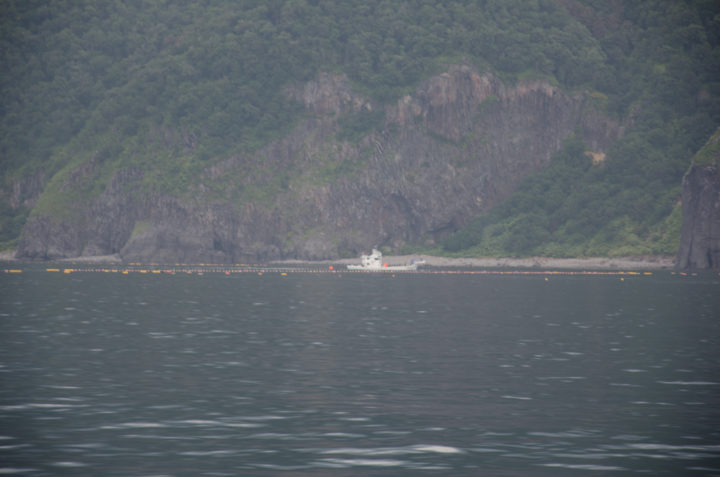 Our cruiser was about to the top of Shiretoko peninsula. This is the end of earth, 'Shirietoku' named Ainu, now it is called Shiretoko. There is a flat site like a golf course without tall trees. I wonder strong winds blow through all the year.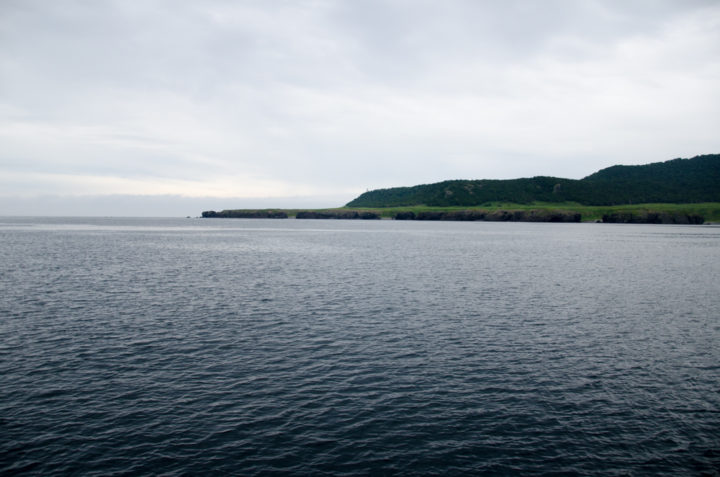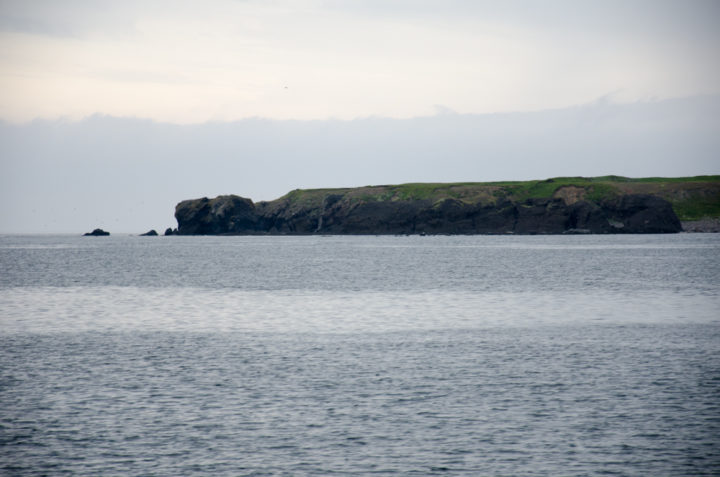 Another 30 minutes cruising to the east, we could cross over the border with Russia, Japan takes a strong stand on denying this border. Because Northern Territories are the Japanese inherent territories.
The cruiser turn back to the Utoro port at this point not to go more east. It would spend 2 hours.
It fell a dead calm. Clouded sky with some blue, which the sea reflected like a mirror at the horizon.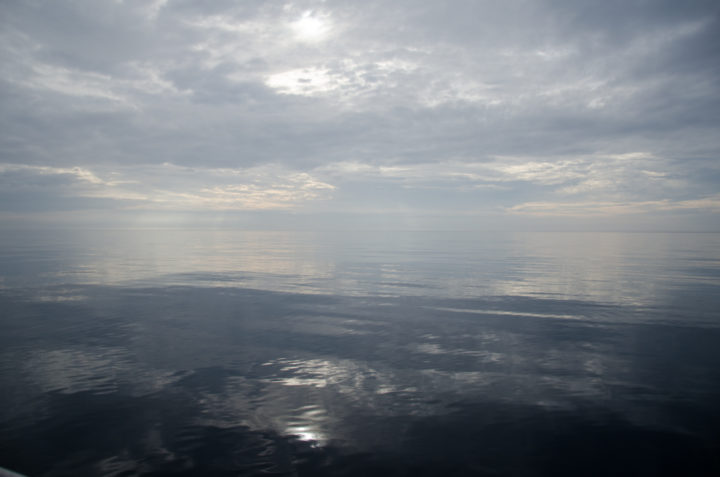 Suddenly some wired waves crossed over the running direction. The guide announced there are many dolphins over our cruiser. We can't recognize their entire bodies so that we don't know how they looks like. But we can see their swimming getting through the surface as drawing an arc right in front of us. This is the moment that I felt the wild nature of Shiretoko.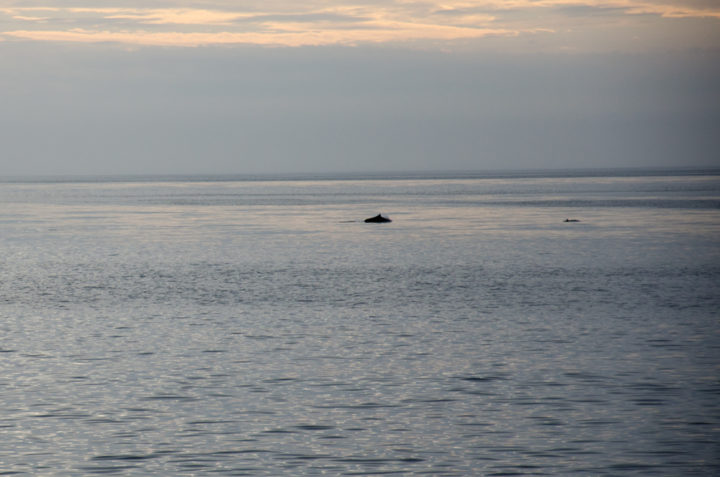 Our cruiser got home at 17 o'clock. It is beautiful to see Oronko rock from the sea. We got an occasional rainfall, but this was the day for the best cruising.