posted on September 13, 2014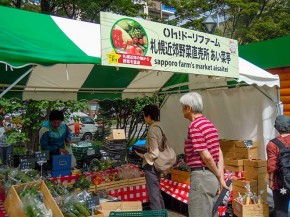 Sapporo Autumn Fest 2014 started on Sep, 12. It lasts until Sep, 28. Each venus is opened from 11:00 to 21:00, Fri, Sat, Sun: 11:00 to 21:30. In Odori 10 Cho-me, Some Agricultural products are displayed in a small booth and some local foods such as 'Butadon' of Obihiro's major dish. *Donburi >>> see this article, 'Japanese All in One Dish: Donburi(どんぶり,丼)'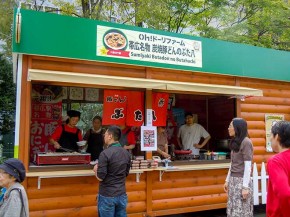 This is a Butadon booth really famous even though in Sapporo. Soy sauce flavor and juicy poke raised in Obihiro, you should try one if you were there.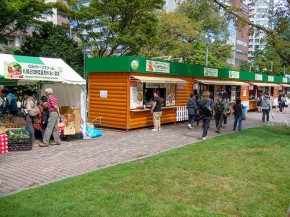 Opening from 11:00 to 21:00, it is the first day of Sapporo Autumn Fest 2014, People were getting together their favorite booths.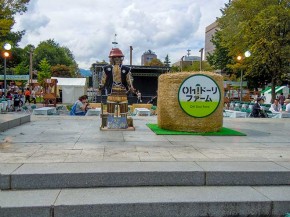 What a funny Samurai is here. He is Kuroda Kanbei made with straw. NHK Taiga Drama, the drama that is mostly depicted about the historical person such as some Samurai living in the Edo period, Kuroda Kanbei was one of the feudal lord who served the Shogun at the time such as Toyotomi Hideyoshi or Tokugawa Ieyasu. He is the most notable strategist at the Age of Civil Wars. Why he is here? I don't know. NHK is one of the sponsors, I guess.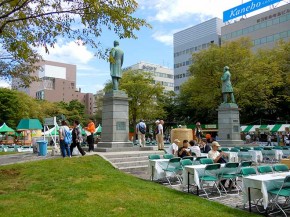 There are many tables in each venues. A nice weather and cool winds. This was the day for coming.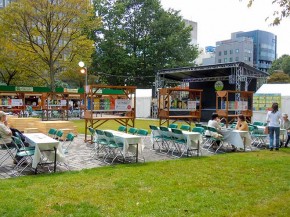 Also a small stage is sitting. Maybe, some Jazz band or rock music are going to play. Saturday or Sunday, there must be many many people here.
Access
Odori 10 Cho-me
Related Article