posted on September 12, 2014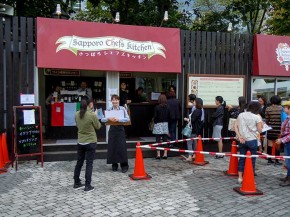 Sapporo Autumn Fest 2014 started on Sep, 12. It lasts until Sep, 28. Each venus is opened from 11:00 to 21:00, Fri, Sat, Sun: 11:00 to 21:30. In Odori 11 Cho-me, there are many booths which are representing their towns. They are displaying their local foods or special products side by side. A long line in front of Sapporo Chef's Kitchen, it must be a popular booth in this venue.
On the other side, I found a something new one, 'Kushiro ajillo'. What is 'ajillo', I wonder and asked a staff about it. He said, 'Ajillo is a Spanish dish, so It's a kind of 'Oden' in Japanese. But, it's olive oil taste not soy sauce.' Uuuuum, Maybe, I should eat one to understand 'Ajillo'. Good flavor and gorgeous stuffs such as marine products of Kushiro and other local vegetables and meats, fascinating some young ladies.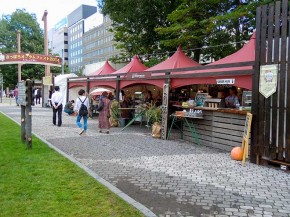 In the standing bars, people were eating something to nibble with their beers. Nice weather in spite of terrible rain yesterday, this is the day to enjoy Autumn Harvests.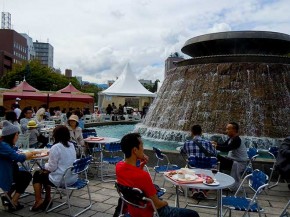 As the nice weather, there are many visitors here. Of course, many foreign tourists, too.
Good vegetables and fruits are for sale. A small watermelon was really nice. It must be sweet enough and time to eat.
Access
Odori 11 Cho-me
Related Article