Weather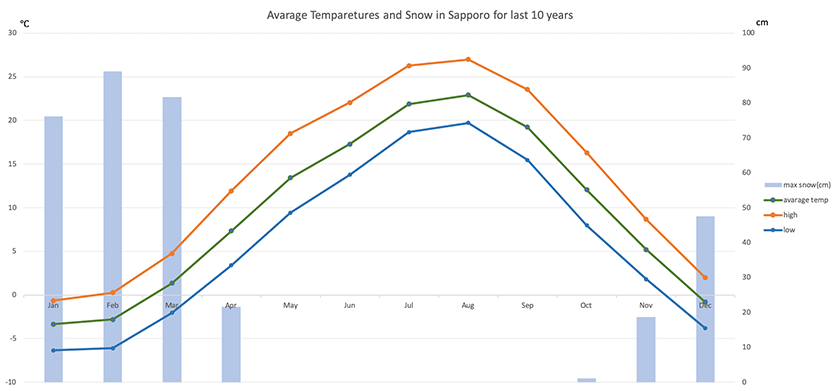 Popular Sights
Historical Place
Museum
Onsen
Park
Ski
Stadium
Temple/Shrine
Foods
Shopping
Information
Transport
ATM/Exchange
Driving
About Sapporo
population: 1,970,052 [Nov,1 2019]
Sapporo is located in the west central part of Hokkaido, the 5th largest city in Japan and has a lot of tourist attractions, enticing millions of visitors all the year. The capital of Hokkaido, northern-most prefecture in Japan, which functions as the hub of the island in the fields of politics, culture and economy.
Relatively newly developed city, the development commission and government of Hokkaido prefecture, which is called 'Kaitakushi', was established to explore the undeveloped land of Hokkaido, so that its main office was settled in Sapporo in 1871.
Unlike any other city in Japan, the streets are laid out in checkerboard fashion like New York City and are also named and numbered consecutively. This is the newest city in Japan and its citizen have been get together to live here from several prefectures of Japan, which has been creating a unique culture in this country.
Sapporo is the air gateway to Hokkaido, a starting point for a tour of the island. With its two airports––New Chitose, actually in Chitose city, and Okadama––the capital city is conveniently connected to Honshu, the main island, as well as to the main cities of Hokkaido. The city is also linked with Hakodate, Asahikawa and Kushiro by JR trains or air planes, which are also major cities of Hokkaido.