posted on February 12, 2020
This place is written as [円山公園の桜] in Japanese.
Maruyama park is the most popular site for cherry blossoms and Autumn leaves in Sapporo. You can also enjoy cafes and sweets around Maruyama Park.
About "Ohanami", viewing the cherry blossom in Maruyama Park
Maruyama Park is one of the most popular site for viewing Sakura in Sapporo. Sakura viewing is usually from the beginning of May here in Sapporo called "Golden Week" all of Japan.
People can enjoy BBQs in the park only these period, usually it is banned to use fire in the park. Many families and groups are coming so that it is very crowded at the weekend and holiday. People used to take painful efforts to occupy their places as early as morning or even through the night.
History
Yoshitake Shima(島義勇) is said to be a founder of Sapporo city in the Meiji era, around 1870s. He was appointed to a development magistrate of Hokkaido and he had made a huge contribution for developing Sapporo and Hokkaido before he was fired as long as just 100 days.
After that, Shima came back his home town, Saga prefecture and then he plotted Saga revolt against the government with his company Shinpachi Eto. He failed his war and both were beheaded and showed on public display.
Meanwhile Sapporo citizens were deeply indebted to Shima, but they were not able to praise his merits publicly even after his death because he was a rebel against the Meiji government. Senkichi Fukutama who had been a Shima's assistant as a local guide, decided to plant 150 sakura trees in the shrine's path for mourning his death.
These sakura trees have been splendidly growing and Maruyama park has became a prominent site for viewing the cherry blossom in Sapporo. There are some variety of sakura, not only Ezo-yamazakura but also "Somei-yoshino", "Kasumi-zakura", "Miyama-zakura" and so on. The diversity of Maruyama's sakura was very appreciated by Ph.d Manabu Miyoshi, Tokyo University at that time.
Some pictures of the Meiji era shows so many people had viewed the cherry blossom and made boisterous and drunken merrymaking which are seen the same as these days in Maruyama park.
There was a sample sakura tree for watching the first blooming in Maruyama park. After 2012, the sample tree was replaced to the Sapporo meteorological observatory garden's one.
Shima was granted a general amnesty in 1889 and awarded for his prominent efforts in Sapporo and Hokkaido. The monument of his honor is set up in the park and his bronze statue is also settled in Hokkaido Jingu. He used to be called "Hangan-sama" friendlily by locals. A Japanese confectionery called "Hangan-sama(判官さま)" by Rokkatei, a famous sweets company of Hokkaido, which you can find in the rest house of the shrine. It's a soft rice cake with azuki-beans and buckwheat flour, which is the limited product only for the rest house here and Rokkatei Maruyama shop so close from here. (see around Maruyama park below)
Cherry blossom trees of Maruyama park have been loved by locals more than 100 years which Yoshitake Shima made it happen.
More, you can enjoy walking in the Maruyama primeval forest just next to the park. You will see the small mountain called Mt.Maruyama and a small temple behind the woods where is the entrance for Maruyama Hachijyu Hakkasho(円山八十八箇所). You can walk to the top of Mt.Maruyama for 30-40 minutes.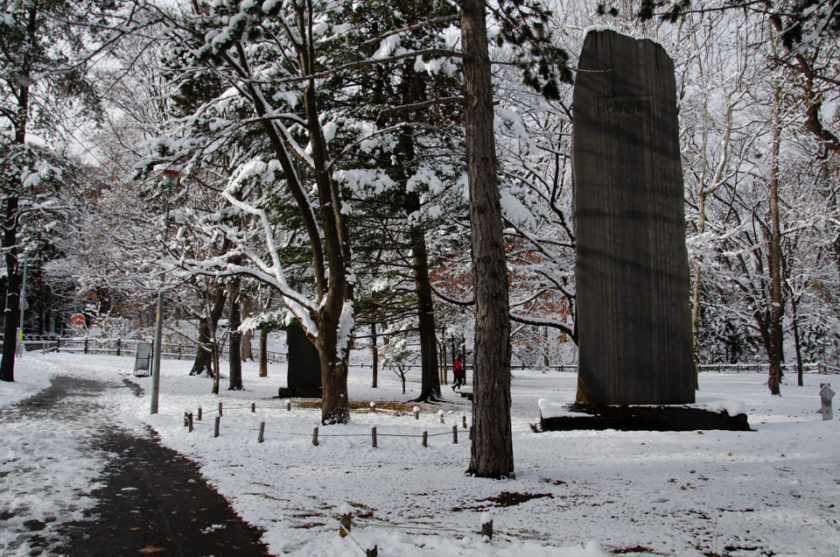 Access
Take a Tozai-line to Maruyama park(円山公園) and 5min walk
Parking
no parking in Maruyama park
It is available for free 1 hour parking for a visitor to the shrine to park Hokkaido Jingu parking.
Your parking ticket need to be accepted by ticket stamper at the guardian office just left behind the shrine's gate.
Minami-ichijo Parking
This is the best, because Kita-ichijo parking is usually crowded especially some events are held. You'd better to enter the parking from Maruyama Zoo.
Kita-ichijo parking
Usually very crowded on new years day or holiday and weekend. You may wait more than hours. Go to Minami-ichijo parking. Even if new years day, you can park less than 30 minutes.
Around Maruyama Park
Hokkaido Jingu
Hokkaido Jingu is one of the most famous sightseeing spots in Sapporo. Hokkaido Jingu(shrine) is located at the west end of downtown Sapporo, called "Maruyama(円山)".
Starbucks Coffee Maruyama
Across the Miyanosawa-dori, north side of Maruyama Park. Another Starbucks is in Maruyama Class.
French Restaurant Moliere
Michelin guide 3 stars restaurant.
Maruyama Hachijyu-Hakkasho
This is a small mountain climbing. It takes about 40 minutes to the top of the Mt.Maruyama. You have to prepare especially your shoes, trekking shoes or climbing shoes better. The area, 'Maruyama Genshirin' 円山原始林 is primeval forest. You can experience an untouched forest left in the urban city.
Maruyama Zoo
The Zoo is located to the opposite side of Hokkaido Shrine. As you leave behind the Shrine, take the right side path to the parking for Urasando. Through the parking, you will see the small building of Maruyama Hachijyu-Hakkasho in the woods. Then you go up to the right way for Maruyama Zoo. It takes within 5 minutes by walk. Maruyama Zoo has been renovating its old facilities so that many people have been coming back here not only families but also young couples. Asahiyama Zoo in the city of Asahikawa became the most famous zoo in Japan. But Maruyama Zoo has been making efforts for presentations recently. Very fun!
Maruyama Baseball Stadium 円山球場
Next to the Shrine, amateur baseball games take place here such as the high school baseball games. It has over 70 years-history so that many professional baseball games were held here before Sapporo Dome was built.
Maruyama athletic field 円山競技場
Next to the Maruyama Baseball Stadium. In winter, you can play skating. There are rental equipments for skating.
Miyakoshiya Coffee Shop 宮越屋珈琲
When you come back to the subway station, you may drop in at the coffee shop. Walking down along with the 'Urasando', you will find a chic building.
see Miyakoshiya Coffee Shop WEB site (no english site)
Rokkatei 六花亭
This is one of the most well-known old-established store in Hokkaido. The shop is so familiar that it's crowded all the time. They have not only some old fashioned Japanese cakes but also new modern sweets.
coffee shop : 10:30-18:00
Maruyama Class 円山クラス
Starbucks Coffee, Miyabun(宮文) blade shop, Fashion, Foods, Interior, Books, Restaurants, 100 yen shop are there.
MORIHICO.(森彦) Coffee & Something
Morihico is one of the best coffee shop in not only Sapporo but also Hokkaido or Japan. Since 1996, Morihico has started a small coffee shop in Maruyama which is the old wooden house. The founder, Sosuke Ichikawa renovated the house and opened as a coffee shop. Now his coffee has been growing up as a NO.1 coffee in Sapporo. This is the memorial first coffee shop. Enjoy and relax taking a break here.
Yoneya 米屋
Old-fashioned Japanese sweets, called 'Wagashi(和菓子)'. Yoneya is one of the old-established store in Sapporo. If you want some Japanese traditional sweets, this is the best. It's worth visiting.
Photos of Four Seasons
Autumn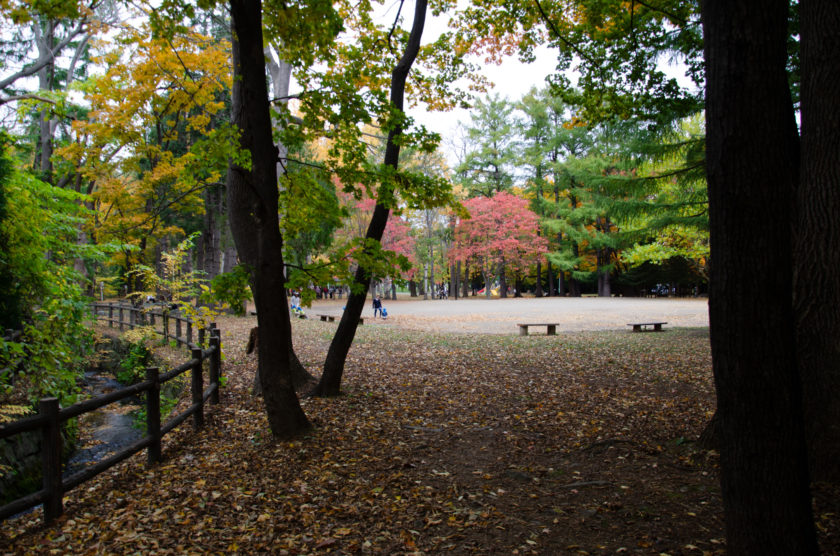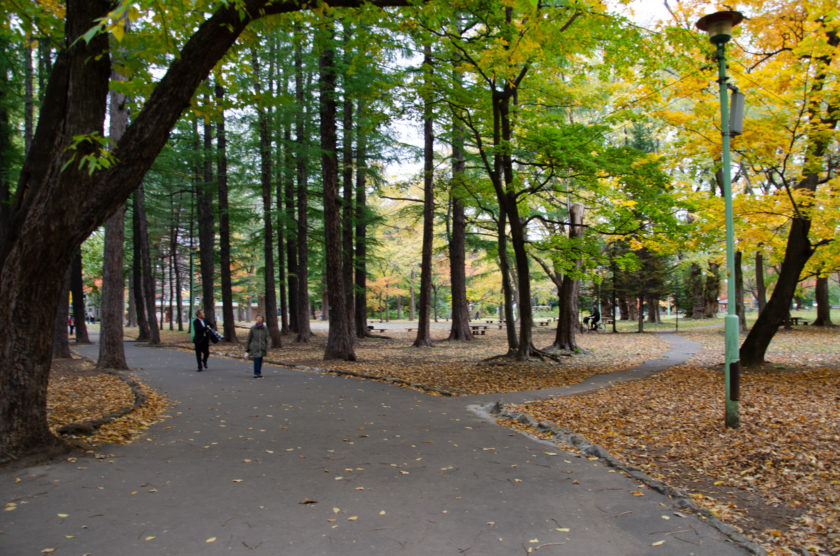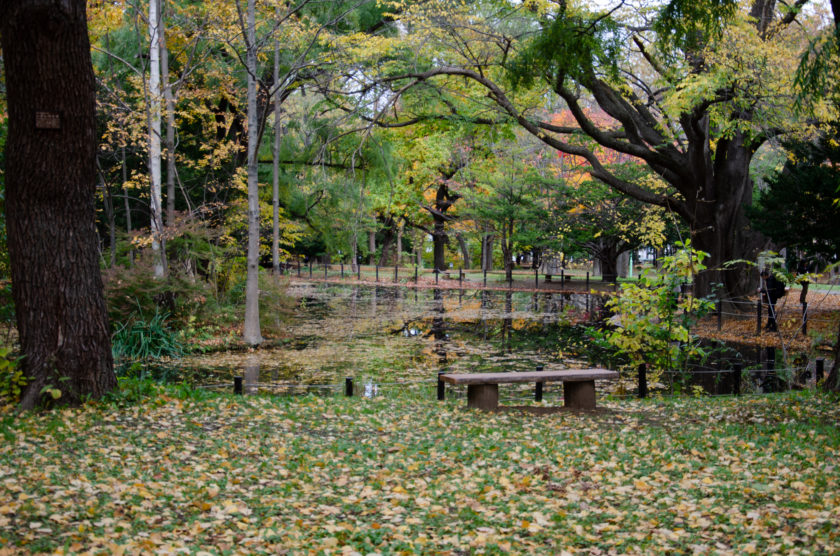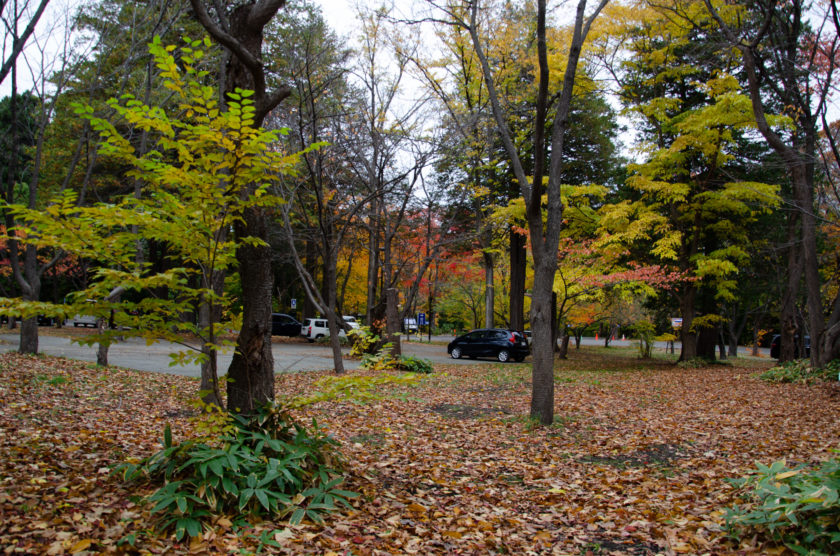 Winter