posted on February 11, 2020
This place is written as [北海道神宮] in Japanese.
Hokkaido Jingu is one of the most famous sightseeing spots in Sapporo. Hokkaido Jingu, Hokkaido Shrine is located at the west end of downtown Sapporo, called "Maruyama(円山)".
Table of Contents
About Hokkaido Jingu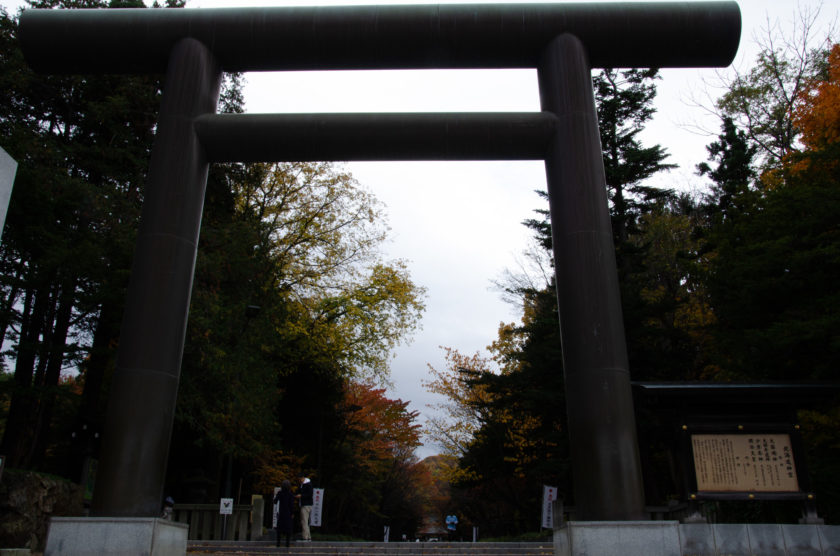 Hokkaido Jingu was built to defense the land of Hokkaido in the Meiji era such as Russia which had been dominating Chishima and Sahkalin. That's why the large Torii of shrine is directed to the north-east.
Another shrine called "Kaitaku Jinjya(開拓神社)" that means "development for Hokkaido". where many people were worshiped who contributed developments of early Hokkaido such as Rinzo Mamiya.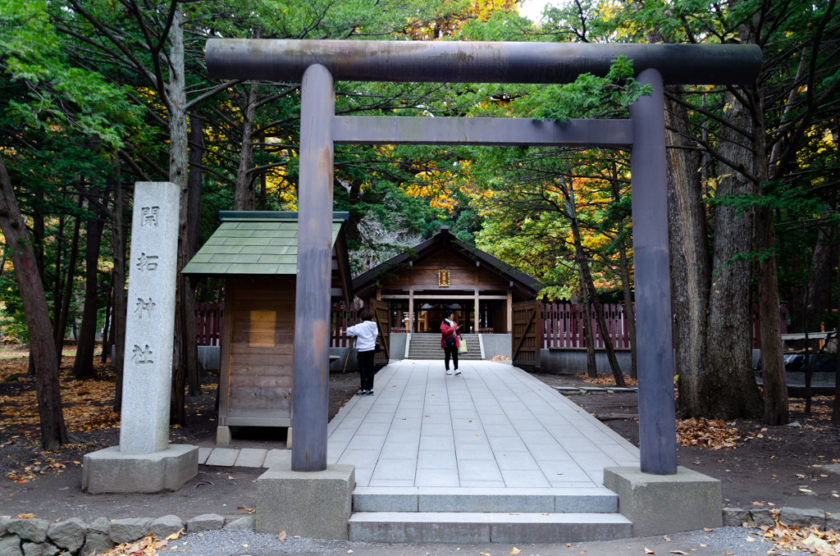 Hokkaido Jingu(Shrine) was built in 1871 named as Sapporo Jinjya(Shrine). There are three deities worshiped at that time. 
Four deities of Hokkaido Jingu
Ohkuni-no-Tama-no-kami(大国魂神)
Ohmuna-muchi-no-kami(大那牟遅神)
Sukuna-hikona-no-kami(少彦名神)
Emperor Meiji(明治天皇)
Why is Jinjya for defense and their purpose?
Emperor is something God and has a deep connection to the founder of Japan traditionally which is called "Amaterasu Ohmikami(天照大神)" according to Japanese myth.
In the Meiji Era, history and myth are treated as the same so that Emperor is something like God for people of Japan. Shrines are the places and buildings where gods live and it shows Emperors' power which defenses Japan. This ideology was built up from Meiji to Showa era when an array of wars had occurred everywhere around Japan.
Shrines is the place where the government rules and educates peoples. Now war is over but it is true there are some who want to rule as the same manner as Meiji era. 
After WWII
The Shrine was renamed Hokkaido Jingu(Shrine) in 1964 because the Emperor Meiji was enshrined as a deity. The Emperor Meiji had named Hokkaido instead of Ezo for ruling the northernmost island of Japan in the Meiji period.
Unfortunately, the main building was burned down in 1974. Somebody set fire and the case has been unsolved. The Shrine was rebuild in 1978.
From the midnight of 31st December to 1st January, New year,  mega dozens of people go to Hokkaido Jingu. It takes more than 1 hour for walking from the entrance to the main building which happens every year. 
Hokkaido Jingu Festival called Sapporo Matsuri(Festival)
This is the most famous and big shrines' festival of Sapporo and Hokkaido. Many foods booths are opened alongside the paths. Omikoshi parade is held from Hokkaido Jingu to the central of Sapporo.
This is one of the biggest events next to Yosakoi Soran Festival in Sapporo. After that, we feel the summer is coming to Sapporo.
Access
When you go out from No.3 exit at Maruyama Kouen Station, you'll see the entrance of Maruyama Park ahead across the road. Walking to the end of the path, an open space will appears. That is the front of the Shrine. First of all, you have to go left side, 'Temizu-ya'. Not only for purifying your hands and mouth, but also your mind.
Subway+Bus
Take a Tozai Line(東西線) to Maruyama Kouen(円山公園) and exit No2 at Maruyama Bus Terminal.
Take a bus: 西14 or 西15 to Jingu Mae(神宮前)
Subway+Walk
Take a Tozai Line(東西線) to Maruyama Kouen(円山公園) .
exit No3 for Maruyama Park(円山公園), Maruyama Zoo(円山動物園), Hokkaido Jingu(北海道神宮)
15min walking through the Maruyama Park.
Subway+Taxi
Take a Taxi if you are more than 3 people, just 3 min.
Before Enter the Shrine, how to purify called 'Temizu'(手水)
Even if in the winter, you're supposed to do 'Purify' before worship. 
Take a ladle with right hand.
Ladle water and wet your left hand. Don't do this above the water-vessel.
Ladle water with left hand and wet your right.
Ladle water with right hand again and catch a dip with left hand.
Take a dip in your mouth. No need to swallow it, just spit it out gently. Don't touch ladle with your mouth.
Ladle water again with right hand and wet your left hand again.
That's it. Good job! Now you're completely purified. This manner is a kind of pretend as your body and mind are washed and pure.
Photos of Hokkaido Jingu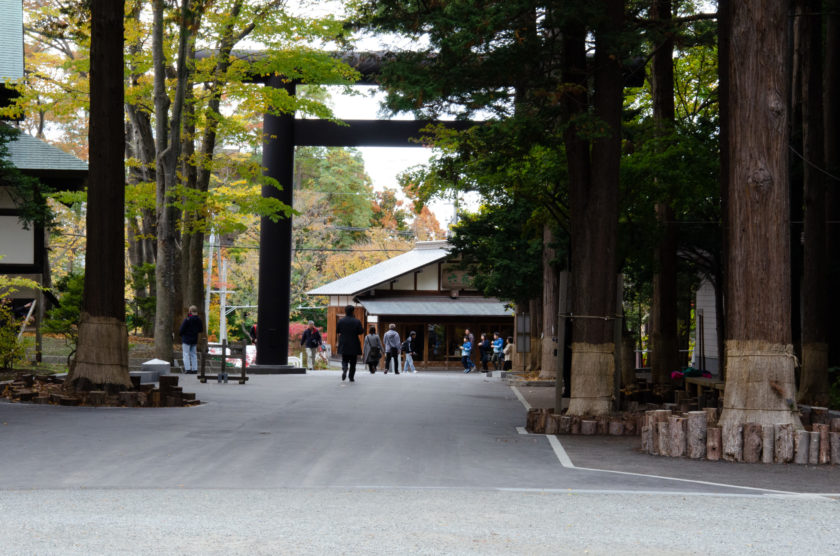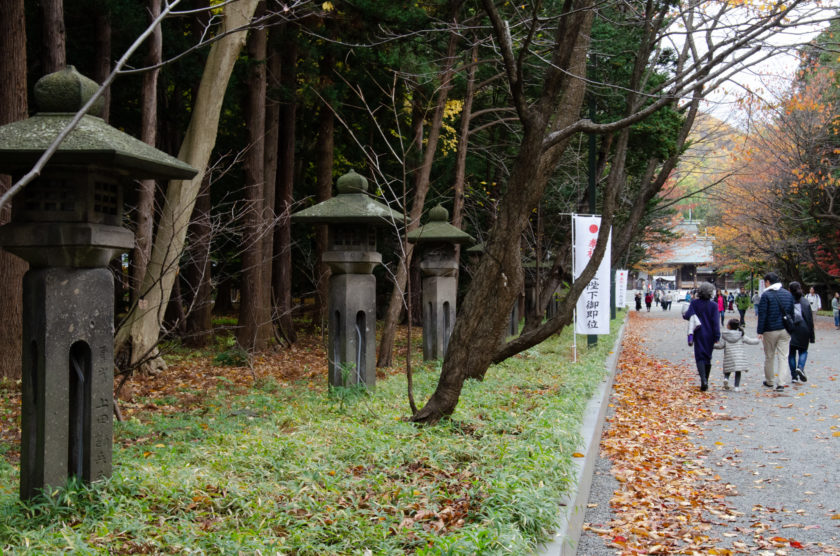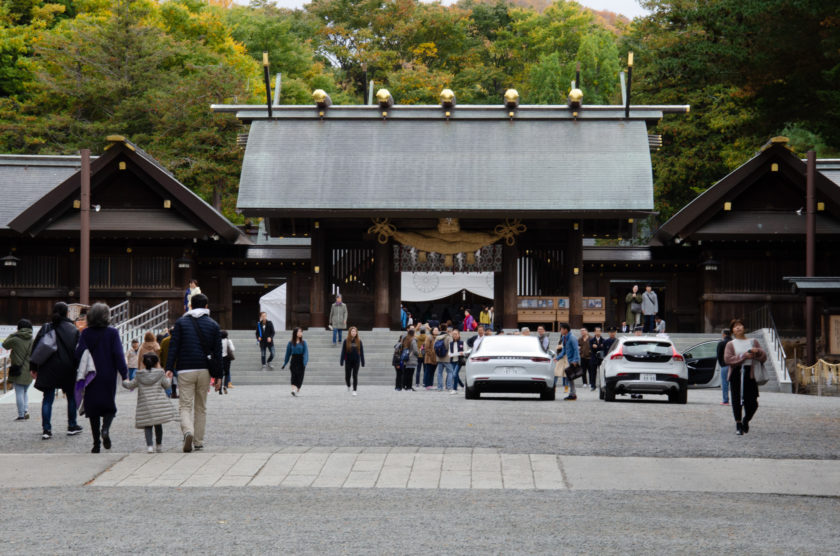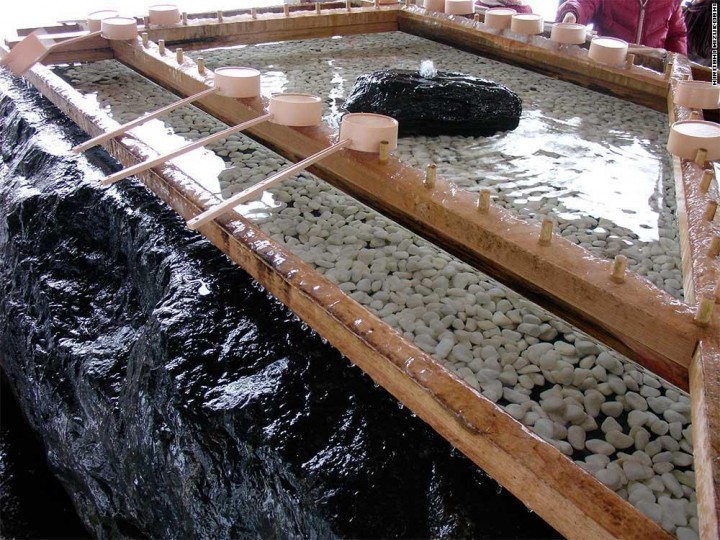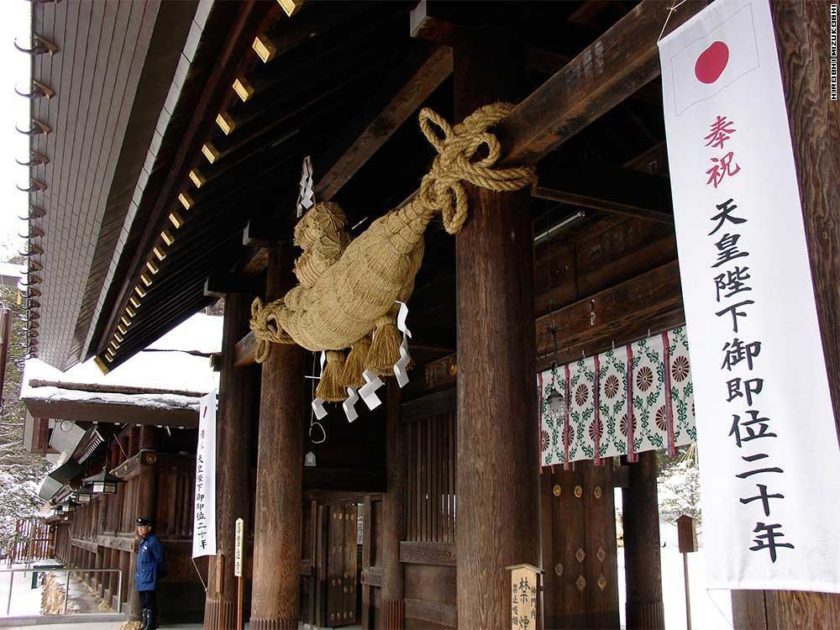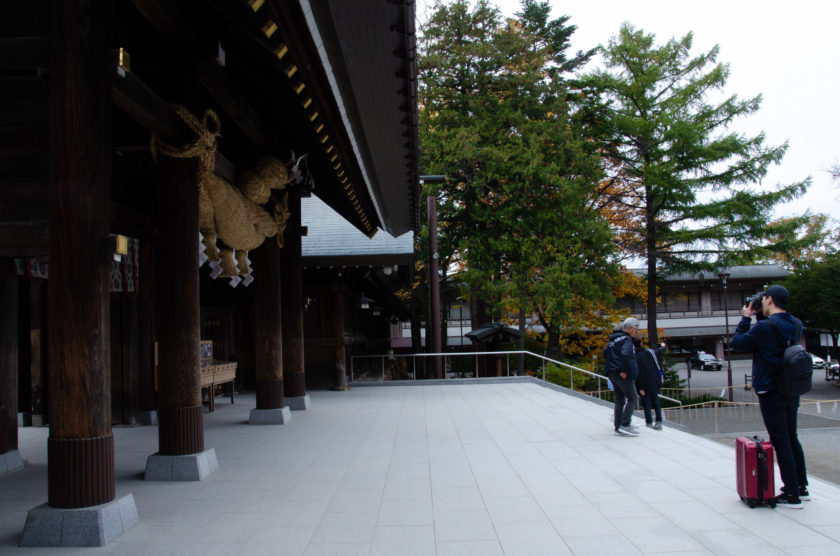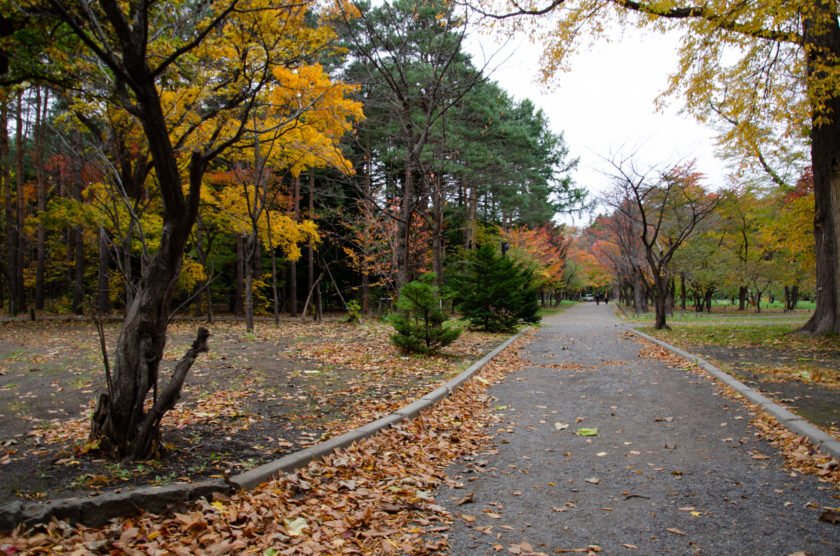 More spots worth visiting if you have time
see more detail about Maruyama Area by Google Map Engine
Maruyama Zoo 円山動物園
The Zoo is located to the opposite side of Hokkaido Shrine. As you leave behind the Shrine, take the right side path to the parking for Urasando. Through the parking, you will see the small building of Maruyama Hachijyu-Hakkasho in the woods. Then you go up to the right way for Maruyama Zoo. It takes within 5 minutes by walk. Maruyama Zoo has been renovating its old facilities so that many people have been coming back here not only families but also young couples. Asahiyama Zoo in the city of Asahikawa became the most famous zoo in Japan. But Maruyama Zoo has been making efforts for presentations recently. Very fun!
related article
Maruyama Baseball Stadium 円山球場
Next to the Shrine, amateur baseball games take place here such as the high school baseball games. It has over 70 years-history so that many professional baseball games were held here before Sapporo Dome was built.
Maruyama athletic field 円山競技場
Next to the Maruyama Baseball Stadium. In winter, you can play skating. There are rental equipments for skating.
Maruyama Park 円山公園
You're already in the Maruyama Park! You were walking through the Park as you coming. There are many cherry blossoms and people have a 'Hanami' party in the early May.
This is a small mountain climbing. It takes about 40 minutes to the top of the Mt.Maruyama. You have to prepare especially your shoes, trekking shoes or climbing shoes better. The area, 'Maruyama Genshirin' 円山原始林 is primeval forest. You can experience an untouched forest left in the urban city.
Starbucks Coffee Maruyama
Across the Miyanosawa-dori, north side of Maruyama Park. Another Starbucks is in Maruyama Class.
French Restaurant Moliere
Three stars Michelin guide restaurant. 
Miyakoshiya Coffee Shop 宮越屋珈琲
When you come back to the subway station, you may drop in at the coffee shop. Walking down along with the 'Urasando', you will find a chic building. see Miyakoshiya Coffee Shop WEB site (no english site)
Rokkatei 六花亭
This is one of the most well-known old-established store in Hokkaido. The shop is so familiar that it's crowded all the time. They have not only some old fashioned Japanese cakes but also new modern sweets.
coffe shop : 10:30-18:00
Atelier Root3 アトリエ ルート スリー
Craft shop for interior, accessary and orgel(a music box). The shop is located along with 'Kanjo-dori' 環状通. See Googlemaps for its location. There are many handmade crafts with copper and 'Shippo-yaki', an industrial enamel-based art object called cloisonné ware. Every products are very unique souvenirs. The shop is also a studio for making 'Shippo-yaki' and the other products are made in the studio of Jozankei, the southmost ward of Sapporo, very famous hot spring area.
see Atelier Root3 web site(no English)
Maruyama Class 円山クラス
Starbucks Coffee, Miyabun(宮文) blade shop, Fashion, Foods, Interior, Books, Restaurants, 100 yen shop are there.
MORIHICO.(森彦) Coffee & Something
Morihico is one of the best coffee shop in not only Sapporo but also Hokkaido or Japan. Since 1996, Morihico has started a small coffee shop in Maruyama which is the old wooden house. The founder, Sosuke Ichikawa renovated the house and opened as a coffee shop. Now his coffee has been growing up as a NO.1 coffee in Sapporo. This is the memorial first coffee shop. Enjoy and relax taking a break here.
Yoneya 米屋
Old-fashioned Japanese sweets, called 'Wagashi(和菓子)'. Yoneya is one of the old-established store in Sapporo. If you want some Japanese traditional sweets, this is the best. It's worth visiting.