posted on July 22, 2014
This place is written as [八剣山] in Japanese.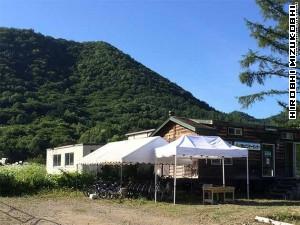 Mt.Hakkenzan is located in the south of Sapporo. Another name is KanNon-IwaYama(観音岩山). People usually call this mountain Hakken-zan. It is 498m height. The top of mountain is formed like a series of sword, that's why this mountain is called Hakkenzan. Hakken(八剣) means eight swords and 'zan'(山) means mountain in Japanese. Despite a low mountain, it looks like higher more powerful than as it is and when you look it up from the southwest side, so that people like to mount it. It is a so warm and sunny place around the foot of Hokkanzan that there are many fruit farms here such as cherry blossom, strawberry, prune, apple, pear and grape. The farm are opened to public for harvesting in charge. You can rent a bicycle to go at the Hakkenzan visitor center.
Access to Mt.Hakkenzan Area
see Hakken-zan Area by Google Map Engine
Around Mt.Hakkenzan Area
Koganeyu hot spa
Matsunoyu hot spa
Houheikyo hot spa