posted on July 21, 2014
This place is written as [定山渓源泉公園] in Japanese.
In the Central Area of Jozankei, Jozankei Gensen Park is there. From Road 230, down the narrow road to the bridge, right before the bridge, you will find a small park at the right side. This is the Jozankei Gensen Park.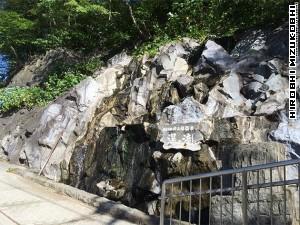 You may put your foot into the hot spa sitting on a bench. Feel better. Jozankei is one of the most popular hot spa in Hokkaido. 60 minutes from Sapporo JR Station, this is the place for relaxing not only your body but also mind. Hot spa leaks out of a rock. This is really hot water/spa. When you go to Jozankei, you will see this place.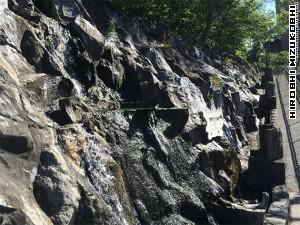 From the bridge, you see the Toyohira river that flows through the city of Sapporo and this river comes from Houheikyo Dam, 15 minutes from here.
From April to May, there are plenty of swimming 'Koinobori' over the Toyohira river , which is a shape of carp made with cloth. This is the celebration goods when the family has the first son. They raise Koinobori wishing for son's health and great happiness every year until their growing up. The Koinobori usually consists of three or five carps and one Fukinagashi which is called Windsock, the biggest one colored black, the next big one colored red, the third one colored blue, plus others something like that.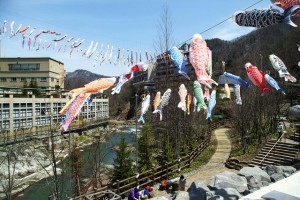 The beginning of Koinobori derived from the Edo period. When the samurai class has the first son who is supposed to succeed to the class, they had a celebration for it. This old manners has been lasting in these times. However, the boys become 20 years old, he is no longer a child, so that many of people don't raise Koinobori any more. But they can't discard them on an emotional level, in a sense, this is a kind of 'Mottai nai', then they got together unused Koinobori and raise them again for one of the eye‐catching of Jozankei tourism. When you come to Jozankei Onsen in the middle of April, you will see the series of Koinobori from the Jozankei Gensen Park.
see Neighborhood by Google maps engine
Around Jozankei Gensen Park