posted on December 18, 2014
This place is written as [東本願寺函館別院] in Japanese.
Higashihonganji-Temple Hakodate Branch(東本願寺函館別院) is located in Motomachi area, the foot of Mt.Hakodate. When you go to Hakodate Orthodox Church and look down Bay Area, you will see a big tiled roof. That is Higashihonganji Hakodate Branch. It is alongside of Nijyukkenn-zaka slope that is the widest one in Hakodate Motomachi Area.
Higashi-honganji Hakodate Branch is also designated National important cultural assets. There were some big fires in Hakodate from Meiji era to Showa era, the late of 19th century and the beginning of 20th century. So that some temples were constructed by reinforced‐concrete building on behalf of wooden one and is the oldest temple by reinforced‐concrete in Japan.
People in Hakodate deeply understood to build a temple which is resistant to fire, but most of followers doubted the new method of construction. Because the temple is a special place for people to have religious faith, they didn't like to use earth and sand which was underfoot and more, they didn't like to use reinforcing bars made in USA. Then the new temple couldn't collect much donation at that time, so that they washed all materials and have some Japanese style dance events by Geisha for people's interests and understanding for the new building method.
It is said that Higashi-honganji-Temple Hakodate Branch was started in 1668 when a priest Jogen 6th of Sennen-ji Temple in Matsumae had built an Amida-do(阿弥陀堂) in Hakodate. In 1710, the Amida-do moved to the recent place of Yayoi elementary school and was named Jogen-ji temple from a founder, Jogen's name. Unfortunately the temple was burned down three times in 1806, 1829 and 1879, the new temple was constructed again at the recent place and named Higashi-honganji Hakodate Branch. But, it was burned down again in 1907 by Hakodate big fire, so that people want to have a temple for resistant to fire. After that, Hakodate city had been keeping on constructing the city which resist disasters.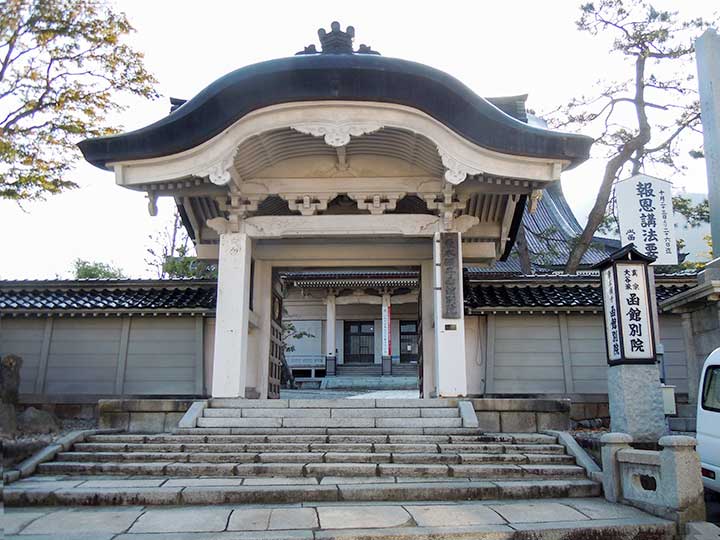 Access
Take a tram to Jyujigai(十字街) and walk 8 minutes.