posted on December 8, 2014
This place is written as [山上大神宮] in Japanese.
Yamanoue Daijingu(山上大神宮) is located at the top of Saiwaizaka slope, the foot of Mt.Hakodate, Funamicho in the west-south of Hakodate city.
The shrine is near the former Russian Consulate, just 2 minutes from here. Saiwai-zaka slope is steep hill and you are going to sweat when you reach here.
According to the shrine record, the origin of Yamanoue Daijingu(The Great Shrine of Yamanoue) is in the conception of the Holy Spirit of Ise Jingu Shrine by a trainee monk named Fujibo. Fujibo came to Hakodate about 600 years ago during the Ouan years (at the beginning to Muromachi Era) and set up a retreat on top of Shinmeisan Mountain in Kameda-Akaigawa village. Later the shrine was moved to Shirisawabe village (now Sumiyoshi-cho), and renamed Hakodate Shinmeigu Shrine.
In 1682, the shrine was moved again to the present location near the Yayoi Division of the Nishi Fire Department. The shrine was then renamed Yamanoue Daijingu from the town's name Yamanoue and in a876 it was officially designated as the town shrine. After that, the shrine was burned down twice by Hakodate big fire in 1878 and 1879, so that it moved to Sumiyoshi Shrine temporarily. The new building was constructed at 85 Funami-cho in 1882 and it moved to the present location in 1902.
The present building had been reformed from 1930 to 1932. The shrine's 8th Shinto priest, Takuma Sawabe (formerly named Takuma Yamamoto) at the end of Edo period was originally from Tosa Clan and was related to Ryoma Sakamoto and Hanpeita Takeichi.
The shrine played not a small role in Hakodate history. During the Hakodate War, it was used as a living quarter of Sadaaki Matsudaira, the head of Kuwana Clan who fought with the Shogunate Army headed by Takeaki Enomoto.
There are not so many visitors even if in New Year's days. You can see a nice view of Hakodate Bay from the shrine.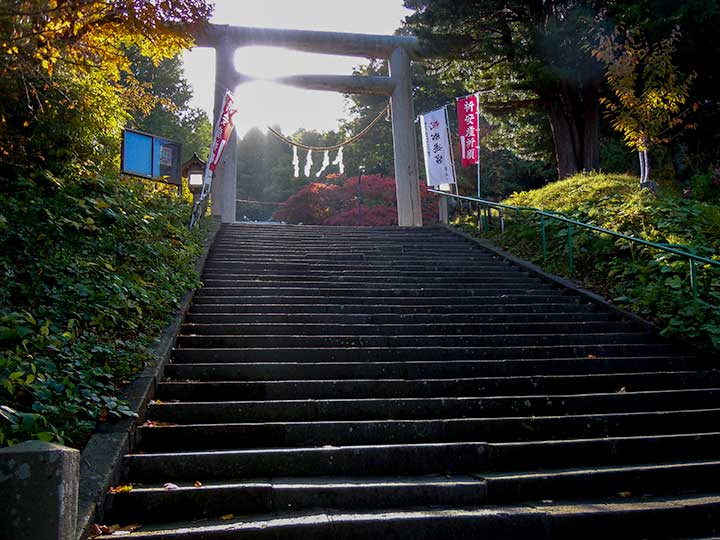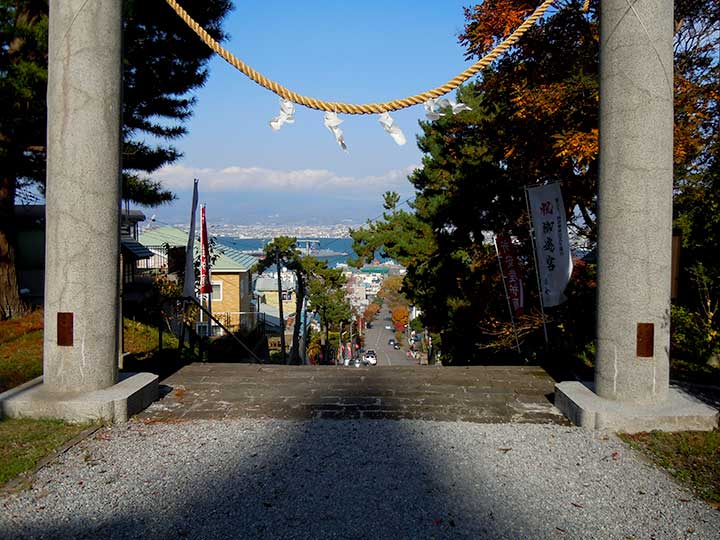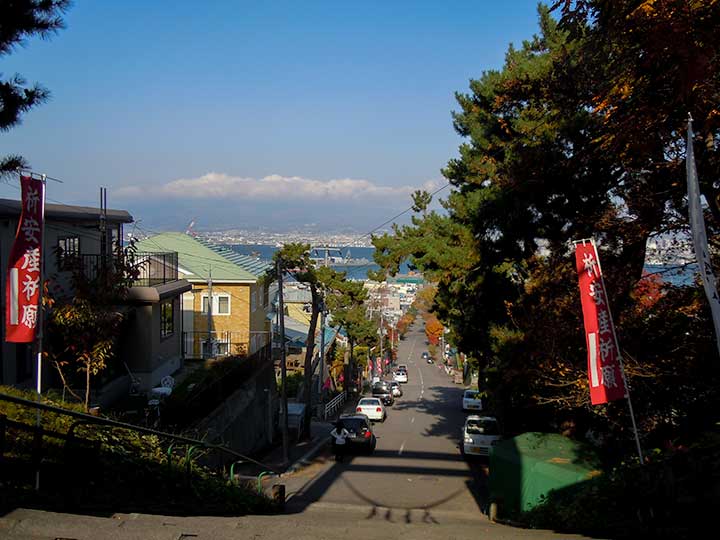 Access
Take a tram to Hakodate Dock and 16 min walk.