posted on June 14, 2014
from July 18 2014 to August 20 2014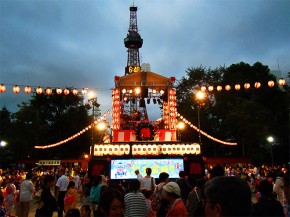 Many events are held in the Sapporo Central Area. Odori Beer Garden is the largest one all the country. This is really worth visiting. Hokkai Bon Odori is held in Odori Park, which Many people take part in. Waring on Yukata with a Uchiwa, they are supposed to dance with the drum beat and flute making some big circle. Every body can participate in it even if you don't put on Yukata. It's NO problem at all. That's fun! Don't miss it.
Odori Beer Garden 2014/07/18 – 2014/08/15
5cho-me ~ 11cho-me
see Location by Google Map Engine [divider]
Hokkai Bon Odori(2 Cho-me) 2014/08/14 – 2014/08/20
Hokkai Bon Odori for children: 18:00 – 19:00
Hokkai Bon Odori: 19:00 – 21:00
2014/08/20 19:00 – 20:00 Fancy-dress Competition (Odori 3 Cho-me)
Sapporo Bazar (Odori 5-6 Cho-me): 2014/08/19 – 2014/08/20
Free Market by sapporo citizen
Antique, crafts, accessary, interior, clothes, and so on.
Tanuki Festival : 2014/07/18 – 2014/08/20
july 26(sat) Special Night Bargen 17:00 – 21:00
Susukino Festival : 2014/08/06 – 2014/08/09
Oiran Do-chu(Oiran parade) will be held at Aug 6,2014. See 2013 Oiran Do-chu below.
Jozankei JAZZ TOWN 2014 : 2014/07/30 – 2014/08/03
Open 17:30– (August 2 and 3, 15:30–)
at Jozankei Shrine
Onsen-Higashi 3-chome 244, Jozankei, Minami-ku, Sapporo (The event will proceed even in drizzly weather. Venue in the event of rain: Hotel Shika-no-Yu)
Admission fee
Free
TEL
Jozankei Tourist Association 011-598-2029
Web