posted on July 27, 2014
This place is written as [盆踊り] in Japanese.
Coming Hokkai Bon Odori will start Aug,14 2014. Putting on Kimono or Yukata, you enjoy the end of the summer. In Hokkaido, after Obon, Aug,13 – 16, it is not summer anymore. The air is going to be cool and leaves of mountains are yellowing and red. It is the beginning of Autumn. So people go to Bon Odori, anyway, 'Odori' do not means Odori Park whose spelling could be actually Ohdohri, that means a large street, Odori of 'Bon Odori' means a dancing in Japanese. That's why people are dancing putting on Kimono or Yukata. Of course, it is not a hard dancing. Bon odori has a easy and slow dancing style comparing to Yosakoi Soran Festival's one. So everybody can take part in a Bon Odori Circle. Just do the same as person ahead, moving your arms left to right and up to down, turn yourself around and clap two times. That's it! It's so easy to enjoy.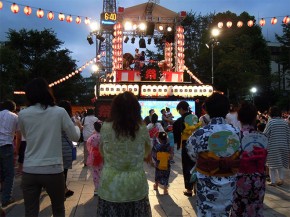 Bon Odori is a dance for a kind of memorial service for ancestors whose souls are supposed to come back during Obon festival. It reminds us olden days that were fun with them and make a friendship with neighborhood being with the same circle of dancing. This is the most important annual event like a New Year event in Japan. All members of family get together in this period so that every transportations are horribly crowded.
Hokkai Bon Odori(2 Cho-me) in Odori Park 2014/08/14 – 2014/08/20
Hokkai Bon Odori for children: 18:00 – 19:00
Hokkai Bon Odori: 19:00 – 21:00
2014/08/20 19:00 – 20:00 Fancy-dress Competition (Odori 3 Cho-me)