Sapporo Dome Tour is available for visitors to see some facilities such as a locker room, a cafeterior, a meeting room and a bullpen which players use. Tour staffs shows you them and it takes about 50 minutes. When you visit to Sapporo Dome and there is no baseball game and football game, why don't you get there?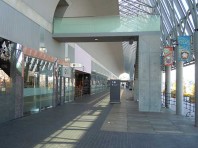 No reservation if you are not a group visitor. You go to Information center on the 1st floor at North Gate #3. You have to get a ticket before the tour starting.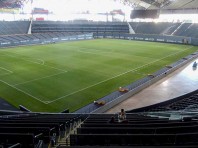 First of all, you are going to see stadium inside. If you are lucky, you might see the huge ground of football field is moving for preparing a next game. As football game, huge natural grass ground, 120m height x 85m width and 8,500tons weight, is slid into the inner field from outside by hovering 7.5cm up from the ground. It moves 4 meters per minute. While there is no football game, the natural grass field is outside of the dome in order to be exposed to the sun.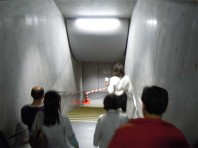 Due to preparing for next football game of Consadole, we can't look at the main field as standing on there. The main field is usually opened to visitors. After main stand, down to B2F for watching a locker room and a bullpen.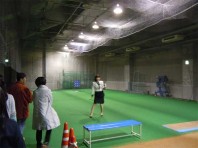 This is a bullpen. You can throw a ball on the mound. The floor is covered with artificial turf. This is the same field as the main field.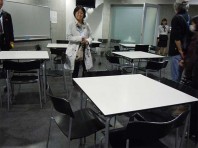 This is a meeting room. Players and a manager are supposed to have a meeting for the game.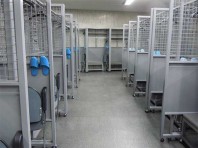 Locker room. Honda or Kagawa must be sitting there.
 Observation Platform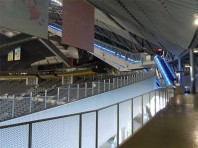 This is the 3rd floor to go up for Observation Platform.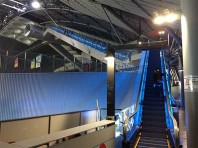 You are going to take two long escalators for the top.
Football field from 2nd escalator. it is about 50 meters hight.
Dome Tour
10:00 – 16:00 once per an hour
Adult: ¥1,000
Child: ¥500
Dome Tour&Observation Platform
Adult: ¥1,200
Child: ¥650
Observation Platform
10:00 – 18:00
Contact
TEL: 011-850-1020 (9:30 – 17:30)
Kids Park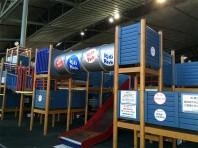 Kids Park for little children is available for free.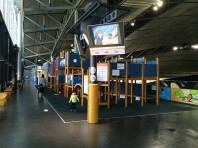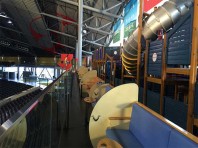 Family sheet is available for five persons, 2 adults and three children.