Hitsujigaoka Observation Hill(羊ヶ丘展望台) is located in the west side of Hokkaido National Agricultural Research Center. This is one of the famous scenic place looking over the downtown of Sapporo, Ishikari Plane and the Sea of Japan far.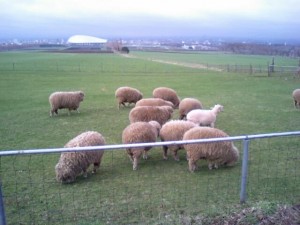 The statue of Dr. Clark, the founder of the Sapporo Agricultural College, now Hokkaido University, is settled at the center of the hill. He left the words to his student , "Boys, be ambitious!", that is so famous for Japanese that everyone knows it and we used to say to young people for encourage. There are many grazing sheep and some facilities, a souvenir shop, restaurants and a museum. Foreign travelers can get 14 days available Free Wifi ID and password here. Ask s staff at the information center of Austrian House.
Access
Take a Hokkaido Chuo Bus: 10 minutes from Fukuzumi Station (Tōhō Line) to Hitsujigaoka Tenbodai.
attention: When you search Hitsujigaoka Observation hill by Googlemaps, it is supposed to miss the location of the point, that is a wrong location. An above point is CORRECT.
Open
*Open all the year.
Open Hours
May – Jun
8:30〜18:00
Jul – Sep
8:30〜19:00
Oct – Apr
9:00〜17:00
Hitsujigaoka Rest House
Open Hours
May – Jun
10:30〜17:00
Jul – Sep
10:30〜19:00
Oct – Apr
10:30〜15:00
Miyataya Cafe/Shop/Sapporo Snow Festival Museum
Open Hours
May – Jun
8:30〜18:00
Jul – Sep
8:30〜19:00
Oct – Apr
9:30〜17:00
Admission Fee
|   | Fee | Group fee |
| --- | --- | --- |
| Adult | ¥520 | ¥470 |
| Student | ¥300 | ¥270 |
Parking
Free
Facilities
Austrian House – souvenir shop and Free Wifi ID&Password for foreign tourists.
Rest House – the restaurant where you can eat "Jingisu Kan", mutton barbecue originated in Hokkaidō
Clark Chapel
Hitsujigaoka Wedding Palace
Sapporo Snow Festival Museum
Ashiyu Hot Spa for bathing foot