posted on June 14, 2014
This place is written as [札幌ドーム] in Japanese.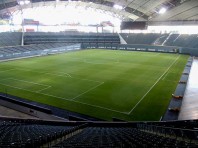 Sapporo Dome is located in the south-east ward of Sapporo city, near Fukuzumi Station of Toho Line.  Sapporo Dome (札幌ドーム) is a stadium for baseball games and football games. It is home of the baseball team, Hokkaido Nippon Ham Fighters and the football club, Consadole Sapporo. Also a big major artists such as Eric Clapton, Rolling Stones, Southern All Sters etc., their concerts take place in the dome. There are more than 40,000 sheets available.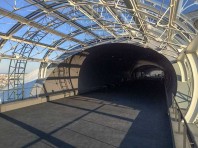 The Dome can changes its shape of play-field as baseball game and football game. That's why Sapporo Dome is the home ground for two different sports' teams. As baseball game, the play field is covered with artificial turf. As football game, huge natural grass ground, 120m height x 85m width and 8,500tons weight, is slid into the inner field from outside by hovering 7.5cm up from the ground. It moves 4 meters per minute. While there is no football game, the natural grass field is outside of the dome in order to be exposed to the sun. The Dome Tour is available, when there is no event in the dome.
Facility
Observation platform
Training room
Kids Park
Display of the Sapporo Dome history
Art works around the dome