posted on October 30, 2022
About Kappaliner
Kappa Liner is a direct bus for Jozankei from a city area of Sapporo which takes 60 minutes. You can also take rapid 7 (快速7) or rapid 8 (快速8) bus. These two rapid bus is for local line which has more stops than Kappa Liner. The fare is the same as Kappa Liner, but it takes 70 – 80 minutes to Jozankei. Rapid 7 and 8 have more number of service those time schedule start from 7:30 to 17:00 (include Kappaliner). You can get on at any bus stops of rapid 7/8 in the city.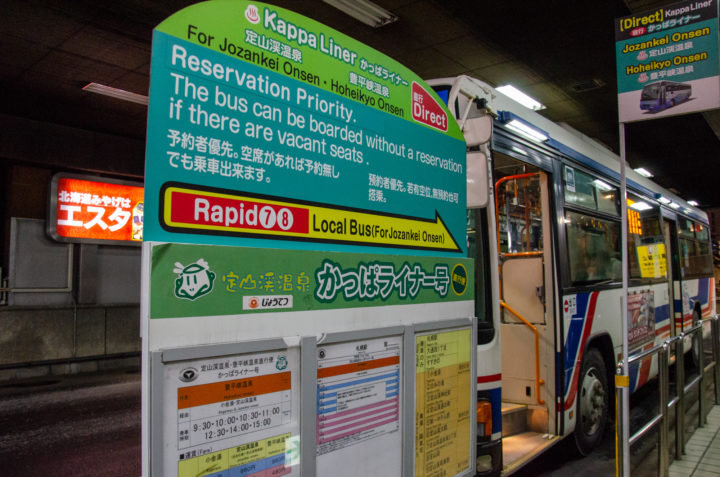 *Don't take a rapid7/8 for Toyotaki(豊瀧) or Fujino 3-2(藤野3-2). This does not go to Jozankei as you see below.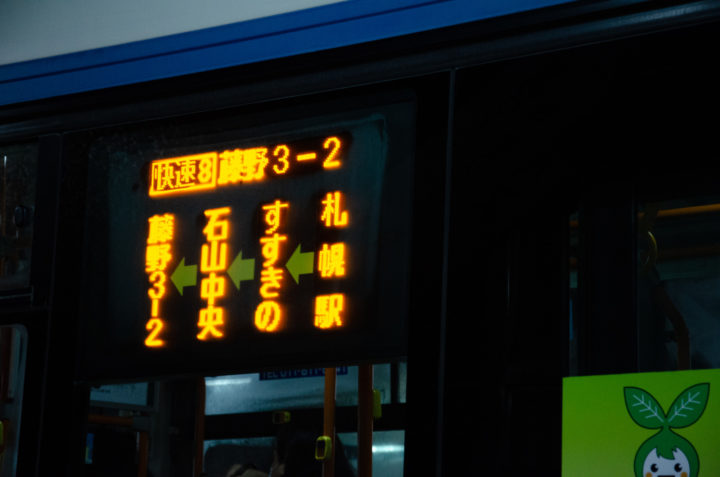 Where is the BUS terminal at Sapporo Station?
Access from B1 floor at Esta's entrance.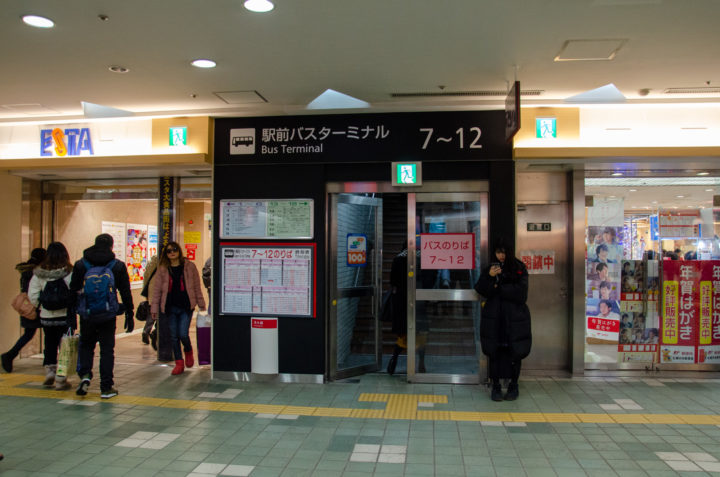 Access from 2nd floor at ESTA's Big Camera entrance.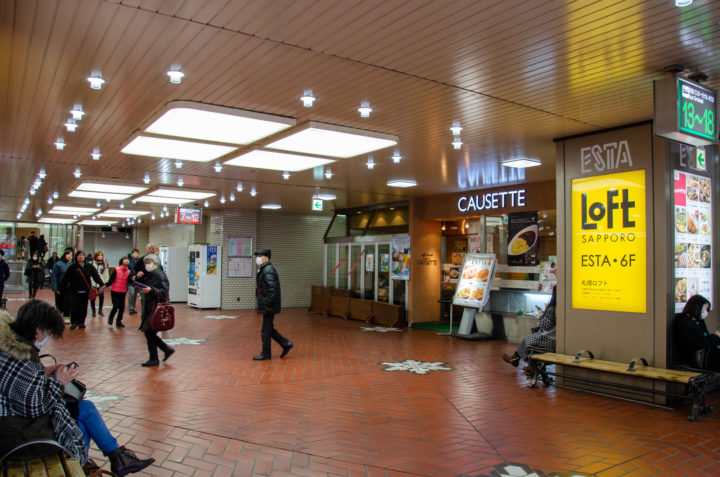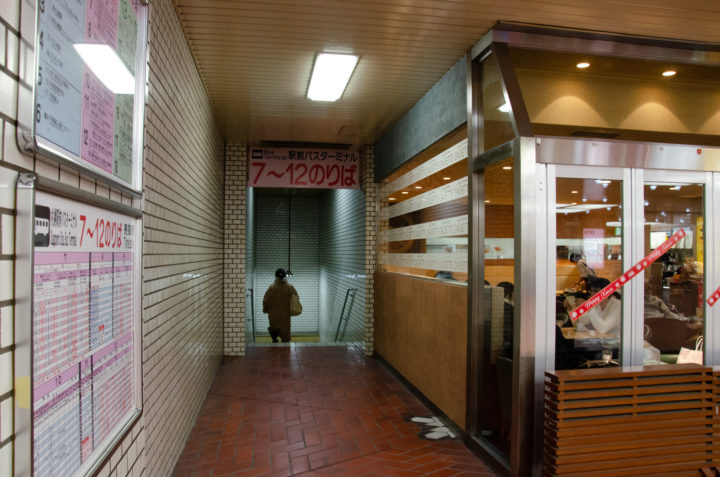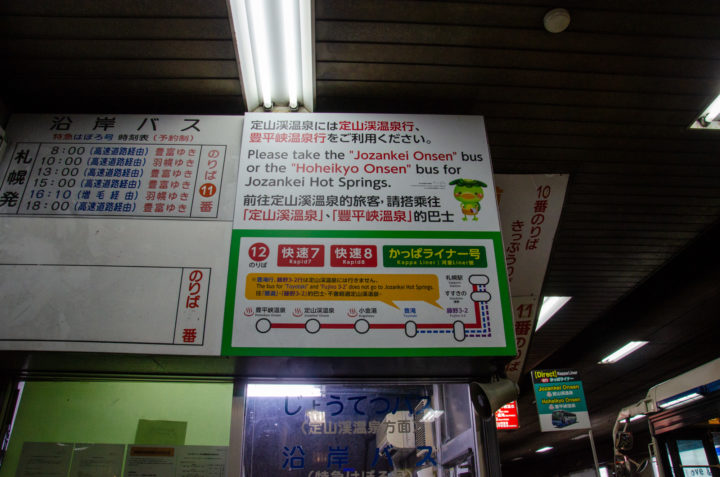 How to Get on Kappa Liner, Direct Bus for Jozankei Onsen and Hoheikyo Onsen
Value Package Plan for Kappa Liner plus Onsen
http://www.jotetsu.co.jp/bus/global/
This is a very valuable package for round trip Jozankei bus and Jozankei Onsen (one location).
Limited offer from 1st December, 2019 to 31th March, 2020.
Price
Adult: 2,200 yen
Child: 1,100 yen
Kappa Liner round ticket is 1920 yen and onsen fee is from at least 800 yen to 1,500 yen. It is so nice for you to stay in Sapporo but you want to go to one day Jozankei trip.
More, you can get on/off at any Jotetsu bus stops in the city area of Sapporo, which means this is a One day free pass for Jotestu Bus. Except Sapporo Kokusai ski area (札幌国際スキー場線), business liner (通勤ライナー), Sapporo Dome Shuttle bus (札幌ドームシャトルバス), other buses for special events.
Onsen List
These onsen hotels are available.
Koganeyu
Koganeyu (011-596-2111, 10:00-22:00)
Matsunoyu (011-596-2131, 9:00-22:00)
Jozankei
Shogetsu Grand Hotel (0570-026575, 13:00-18:00)
Hotel Shikanoyu (011-598-2311, mon-fri:13:00-19:00/ wed:15:00-19:00/ Sat&before holiday: 13:00-14:00/ Sun&Holiday: 13:00-16:00)
Jozankei Hotel (011-598-2111, Sat,Sun&holiday: 11:00-15:00/ mon-fri: 11:00-22:00)
Furukawa (011-598-2345, 12:00-14:30)
Jozankei View Hotel (011-598-3223, 9:00-14:00)
Hotel Milione (011-598-3500, 12:00-20:00)
Hotel Sankeien (011-211-5678, 13:00-22:00)
Yunohana Jozankeiden (011-598-4444, 10:00-21:30, from 1st Nov 10:00-20:30)
Hokeikyo
Hoheikyo Onsen (011-598-2410, 10:00-21:45)
Where to get a ticket?
Hokkaido-Sapporo Tourist Information Center
JR Sapporo West Concourse, Kita 6-jyo Nishi 4-chome, Kita-ku, Sapporo
8:30–20:00
Year-End and New Year Business Hours December 31 , 2018~January 1, 2019 8:30~19:00
Open all year
011-213-5088
Available Languages: Japanese, English, Chinese, Korean
Hokkaido Tourist Information Center Sapporo Tanuki-Koji
4-2-11 Minami nijonishi Chuo-ku Sapporo-shi Hokkaido, JAPAN, MEGA Don Quijote Sapporo Tanukikoji Honten 4F

Telephone Number:

080-9440-8047

Business hours:

14:00-22:00 (Open all year round)

Language:

English / Chinese

Credit card only, no cash
SAPPORO TOURIST INFORMATION CENTER
1stfloor Sapporo TVTower、OdoriNishi,, chuoku,sapporo, Hokkaido
10:00~19:00
English/Chinese/Thai/Vietnamese/Korean
get one in the Jotetsu bus by crew (but they have no change, pay just 2,200 yen)
Time table
see url below.
http://www.jotetsu.co.jp/bus/global/
http://www.jotetsu.co.jp/bus/kappa_liner/kappa_liner.html
Reservation: 0120-737-109, Jotetsu Bus (until 17:00 on the day before you get on) You may get on the bus without a reservation, but if it full, you can't.
Hakkenzan MInamiguchi and Chuoguchi is available from May 1st to October 31st.
Don't be late for time schedule. Japanese transportation schedule is very punctual.
Kappaliner WEB Reservation, English and Chinese available
Bus Guide and Time Schedule PDF
2022.4.01~2022.11.30
http://www.jotetsu.co.jp/bus/global/
Read these articles