posted on August 25, 2014
This place is written as [サッポロビール博物館] in Japanese.
Hiroshi Mizukoshi —(Fleemy) When you come to Sapporo, you are supposed to drink some beers. Maybe, Sapporo Beer? If you love it, you should go to Sapporo Beer Museum. If you don't like it, still, you should go there and you'll love it, I guess.
How many times I've been here?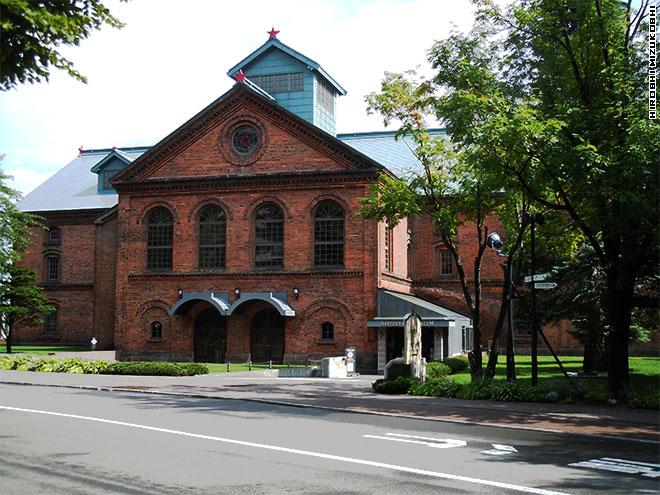 I went to Sapporo Beer Museum in the end of summer, 2014. This is the second visiting I've ever come, but I had not  participated in the museum tour. So this is the first museum tour for me, although I have been living in Sapporo for more than 20 years. I had been here many times to eat Jingisukan, which is a famous Hokkaido's original dish, getting together some friends or family. There are many beer halls and you can eat not only Jingisukan also available Kegani, sushi and so on.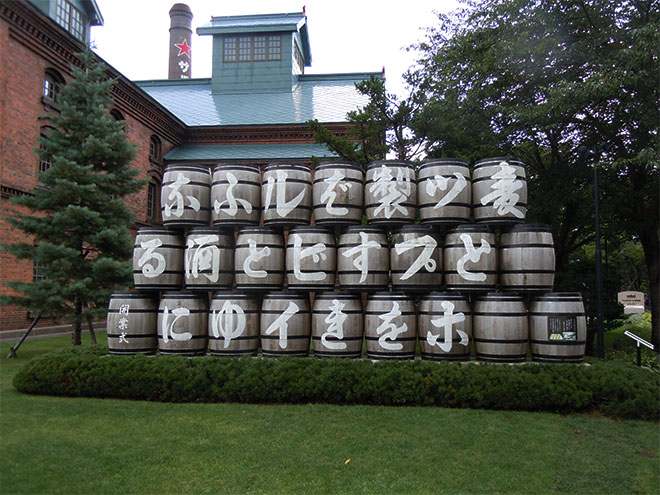 Anyway, I'm talking about the museum, not eating. Well, through the gate, I found a big four-stories barrels' wall. There are some letters on the barrel, see the left photo. I couldn't understand what to read at this time, but I could deeply understand later, I mean, hearing the tour guide. These words refer to the simple major concept for making beer by Sapporo Beer Brewery.
 A cheerful lady managing the tour
A tour guide goes every 30 min. Miss.Suzuki, one of the tour guides, taking a group of 10 people to the 3rd floor, where the tour began. First of all, she started to explain the history of beer in Japan. According to her story, The first Japanese brewer was Seibeh Nakagawa. When he was 17, he ran away home, his home town was Niigata prefecture, north-east of Japan. Then he stowed away to Europe, finally went to Germany. Then he was admitted to train for making beer for two years. After his training, he came back to Japan and he was the only Japanese who knew all  about the beer brewery. So he became to take charge of brewery. At that time, it seemed that his salary per month estimates about 1,000,000 yen($10,000) nowadays.
The Concept of The Words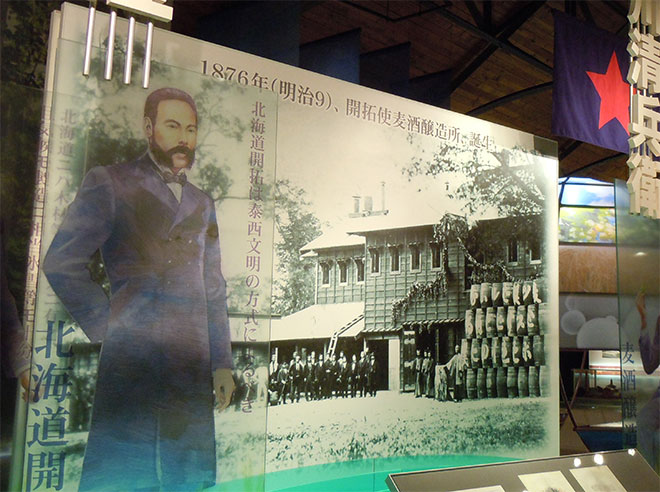 "Has anybody noticed the barrels in the photo? It is the same as ones in front of the museum building.", she continued, "This letters are read from top-right to below-left-ward, so it is too hard to read that I can read them to you instead. 'Managing Barley and Hop, it is going to be a drink made from beer.'" Now, I see. This simple words had been making brewers do routine jobs every day. And I realized why such a series of barrels' wall are presented. Because this is the most important message that have been lasting since Meiji era.
The First Bottle of Beer in the Meiji era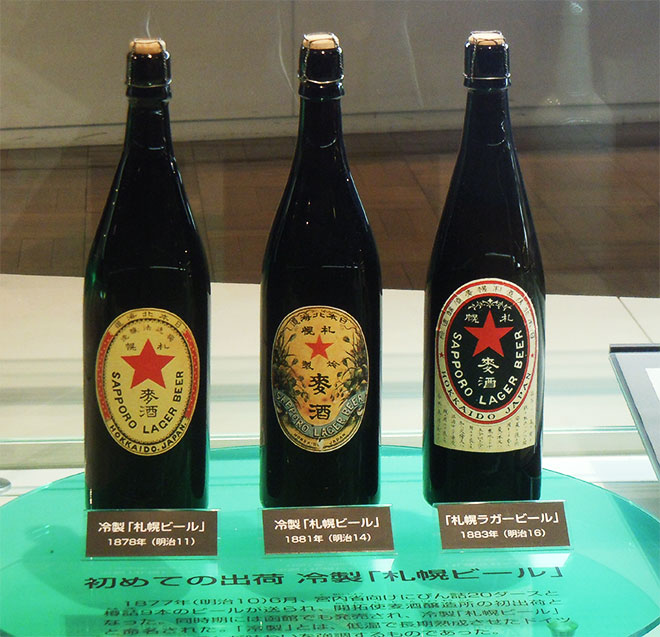 "A left bottle is the first beer bottle that released to the public in 1878.", said Miss.Suzuki. The red star which symbolized the polar star, is already depicted in the label. After that, the red star has been used as the logo mark of Sapporo Beer. In those days, the beginning of Meiji era, Beer was seemed one of the most expensive drink whose price was equal to ¥3,000 or ¥5,000 in these times. So, the few only upper classes were drinking. The beer was not popular to common citizens. It is terrible for us to pay for a glass of beer more than 3,000 yen.
The shape and size of bottles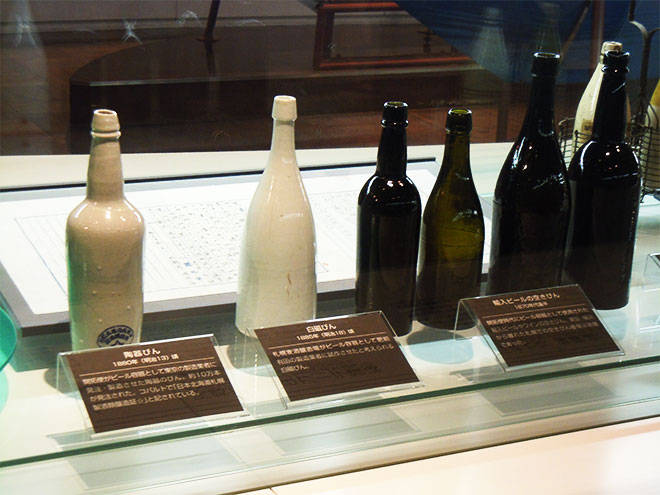 "It is also interesting that there are several kind of bottles. The size and shape of bottle was not one. At that time, it was too difficult to make tons of bottles, so the company reused bottles and other kind of ones as temporary expedients. It was true that even Sake bottle were used. It is too big for beer, but people very welcomed them. The bigger, the more welcome.
You Can't Beat The Big Walt Pan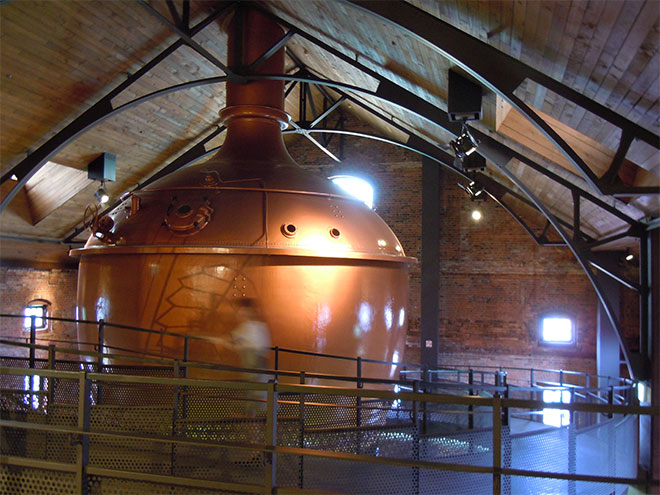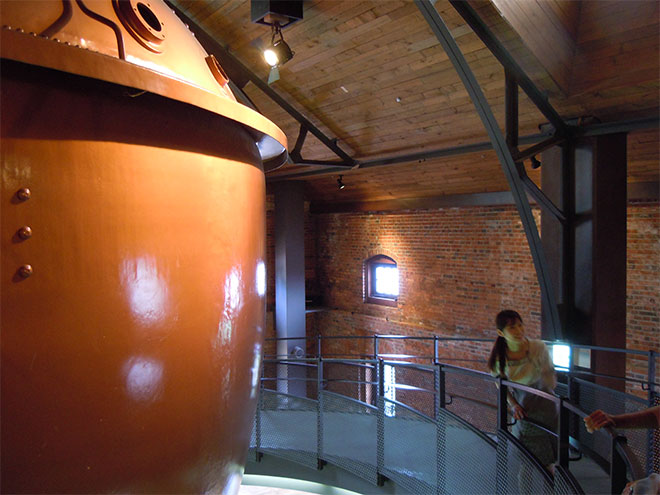 Even if you love beers and can drink more and more, you can't beat the Walt Pan, which makes about 280,000 cans of beer at one time. "If you drink a can of beer per day, it seems to takes 600 years to drink all of them.", said Miss.Suzuki. Of course, I can't live for 600 years, unless I was something vampire. If I were one, I might have been killed by liver cancer. I guess. Nobody beats the Pan!
Did You Know The Best Pouring?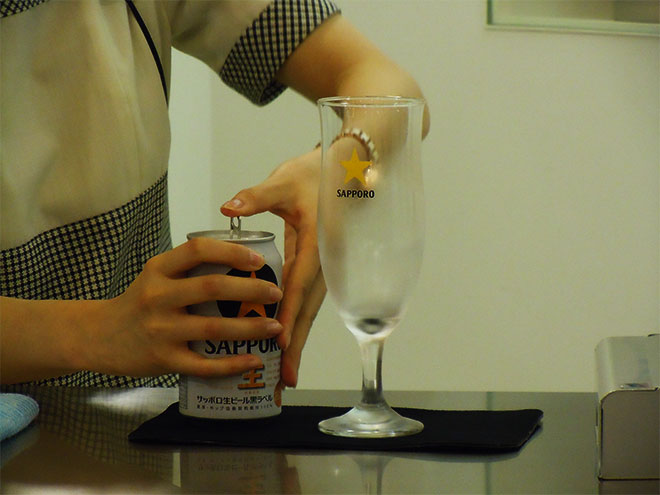 In the end of the tour, She showed us the best poring from a can beer. This is very interesting. But, I can't tell you the same as her, so you have to go there. This is so worth hearing. And She appointed a visitor who was the gentle grandpa, then he was supposed to taste her beer. He was a lucky grandpa.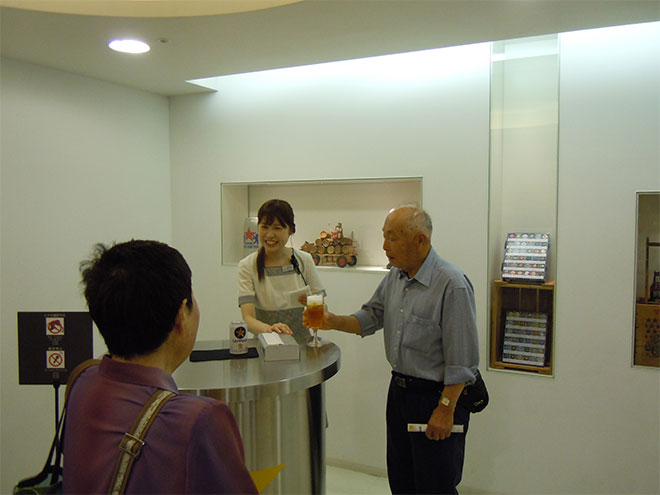 After tasting, there are a lot of AD posters from the Meiji era, you can see all of Advertisement posters, this is very interesting to know the stream of social reputation and popularity. With appreciation of her nice talking, tourers were going to down stairs, where the bar opened and got some beer. But, still I can't really got one because I have to drive my car to go home. My wife got one, a glass of water for me. That's my story of the tour of Sapporo Beer Museum. Thanks all of you for reading.