posted on February 2, 2020
Sapporo Snow Festival 2020 is held in Odori, Tsudome and Susukino in the beginning of February 2020.
Table of Contents
About Sapporo Snow Festival
Sapporo Snow Festival is one of the biggest festival in winter. Not only in Sapporo, Also all over the world, this is the biggest festival in the winter presenting a lot of snow or ice statues. More than 2 million people come every year. The festival is held at the beginning of February for a week.
Although the festival starts 4th February, most of all statues and sculptures will be almost finished about 4-5 days in advance because of commercial photographs or other preparation of venues. So you can enjoy watching the hottest brand-new snow statues and sculptures from the both side pathway of Odori Park. But Remember that you can't go inside the area of them.
There will be so many people there before opening date because hotel rates are cheaper and want to see the best condition of snow statues. Light-up may be started a week in advance. It is the time to come if you want to see how to make snow statues, which is really nice and interesting, worth visiting.
Odori Site
Open all day long and light-up until 22:00. This is the main venue of Sapporo Snow Festival. There are so many snow statues from Odori 1 Chome to Odori 12 Chome. Small snow sculptures by locals, Big snow statue and International Sculpture Competition will be made here.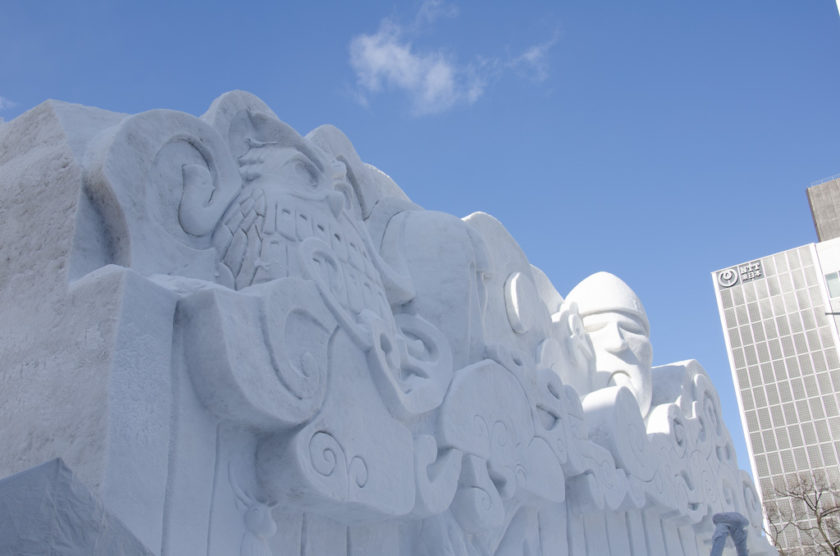 Feb 4 – 11, 2020
light up : until 22:00
Odori 1: JCOM Hiroba(JCOM広場)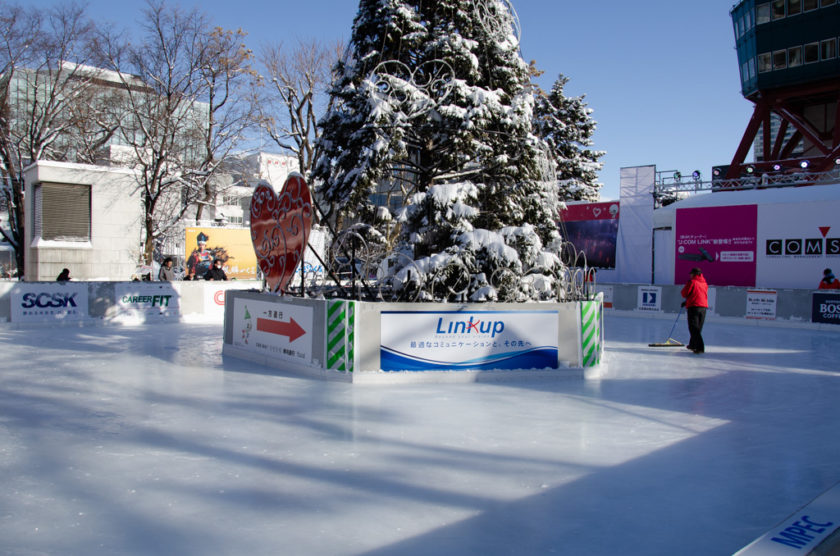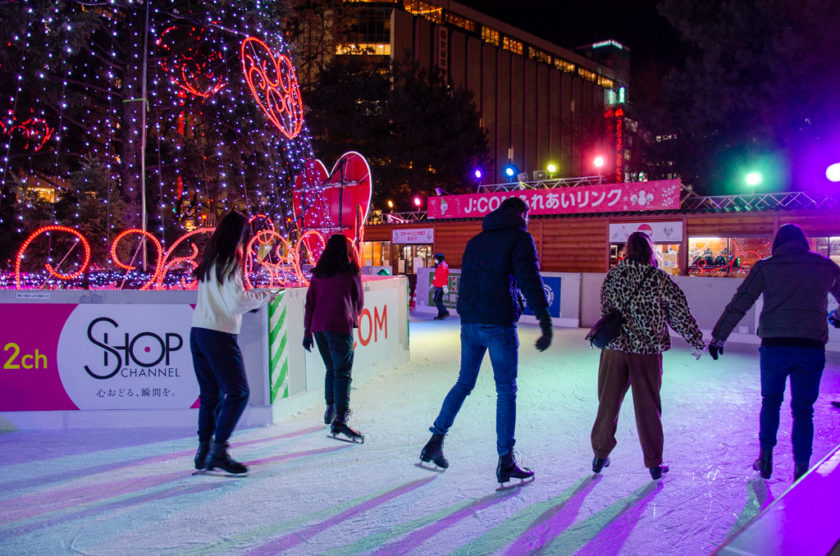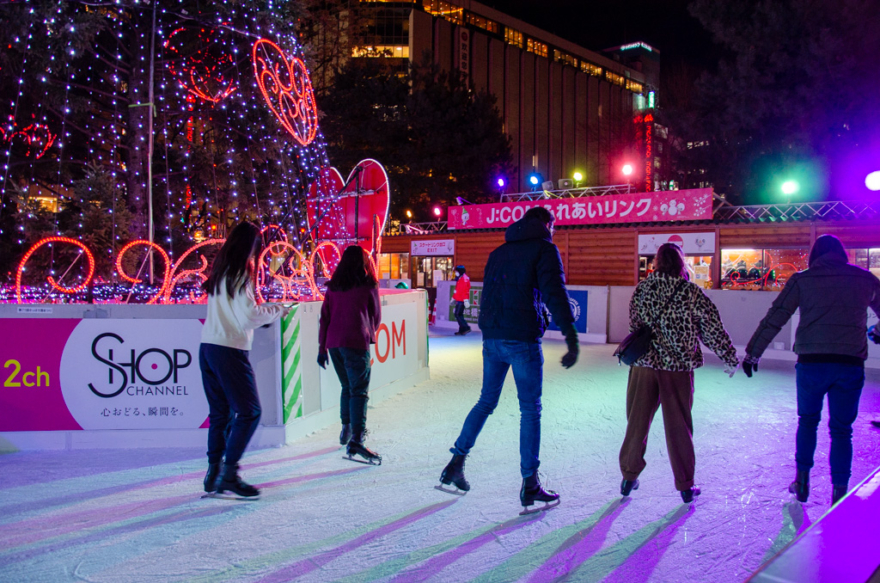 JCOM Hiroba where Skate link is opened on 31st January 2020. Why don't you play here?
Skate Link Admission Fee 
Adult: 1,000 yen
Child(12 years old and below): 500 yen
Skate Lesson by Miki Ando, the 2007,2011 World champion, 2003, 2004 and 2010 Japanese national champion.
4th February 2020
11:00-11:30
14:00-14:30
Odori 2: Kamui Snow Square(カムイ雪広場)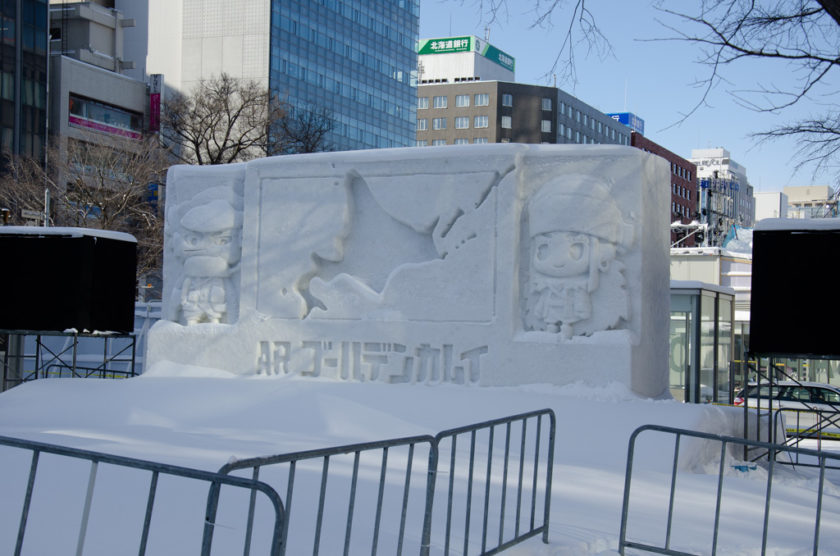 This is the place where you can experience cutting-edge technology and traditional Ainu culture.
TV program "Golden Kamui" AR and mapping
Ainu restaurante
FEEL AINU stage
shopping booth for Ainu crafts
Odori 3: HTB PARK AIR square(HTB PARK AIR広場)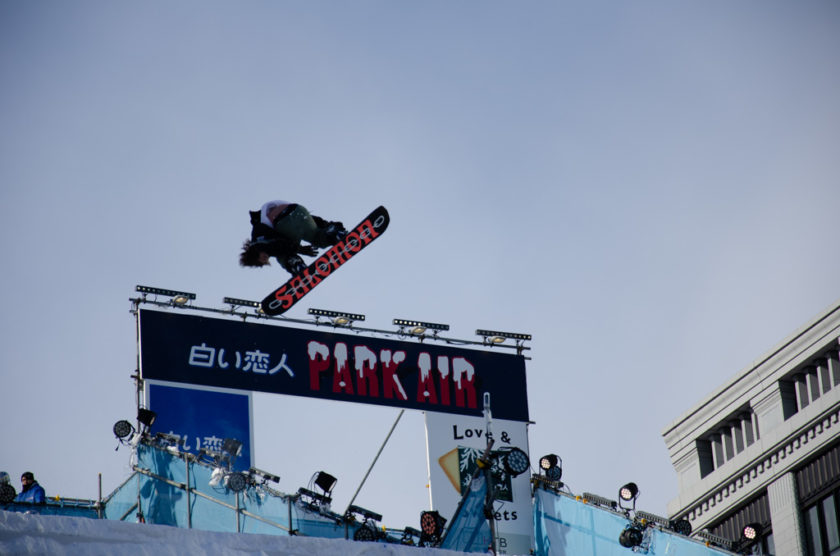 Shiroikoibito PARK AIR Jump stand
24m height x 65m long and 39° max obliquity jump stand. Top athletes are gathering here for competitions. All standing viewing.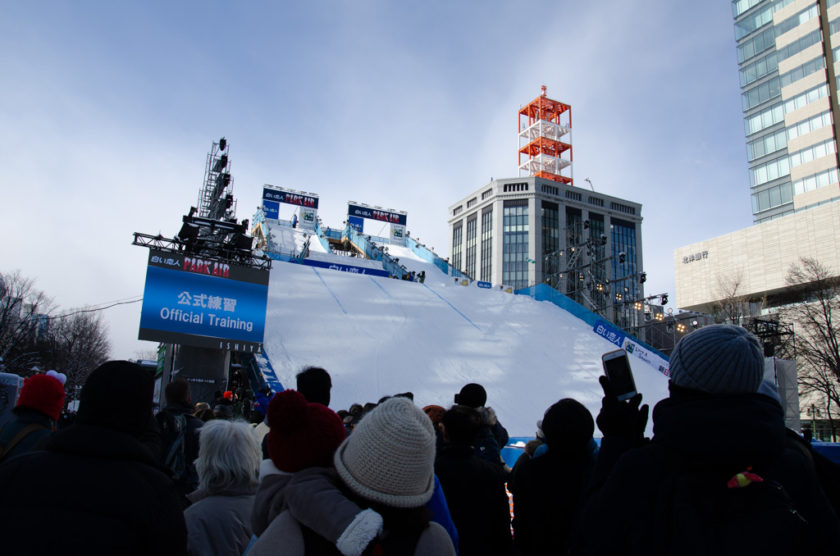 Odori 4: STV square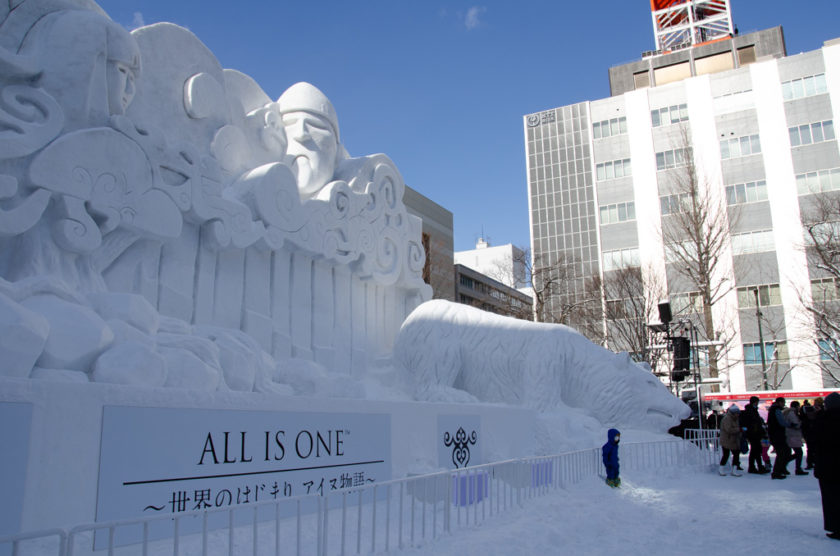 Theme: "ALL IS ONE"- The beginning of the world, Ainu Story
A Big statue and projection mapping shows the traditional creation of Ainu. The story is based on Yamamoto Tasuke Ekashi. Projection mapping are created by Memont Factory, Canada.
A middle statue "SUUMO Wakuwaku Snow Statue". This is a commercial character by real estate company SUUMO.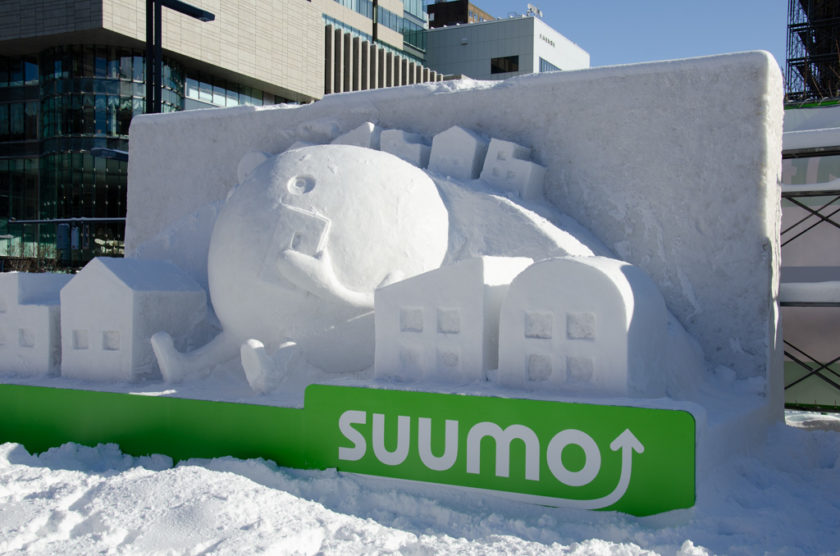 Odori 5: Doshin Snow Square(道新雪の広場)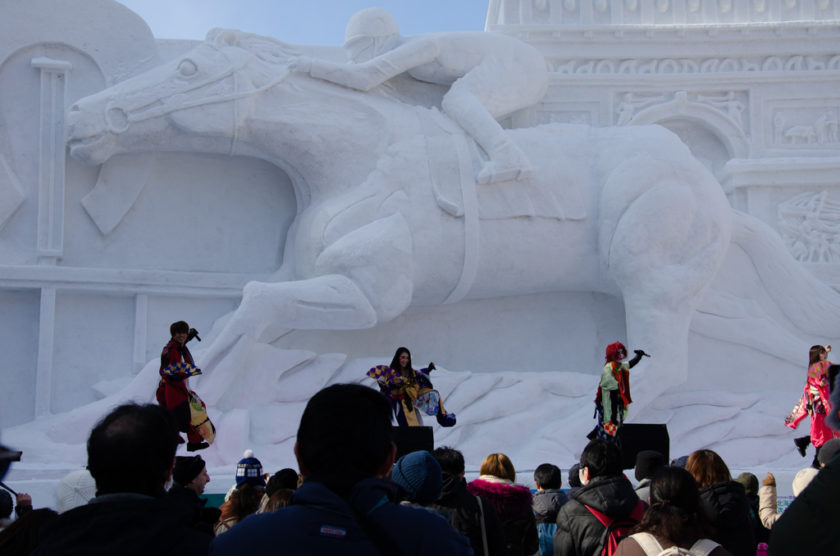 Theme: Hokkaido's Race Horse aspiring for Prix de l'Arc de Triomphe
Hokkaido is one of the most productive place for race horse which dominates 98% over Japan. That's why it is a long-cherished wish to win Prix de l'Arc de Triomphe.
Odori 6: Citizen Square(市民の広場)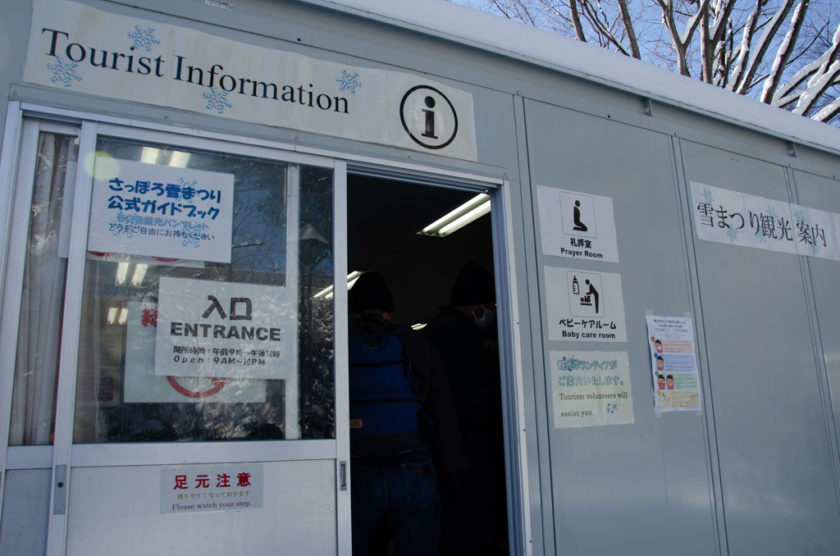 Volunteer house for handicapped persons and Multiple used room for breast‐feeding and worship inside Information Center.
Hokkaido Foods square
Middle statue "UMOMOMO"
Odori 7: HBC Poland Square(HBCポーランド広場)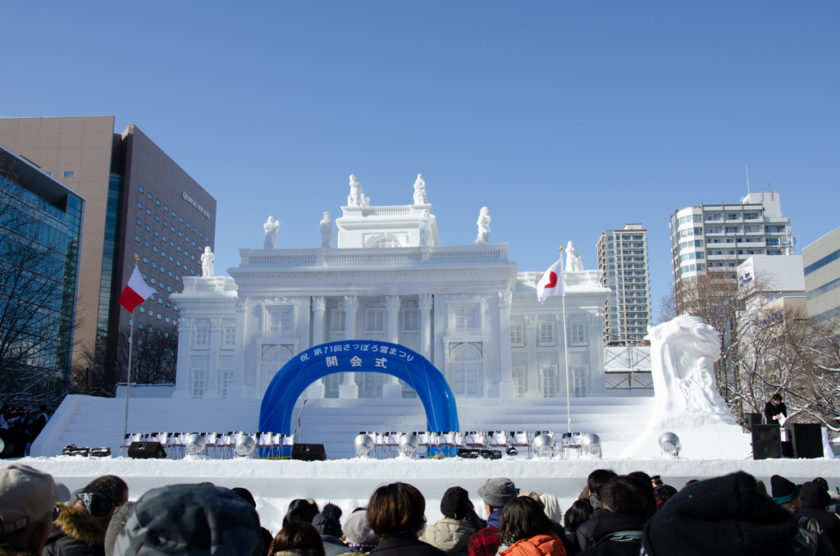 Theme: Agrykoli Marble bathhouse in Park Łazienkowski and Frédéric Chopin
The statues are created by Japan Ground Self-Defense Force which has been working for many years in the HBC square as part of their winter training.  Their work is one the most elaborate one every year. 
middle statue: My hero Academia
middle statue: Ohtainyan projection mapping
middle statue: SNOW MIKU 2020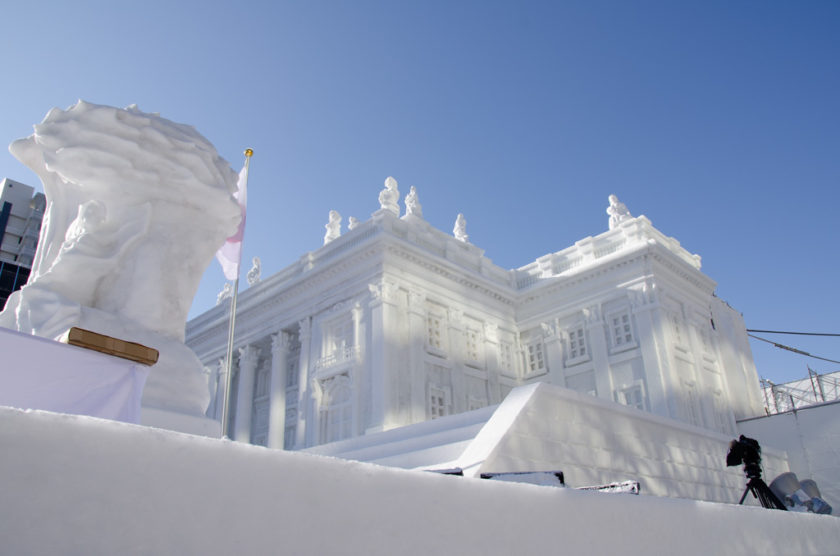 Odori 8: Yuki no HTB Square(雪のHTB広場)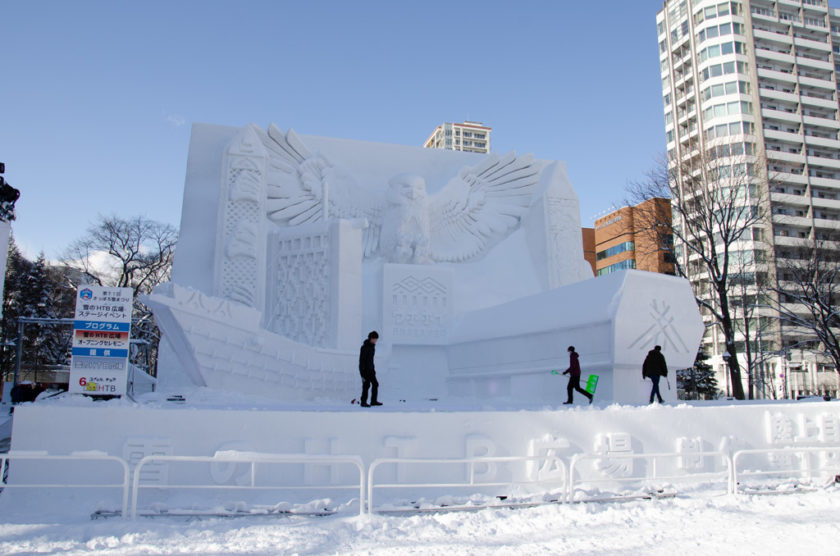 Theme: UPOPOI National Ainu Museum and Park
National Ainu Museum and Park opens on 24th April 2020. UPOPOI means "Sing together" in Ainu. The museum is founded to show the history and culture of Ainu which is the first National Museum for Ainu culture. It is also made by Japan Ground Self-Defense Force.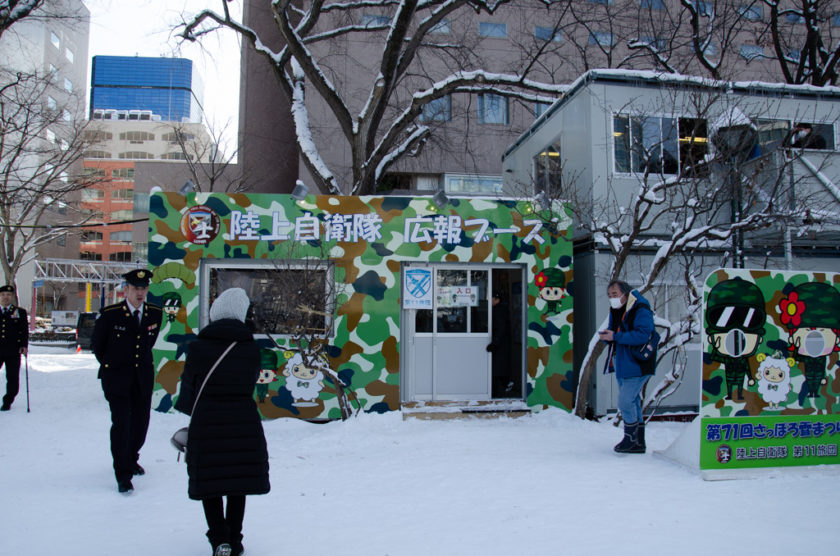 middle statue: Neko ga Chule wo Nameteiru
Commercial booth by Japan Ground Self-Defense Force
Odori 9: Citizens Square(市民の広場)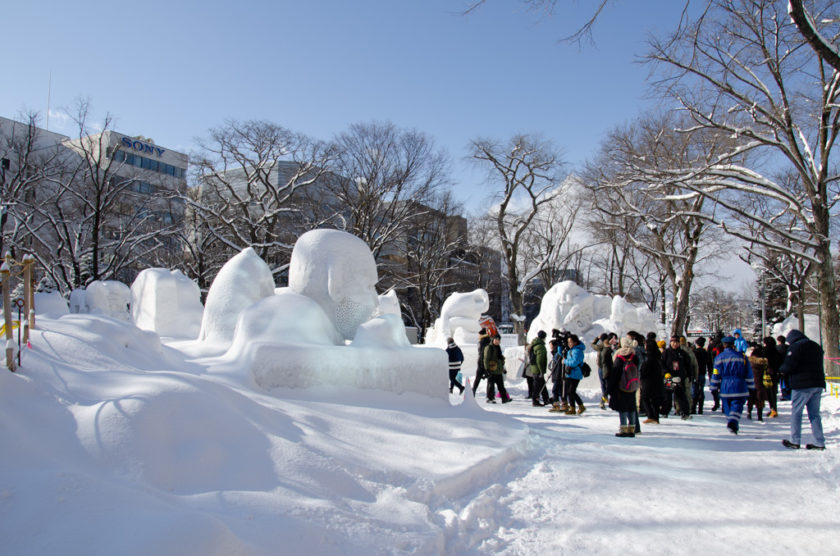 This is the place for presenting small snow statue by Sapporo citizens. You can find many unique ones. 
middle statue: Hikakin and Seikin
middle statue: Yuimal
middle statue: Unaginobori Takinobori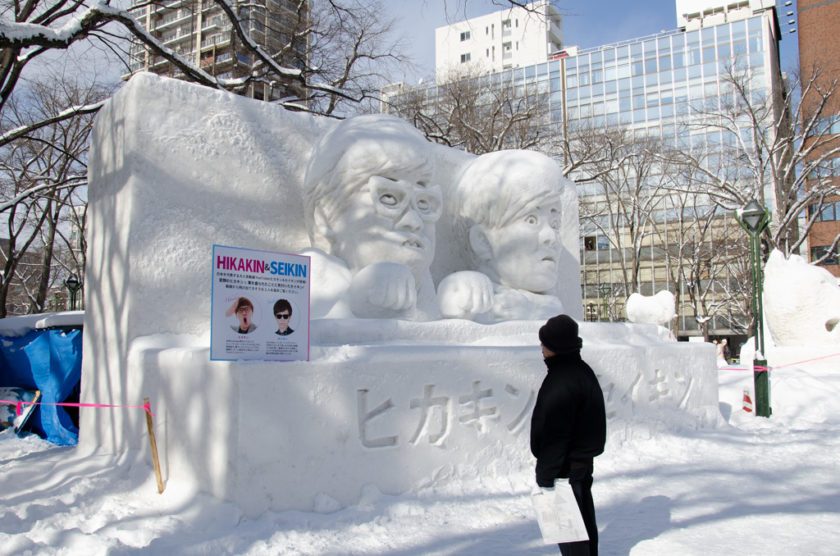 Odori 10: UHB Family Land(UHBファミリーランド)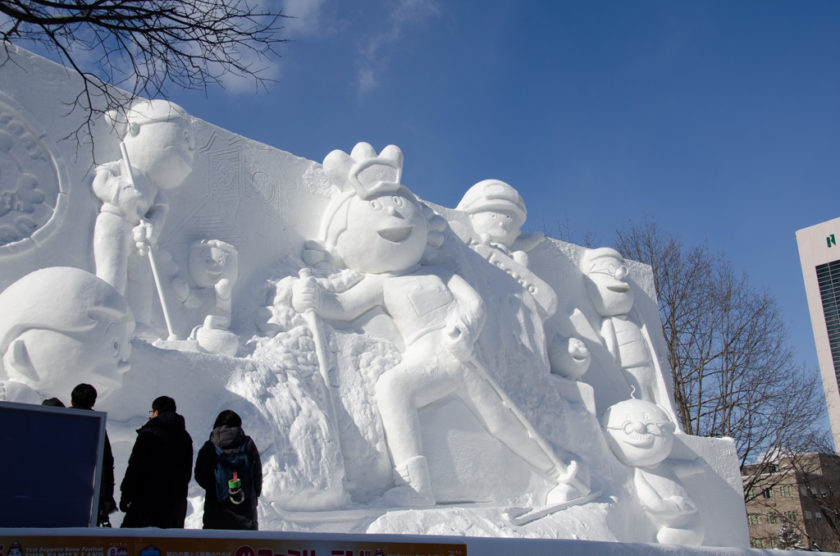 Theme: Sazaesan Family and Winter Sports in Sapporo
Sazaesan is one of the most familiar manga and TV animation in Japan like Doraemon. It has been on the air from 1969. That's why it is 50 anniversary year presentation with playing winter-sports by Sazaesan Family.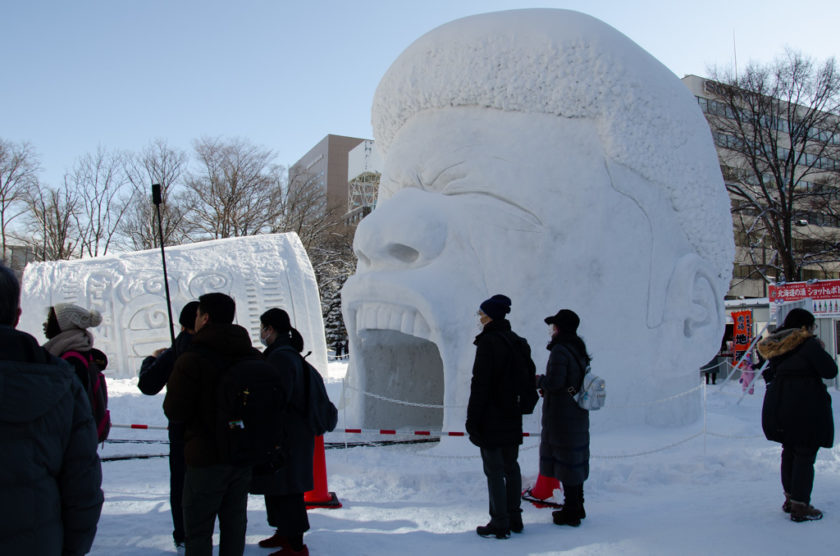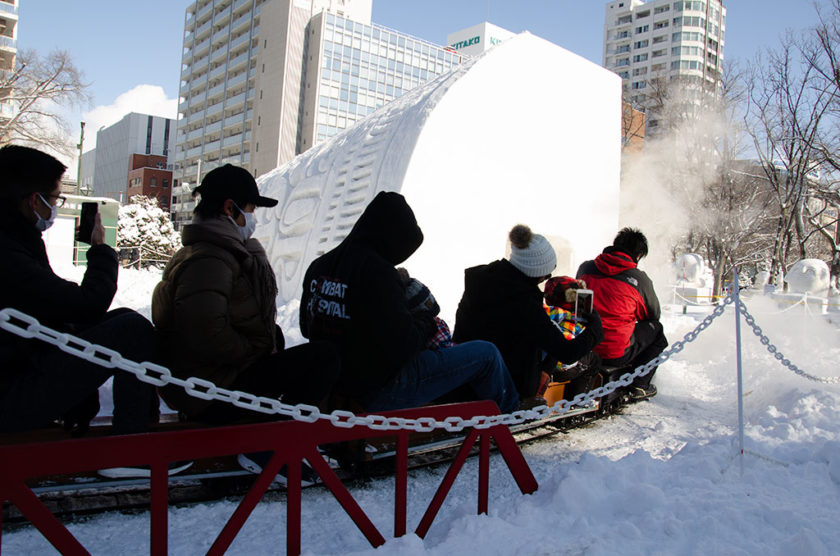 middle statue: Big Cap Nudle & Rui Hachimura Snow Tunnel with Mini SL
Odori 11: International Square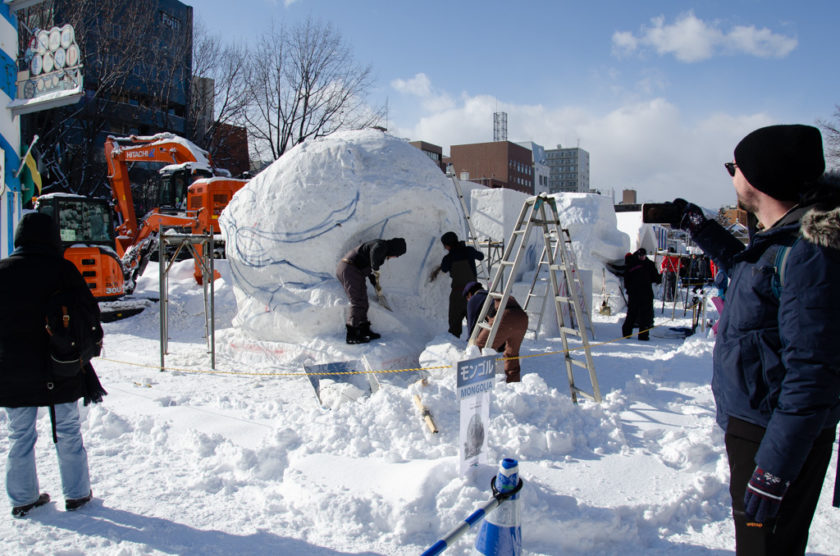 Theme: International Snow Statue Competition
Competition with 11 teams all over the world such as Australia, Finland, Hawaii/USA, Portland/USA, Indonesia, Lithuania, Macao, Mongol, Poland,Singapore and Thailand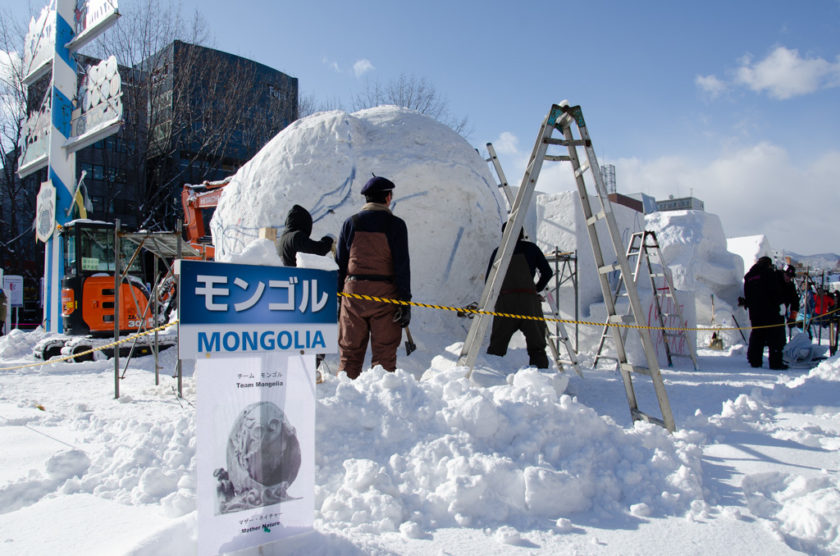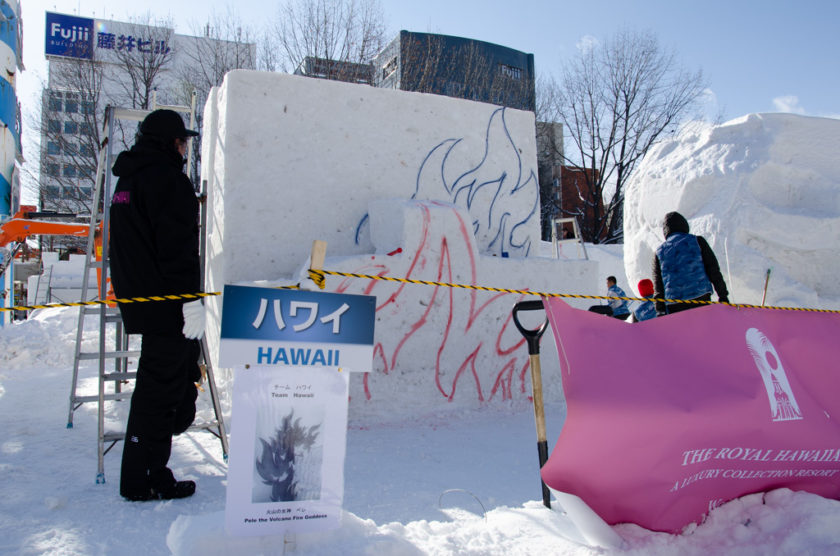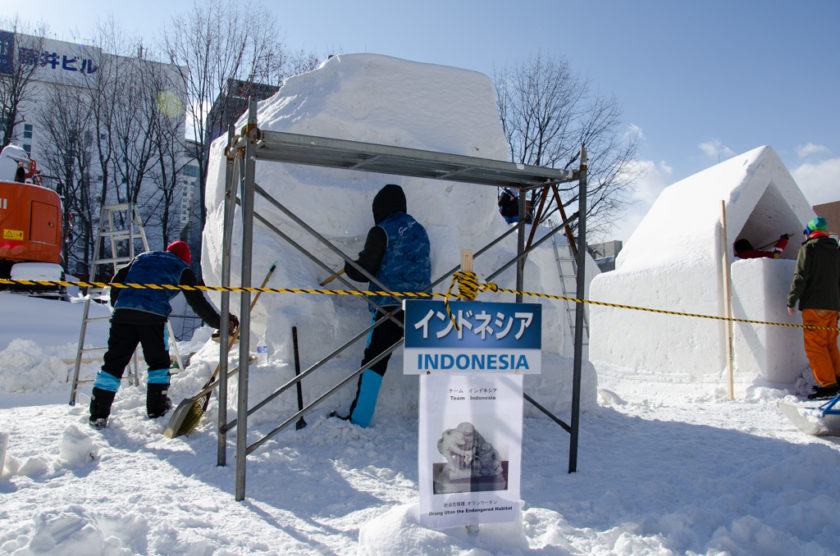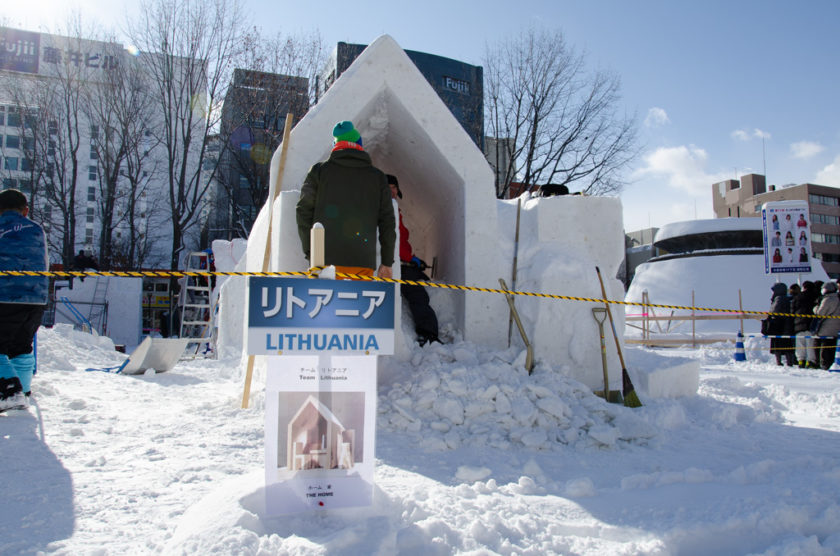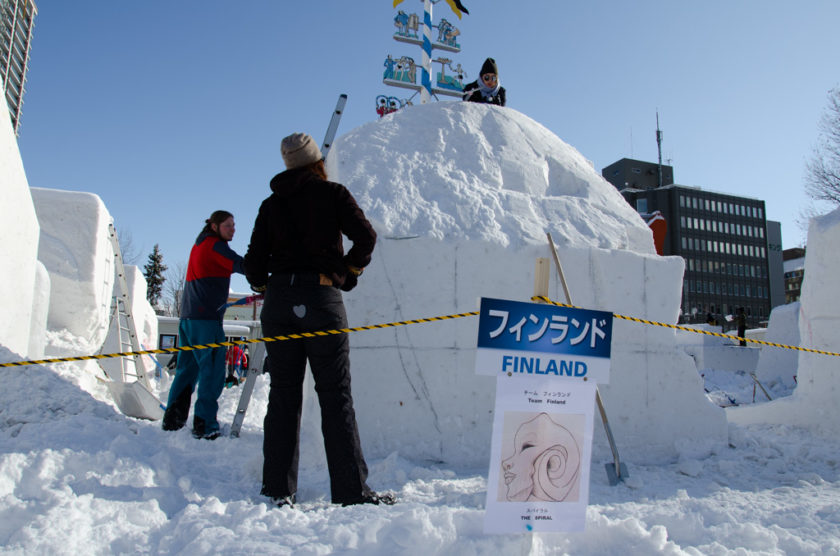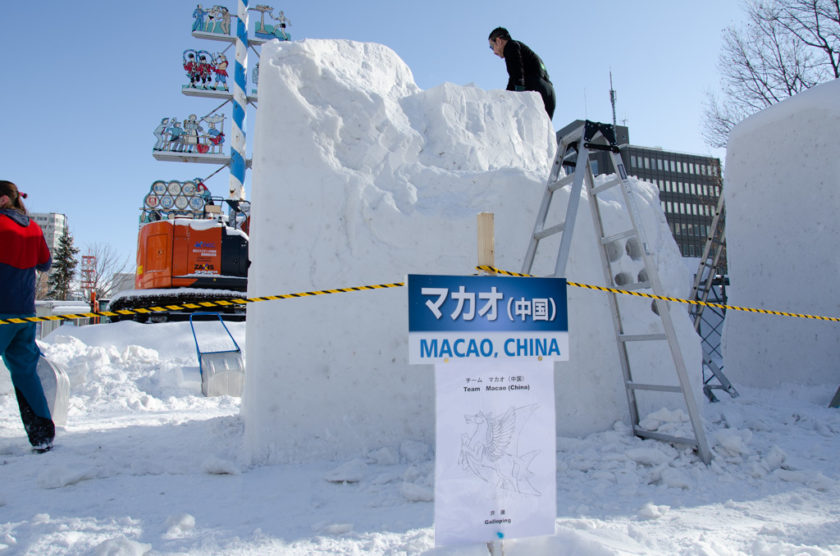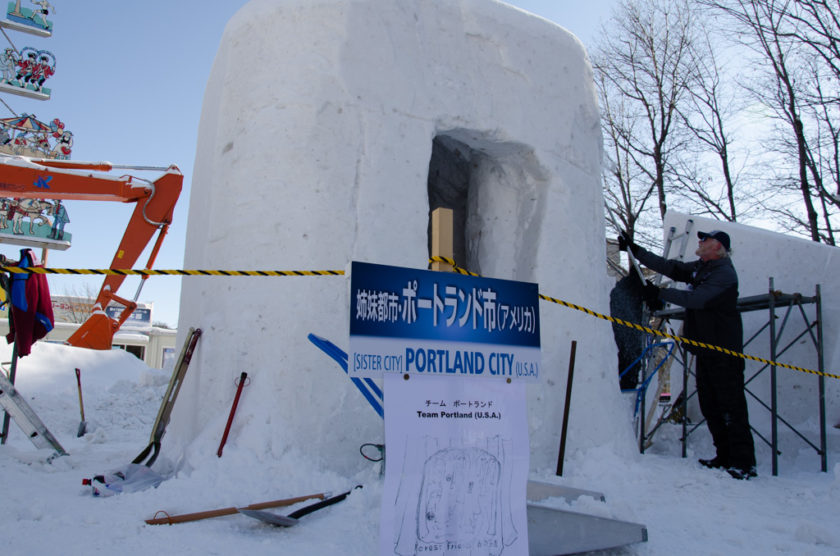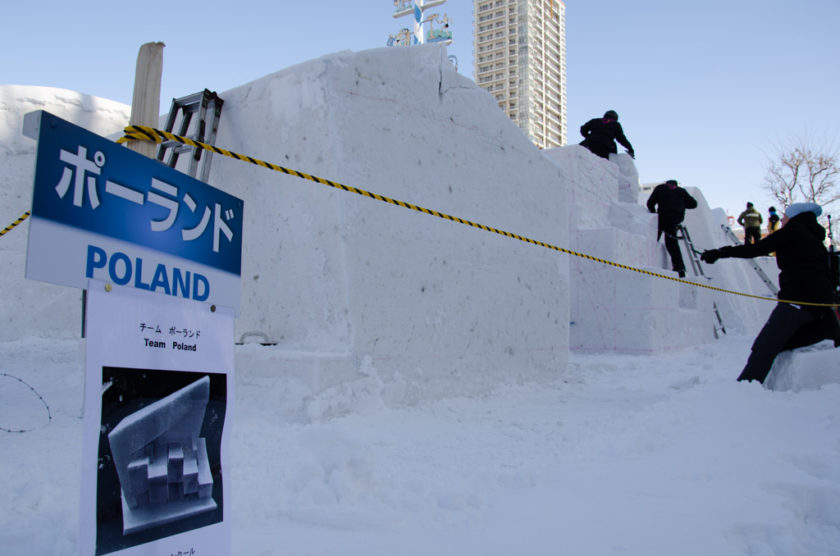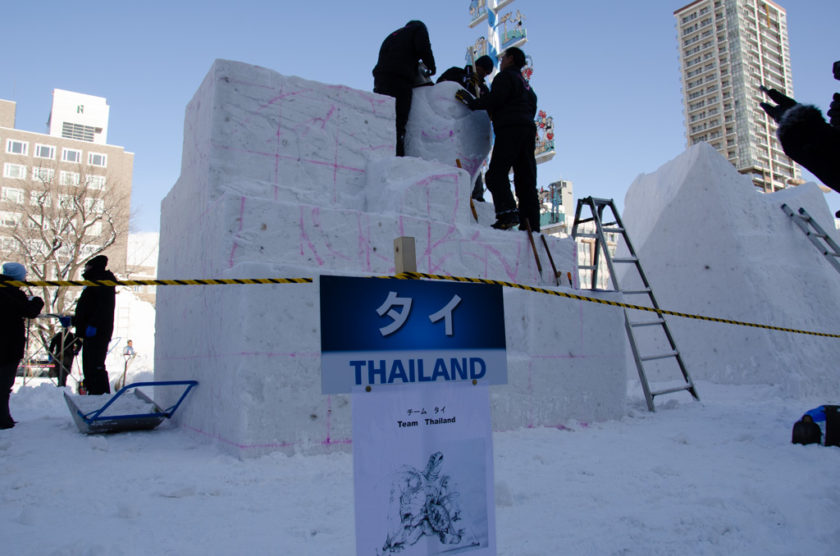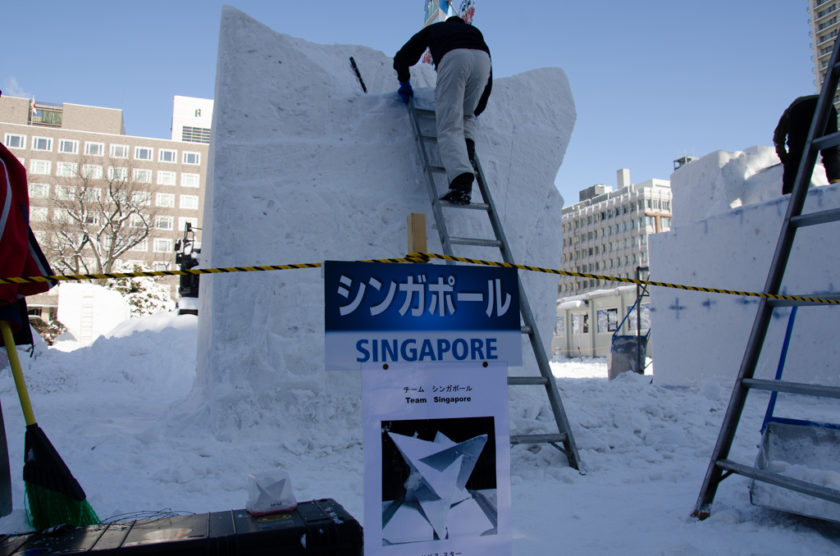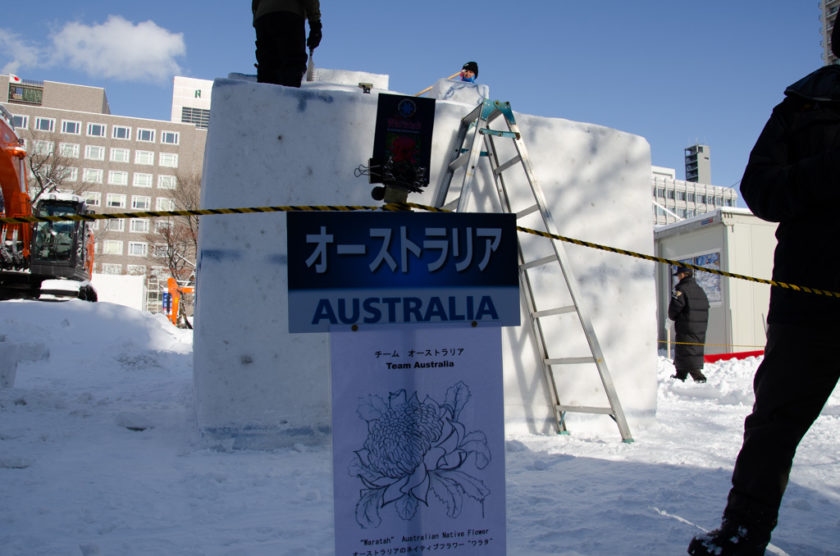 Yuki Miku Snow Parade Ver.
Alora Rokon
International Gourmet Street
Odori 12: Citizens Square(市民の広場)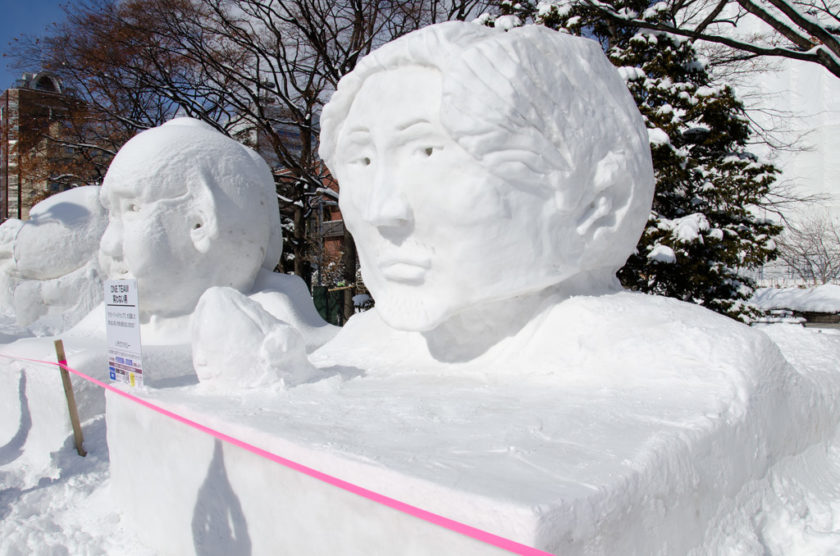 This is the place for presenting small snow statue by Sapporo citizens. You can find many unique ones.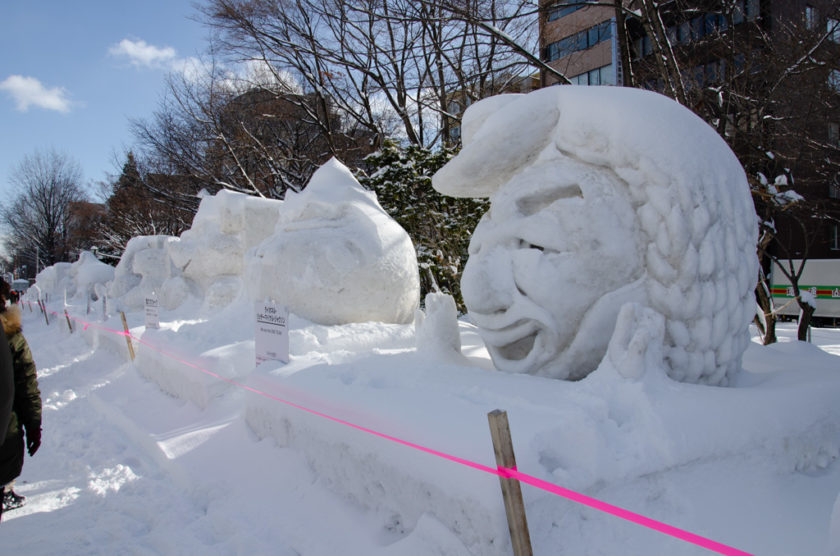 Susukino Site
The main theme is 'Enjoying Ice'. There are many ice sculptures, from big scale to small scale. Competition works are also displayed which are very nice and incredible technique which make you impressed deeply. There is a special site for touching ice works and standing on them for photos. Let's take some picture for SNS or memories. Ice bar is available for hot drinks.
A small advice
In case of warm weather even if February, Ice statues would be melting and not suitable for display. All statues would be destroyed with safety in mind. Indeed, the same cases were happened in the past. Just 2 days after opening, they were torn down then.
It is good idea to see Susukino site as soon as possible after open. The condition of ice statues is the best. Most of statues might be cracking day by day.
Site
From South 4 Jo to South 7 Jo on the Ekimae Dori(the main avenue from JR Sapporo station to Susukino)
A&B block
Main Ice statues welcome and make you impressed. This is the start point of the Susukino site.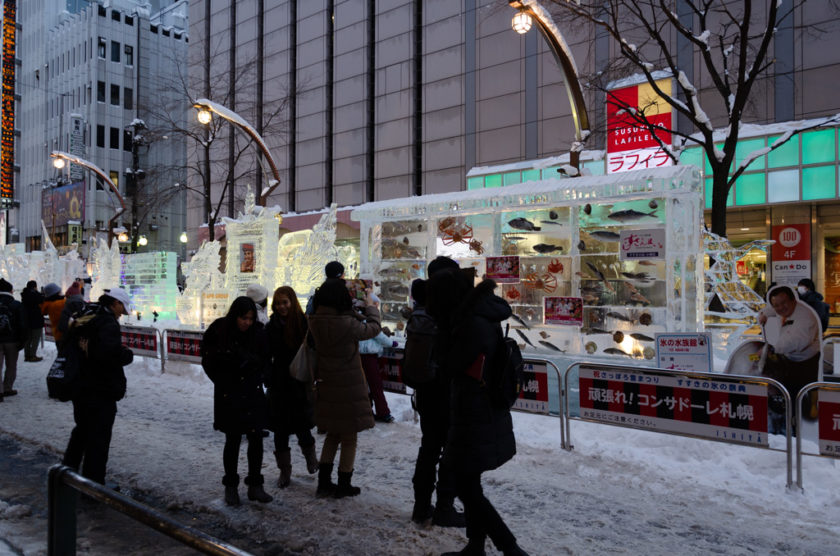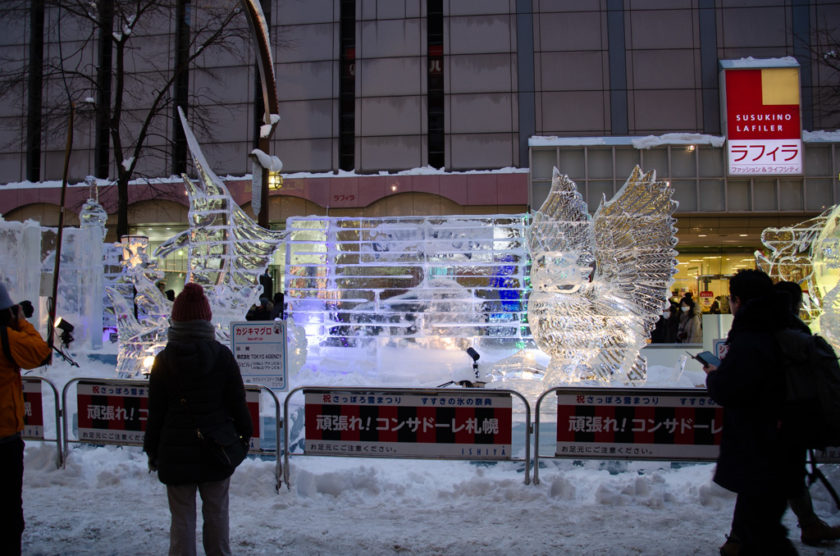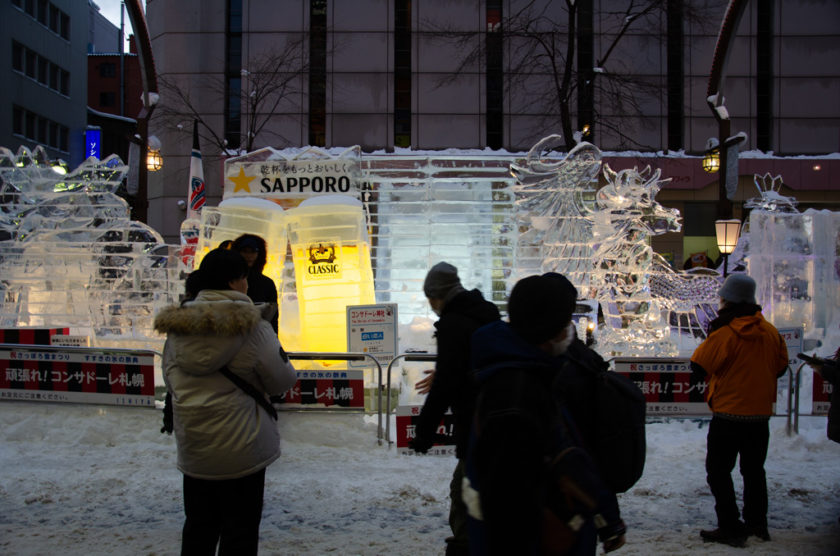 C block
The Ice competition is held for ice sculptors. You will see their incredible fine technic and moved by their artistic works.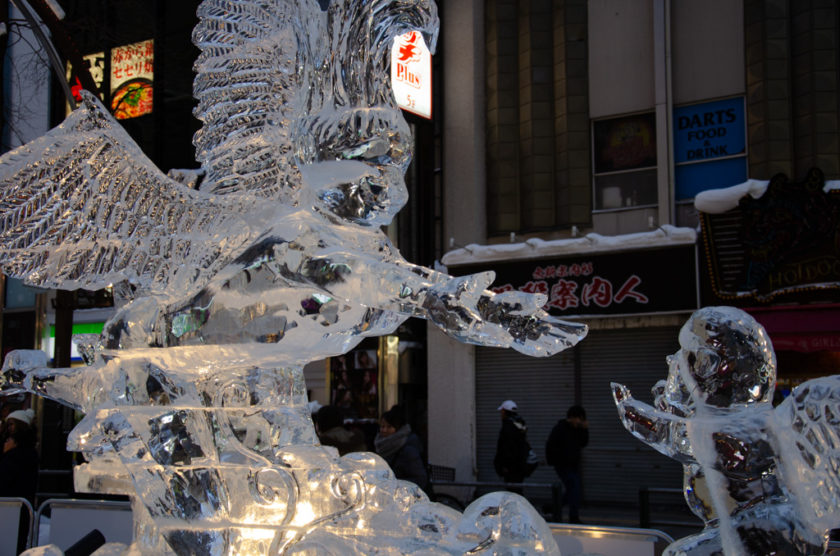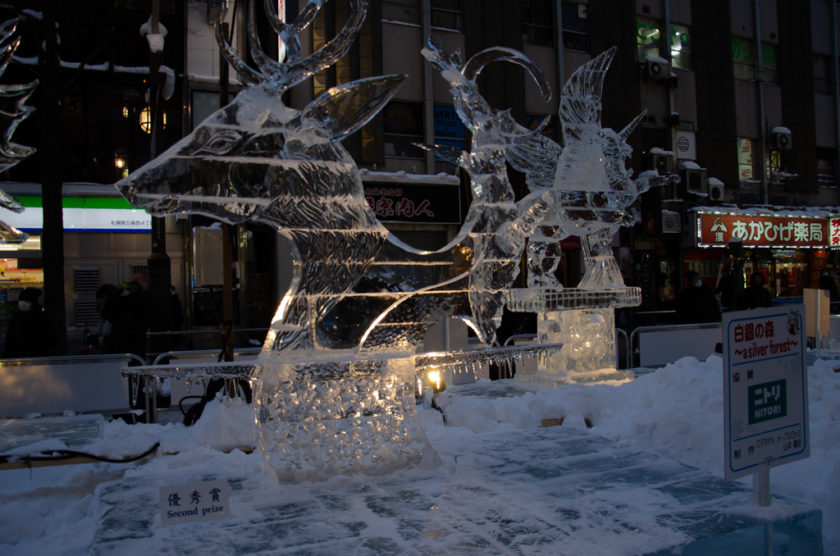 D block
Information center is here. You get what you need to know for your sightseeing. Hot drink and photo service are available at Ice Bar.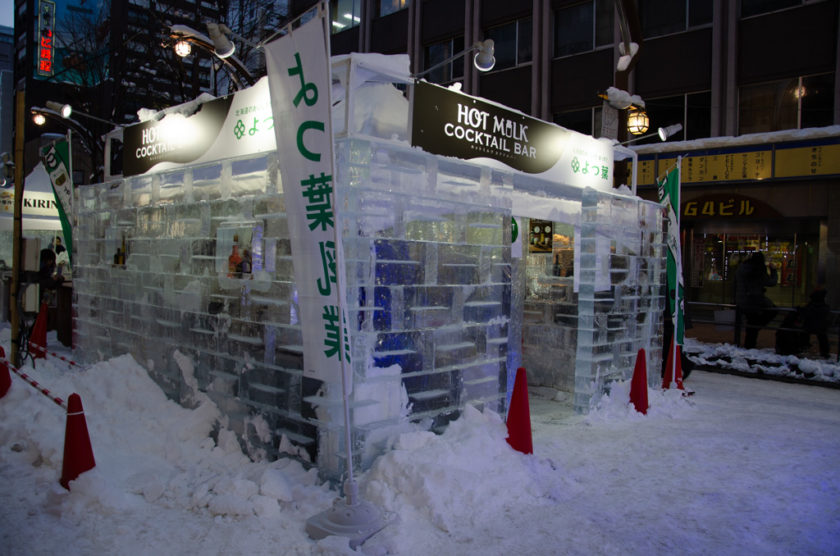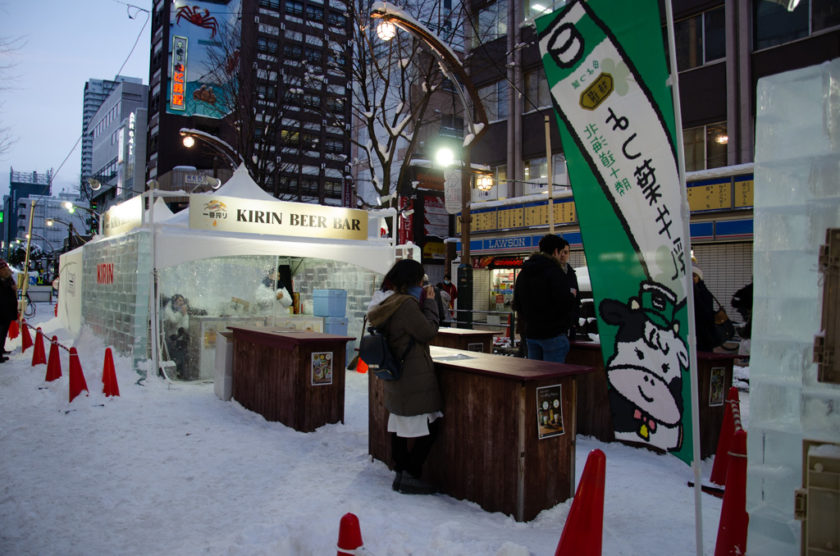 E block
A Photogenic spot for SNS and your travel memories. Fantagick illuminations make you fascinated. Also performance of ice sculputuring is held here.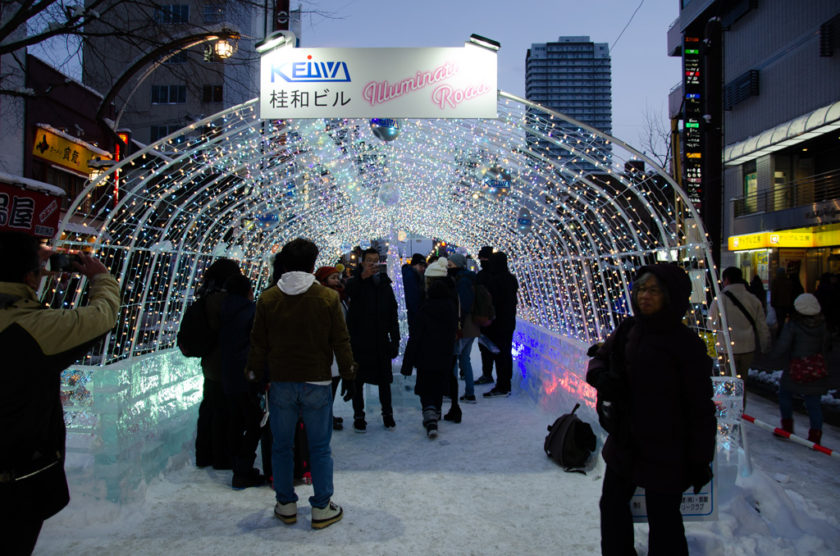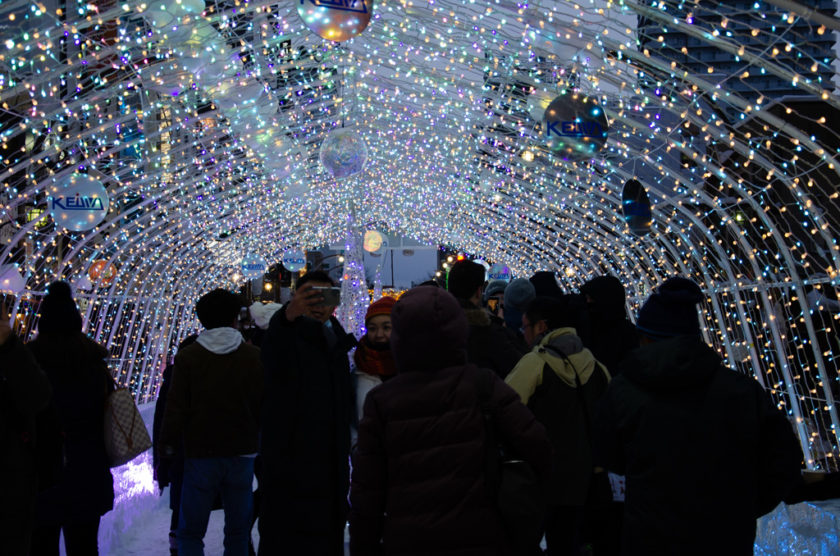 F block
You can have some experiences to ride on ice statues such as cars, popular TV character and a ice slider. It is fun for families with kids.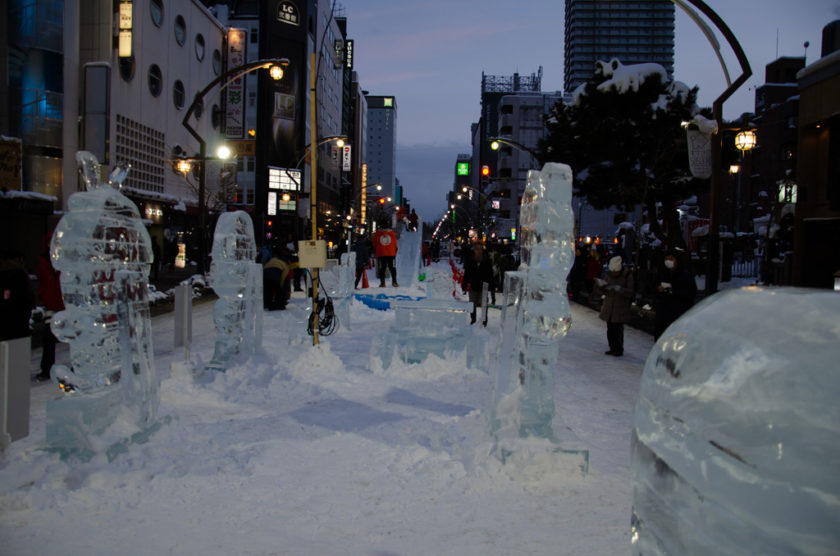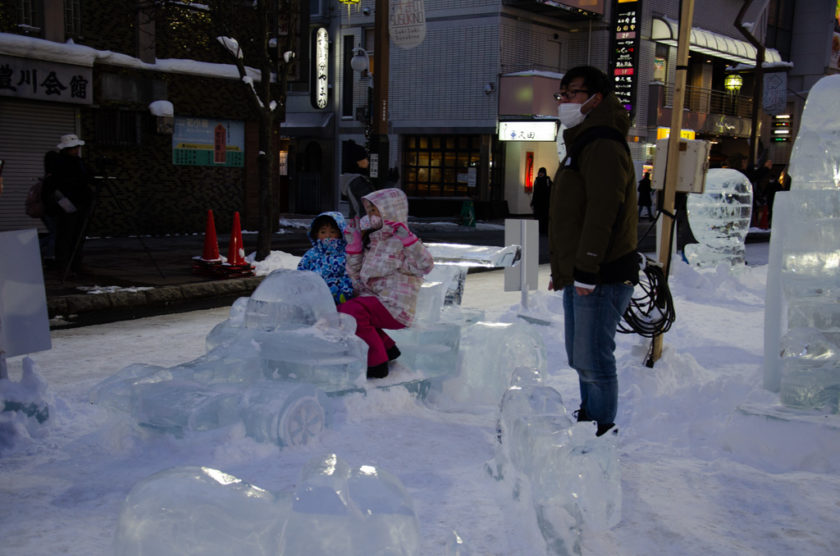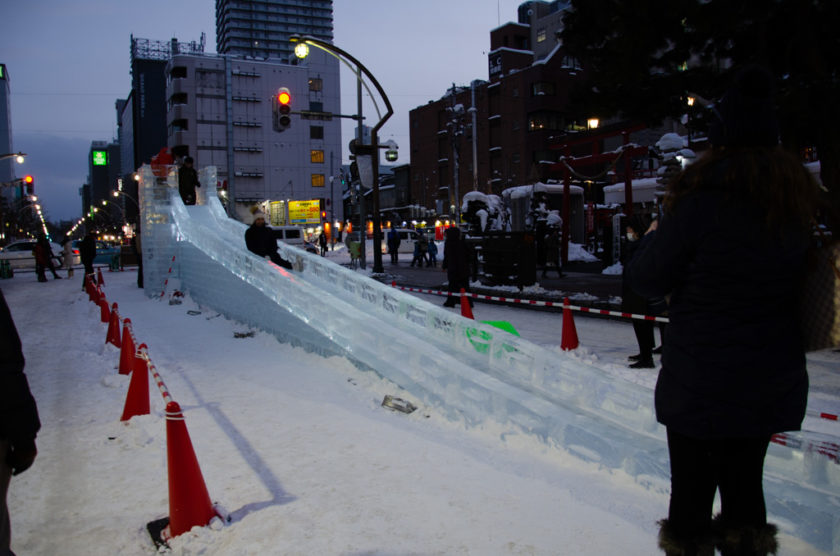 Open
The road is closed for visitors in these time schedule below.
4-7, 10 February, 2020 -> 15:00~23:00
8, 9 February, 2020 -> 10:00~23:00
11 February, 2020 -> 10:00~22:00
Tsudome Site
Jan 31 – Feb 11, 2020
open: 9:00 – 17:00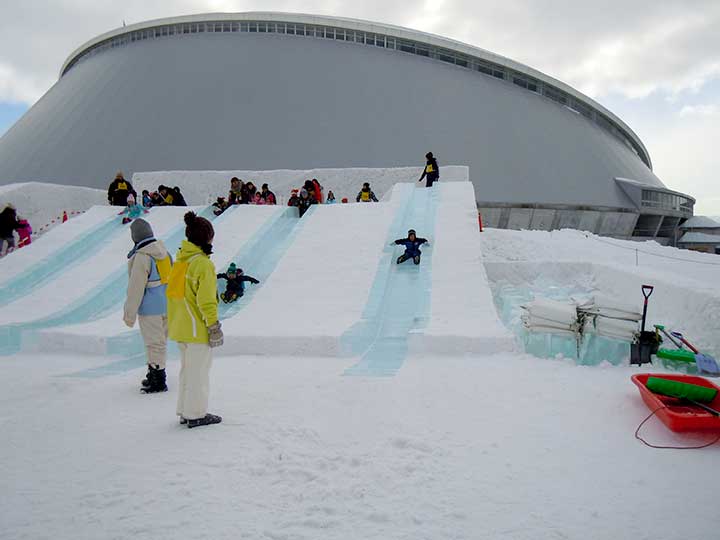 Tsudome site where is fun for children to ride ice slope, tube slider and many events will be held.
Access
Contents and Events