posted on June 14, 2014
This place is written as [札幌ファクトリー] in Japanese.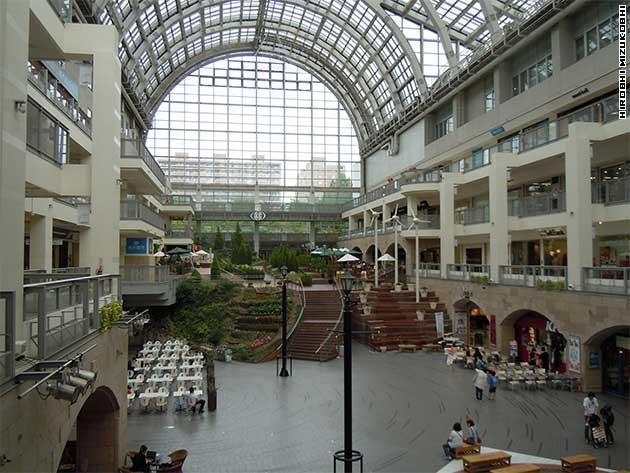 The old red brick buildings impress people as 'factory'. Hokkaido Kaitakushi, the former government of Hokkaidō prefecture, planed to construct a brewery in 1876. After that, this was the place of the beer factory, Sapporo Beer company. There are 7 areas in the Sapporo Factory, which are Ichi-Jo-kan (N1Jo-Street building), Ni-Jo-kan (N2Jo-Street building), San-Jo-kan (N3Jo-Street building), the Atrium(large event hall), Renga-kan (red brick building), Frontier-kan (Frontier building), and Nishi-kan (West building). The main event hall, Atrium is located between Ichi-Jo-kan (N1Jo-Street building) and Ni-Jo-kan (N2Jo-Street building). Fashion brands, sweets, restaurants, interior shops an so on. *N=north
Shopping Malls
Atrium(アトリウム)
This is the symbolic zone of Sapporo Factory where many events are held such as short concerts, games, talk shows and so on. At Christmastime, the biggest christmas tree appears in the north side of glass wall.
Frontier Kan(フロンティア館)
There are a supermarket featuring quality food and sophisticated services, specialty stores offering distinctive delicacies and comfortable cafes.
1-jo Kan(一条館)
Offering a wide array of amusement facilities, including a cinema complex, large toy store, pet shop, games and recreational activities and a showroom offering interiors.
2-jo Kan(二条館)
Featuring the largest number of brand stores for sports and outdoor activities of any commercial complex in Sapporo. There are also restaurants and boutiques.
3-jo Kan(三条館)
There are urban functions and services in 3-jo Kan, interior and accessory items,boutiques,restaurants,beauty salons,massage salons,a bank,a post office and business offices are there.
Renga Kan(レンガ館)
offering a wide range of products, such as artifacts, craftwork, Hokkaido-brand confectionaries, alcoholic beverages and seafoods. Also available to get a original taste beer in the old days, Meiji era in the beer hall. 
BEER KELLER Sapporo Kaitakushi for Jingisukan and beer, which is really nice.
Access
Subway
Take a Tozai Line to Bus Center
3min walk.
Bus
Take a Hokkaido Chuo Bus Factory Line to Sapporo Factory(サッポロファクトリー)[fare: adult ¥200, child ¥100].
Take a JR Hokkaido Bus, no.2,3 or 4 at JR Sapporo Station Bus Terminal (excluding route No. 5 and express buses) to the Sapporo Factory.
JR
12 min walk from JR Sapporo Station.