posted on August 18, 2014
This place is written as [大田神社] in Japanese.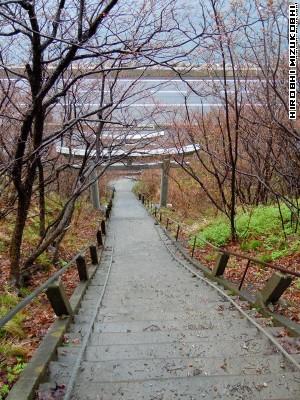 Ohta Jinjya Shrine is located in Setana, the south-west of Hokkaido Japan. It is said that the shrine was built between 1441 to 1443. This is the oldest shrine in Hokkaido. There are two buildings in the precincts of Ohta Jinjya shrine. One stands on the small rock hill along sea-side. This is called 'Haiden', a front shrine, where people usually worship. But another building, the main shrine is settled on the cave of the top of Mt.Ohtasan. So you have to climb Mt.Ohtasan in order to worship. It is not exaggerated to say, "This is not a mountain climbing but ascetic practices". When you look at the entrance of the shrine, you are able to well understand that stuff. The way to shrine called 'Sando'(参道) is straight to the top of Mt.Otasan. The slope is more than 40 degrees and it lasts less than 50 meters but it's not the end of the climbing, just beginning. There are three 'Torii'(鳥居) on the straight Sando-slope, Torii is a gate to a Shinto shrine. The gate consists of two upright posts connected at top by two crosspieces. It is believed to keep evil spirits out of the shrine precincts, and to purify those passing through the gate. Looking back to downward steps, you might feel some scare.  Left side of the last step ahead, you will see 'Jizo/Ojizo-san'(地蔵/お地蔵さん). JIzo is one of the bodhisattvas which has been not in spiritual enlightenment yet. There are various types of jizo statue, but they are usually small with no hair. Although Jizo derives from Buddhism, Very often in Japan, Buddhism and Shinto are mixed together for those who believe both of Shinto deities and Buddhas. Jizo seems to be settled in the beginning of the Meiji era when Haibutsu Kishaku(to abandon and ban on Buddhism) blowed all over Japan. When you look down the entrance-ward, you really realize that this is not usual mountain-climbing or worship. I have to say again, this is an ascetic practice.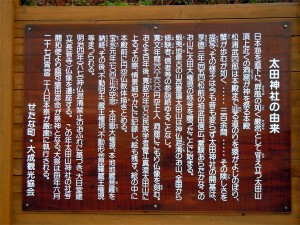 Anyway, standing at this point, you have two choices,  'To go or Not to go". This is just the beginning of the entrance to the shrine. If you don't have sufficient equipments such as shoes, clothes, water and so on, it is a wise choice for you not to go. There are bears, adders which is an only poisonous snake in Hokkaido, blackfly and mosquito in the mountain. It's not easy climbing. From this point through the first Jizo, the way is narrow and unsteady like an animal trail. But you won't loose your way due to the rope linking to the top. Walking another 50 meters, you will find a small stream and see a iron bridge ahead where you walk through. This point is about 103 meters from the entrance, but you have to feel more walking. More 100 meter walking, you will find a second small Jizo under rocks. And more 100 meter ahead, you will find a gentle way and big trees around, and there is a small cottage called 'Nyonin-do'(女人堂), a kind of small shrine for women, that allows you to take a break there. This is 358 meters point from the entrance. You are still in the midst for the shrine. The higher you climb, the steeper the slope. All you have to do is to keep you stable and grasp ropes tightly which is always alongside the way. According to the web page of Setana town, it takes about 30-40 min to the shrine. But it's not true for a novice climber. Takeshiro Matsuura, one of the most famous explorer in the end of the Edo era, he wrote the climbing like 'Oni Kami Nobori' in 1856. Oni refers to an ogre or a demon. Kami refers to God. Nobori means climbing in Japanese. Takeshiro had discribed the climbing of Mt.Ohtasan just like one that only Demon or God can get through. After more 300 meters climbing, you will look up the shrine at last. The shape of the mountain-top is cliff, where the shrine is built in a small cave. You step ahead and see a bridge, 1 meter width and 16 meters long. Bottom right is a steep-valley and left precipice has 7 meters iron chains which allow you get to the shrine. In the cave, there is a space, 4 meters width and 3.5 meters deep where the shrine is settled. From the Ohta Jinjya Shrine, you will see the blue of the Japan sea and Haiden downward. You must feel that this is the place where the Gods exists.
Access
Take a Hakodate bus to Ohta and walk 15 min.