posted on September 4, 2021
This place is written as [釧路川の川下り] in Japanese.
The Kushiro river is a sacred place for Canoe and Kayak. The river starts from the south of the Lake Kussharoko near a small bridge called  'Chokobashi' where you will find a canoe port. 
There are some space for parking. But this is a private area actually, so we are able to park due to owner's good intentions. We have to say 'Aligato'.
If your goal is the Biruwa-bashi bridge canoe port, you park your car here. We planned to kayak down to the Mashu Ohashi canoe port, so I move my car to the Mashu Michi-no-eki near the Mashu Ohashi bridge. Later, we found it was a mad plan we chose.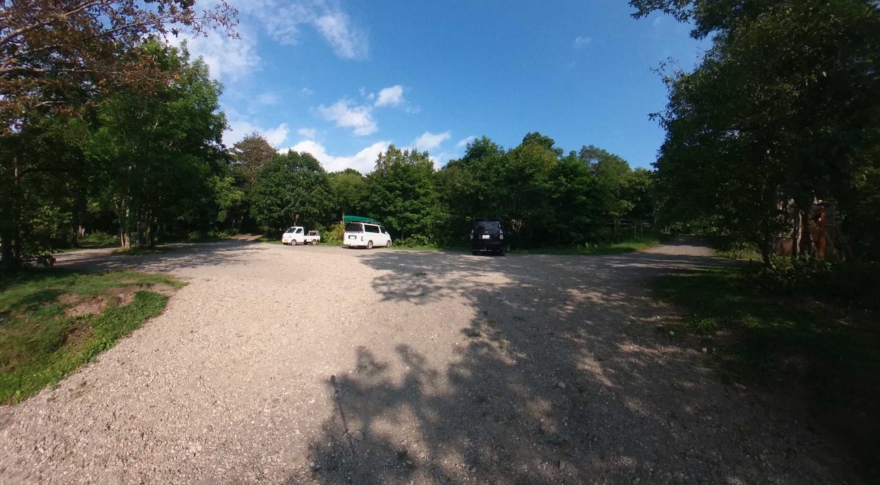 Anyway, what a beautiful day! we got two kayaks for the beautiful day brought here from Sapporo. In this morning, we've already went kayaking on the lake Kussharo around the Wakoto peninsula.
There were many people for boating, canoeing and kayaking. SUP(Stand Up Paddle board) is very familiar also.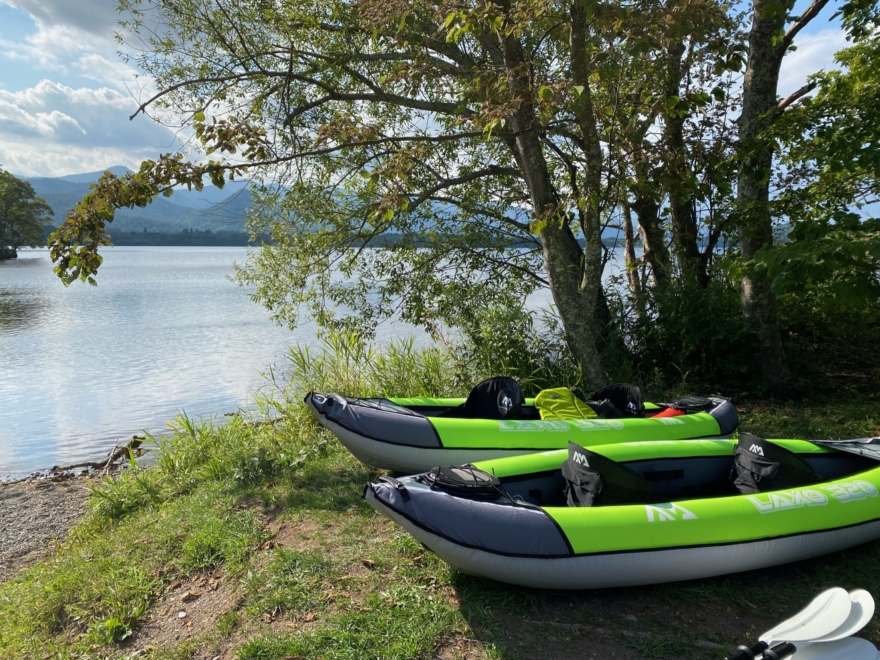 After kayaking on the lake, we had a lunch at COVO, a very nice Italian restaurant. I really recommend COVO!
After that, we got here and ready for our kayak by 20 min. It was almost 15:00. It could be late to start kayaking down.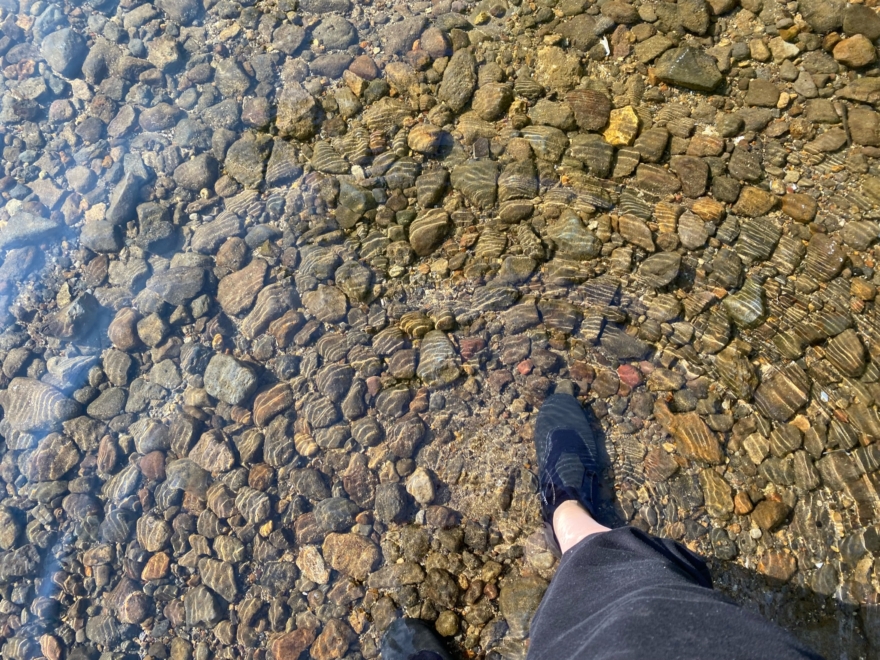 It's clear and beautiful water isn't it.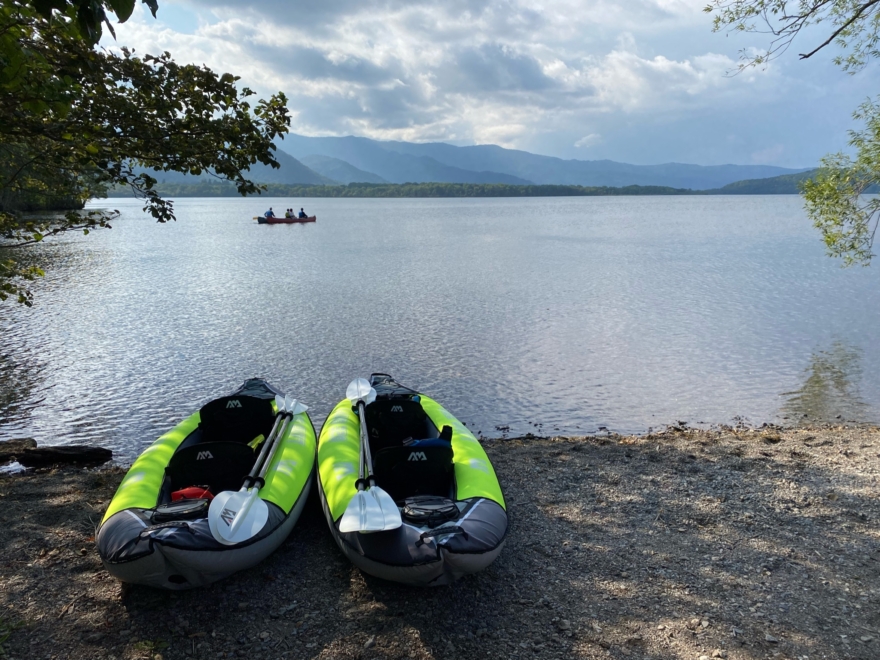 Now we're going to kayak down the Kushiro river.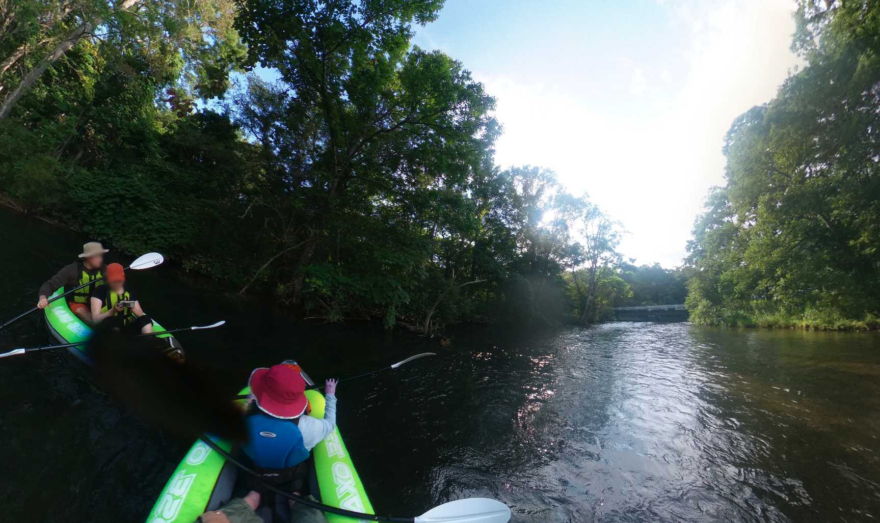 In the beginning, the stream was very easy. 
But we had a hard time for controlling our kayak. According to the manual, we are supposed to put off fins which are settled on top and back under the kayak and stabilize its direction. These are very useful and important equipments. But on the river, the depth of water is not the same as a lake. Some are shallow, some are deep. There are some rocks or trees under water which could damage the bottom of a kayak. That's why we have to put off the fins on the river. 
We got Aqua Marina LAXO. See below. LAXO is nice!
https://www.aquamarina.com/products/heavy-duty/laxo
It makes so difficult to control. It's easy to turn around without fins. We can't make easier our direction. Paddle work is the most important, but I missed a lot. As a result, we knocked against fallen trees many times. That's really hard, but some times fun maybe? 
There was once time when we struck hard. My wife yelled at me 'Oh my god! So many insects falling on me'.
There was only thing I can say 'Lucky'. She was with her hat on. If not, there would be some insects paradise on her curly hair. Our kayaking should be stopped right there, THE END.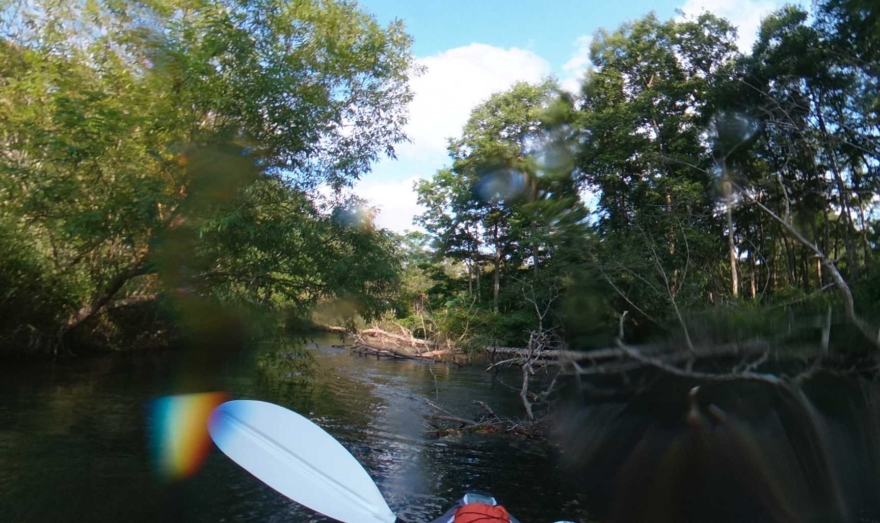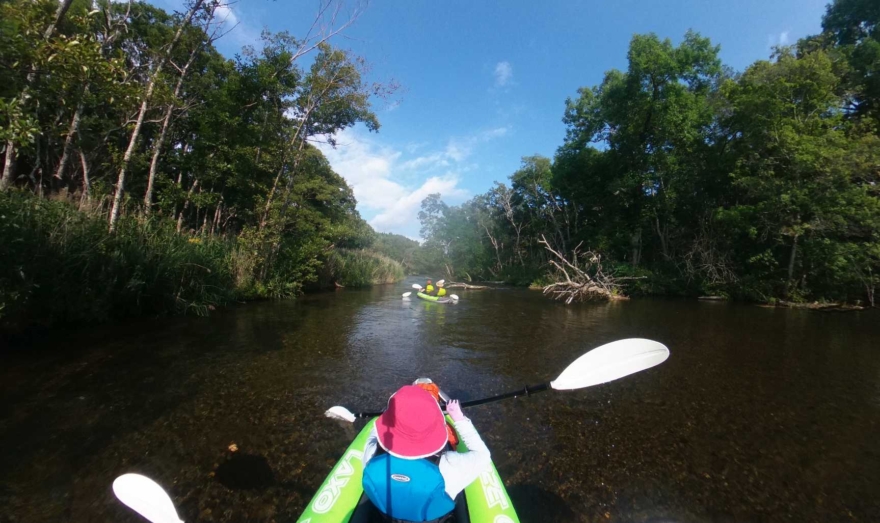 This day, we finished at the Biruwa-bashi bridge (美留和橋).
It takes about 1 hour and half. According to Googlemaps, it is about 6 km from the canoe port, Kussharoko Kushirogawa canoe port (屈斜路湖 釧路川カヌーポート) to here.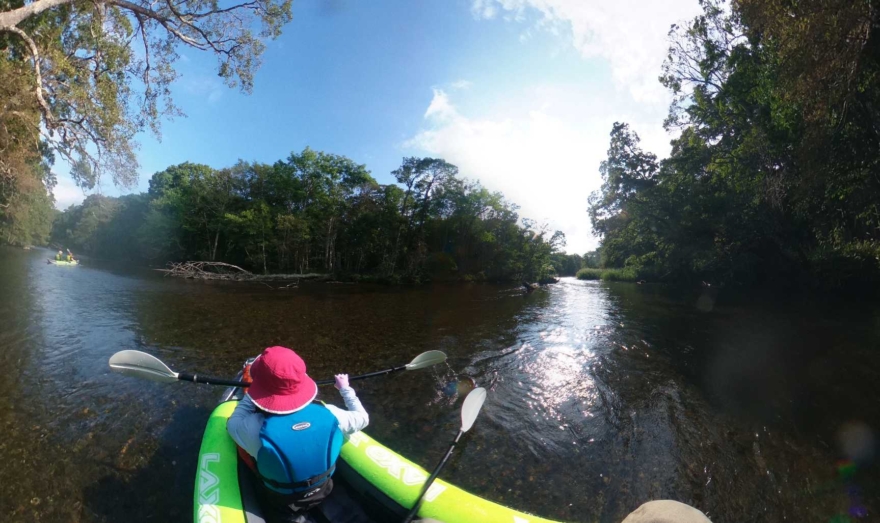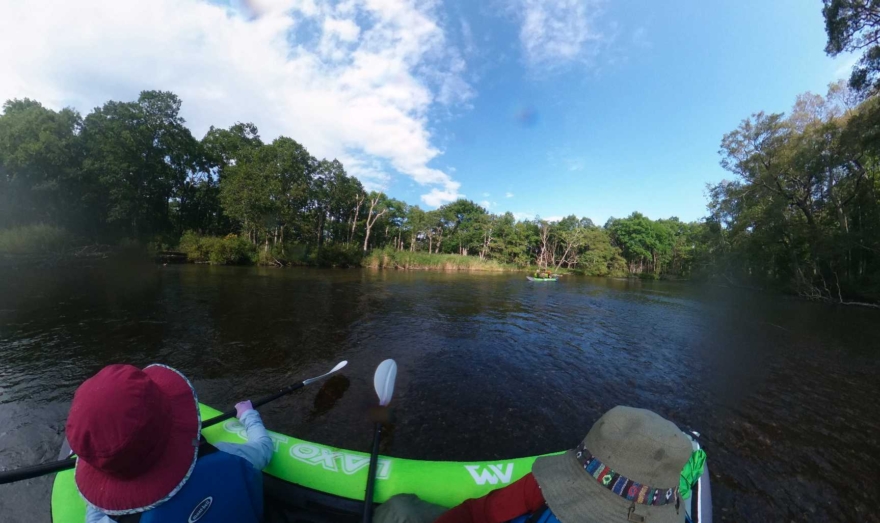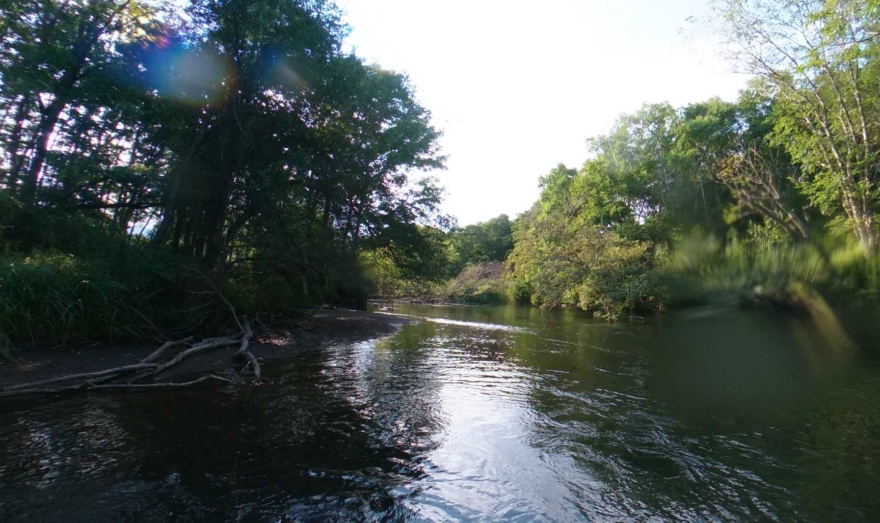 It is more or less 7km long on the river I think. Unfortunately, there is no canoe port to the Mashu-Ohashi bridge so we decided to quit kayaking down here. Maybe next year, we going to try the rest of it to the Mashu-Ohashi bridge canoe port.
Actually I parked my car at Mashu Michi-no-eki, which is a station for cars, but we realised on the way that it is too long distance to get before sunset. We had to start kayaking down in the morning for the Mashu Ohashi bridge.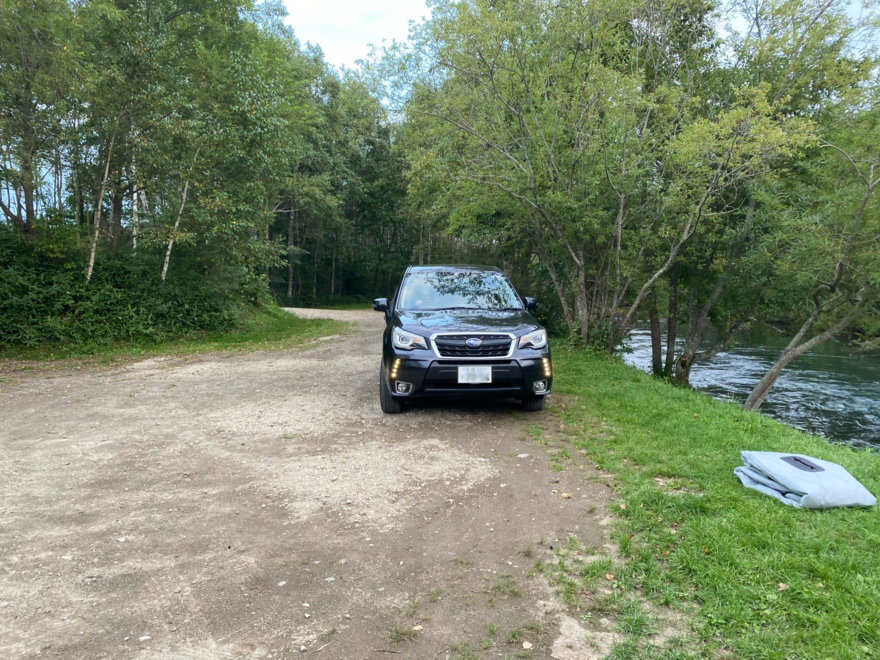 This is the parking area at Biruwa-bashi bridge canoe port. I got terrible insect bite and sting. You need insect repellant.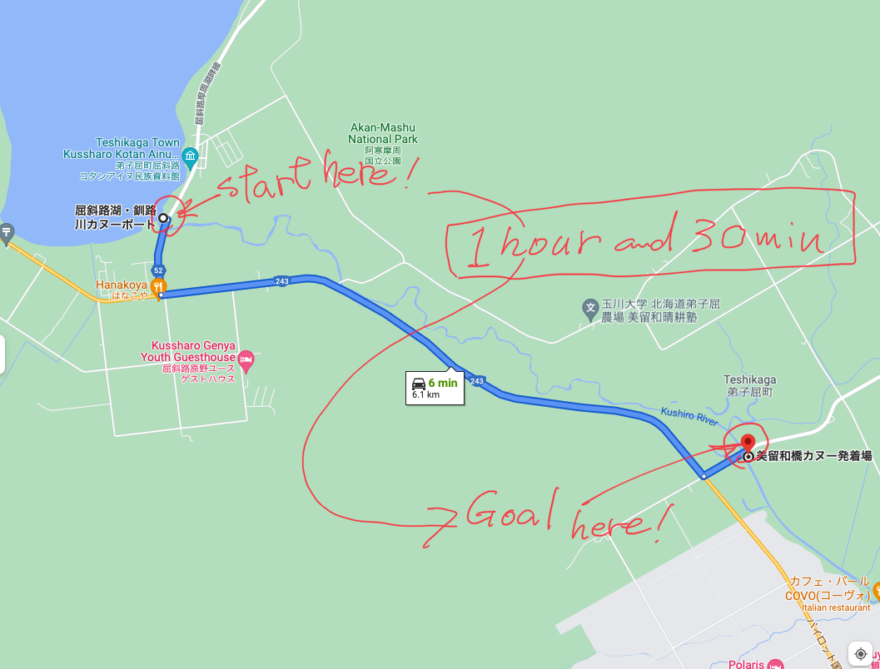 Mashu taxi, we got from the Mashu Ohashi bridge to the Kussharo-Kushiro canoe port near the Chokobashi bridge. It costs about 4,000 yen.
From the Biruwa bashi bridge to the Kussharo-Kushiro canoe port. It costs about 2,500-2,700 yen.
But we called a Mashu taxi at the Biruwa bashi bridge and got to the Mashu Michi-no-eki near Mashu Ohashi canoe port. It costs about 2700 yen.
Mashu Hired Tourist Service, they are very nice and kind. 
TEL:015-482-3939
web site: http://masyuhire.teshikaga.asia/index.html