posted on July 28, 2014
This place is written as [三角山] in Japanese.
With a height of 311.3 meters, Sankakuyama(三角山) is a small mountain located in the Yamanote area, Nishiku, Sapporo. This mountain looks excellently triangle, so that it is called 'Sankaku-yama'. Sankaku means triangle and Yama as mountain in Japanese. There is a triangulation station at the mountaintop and the name of the triangulation station is 'Mt.Kotoni'. Also the mountain is called 'Hachamuepui' in Ainu, which means 'a small mountain of Hassamu'.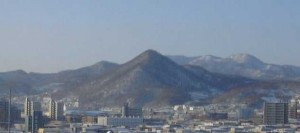 There are some hiking courses and a small rest house near the mountaintop. Most of hiking courses are so gentle that little children and senior persons can walk easier, from the foot to the mountaintop, it takes less than 1 hour. Then, Sankakuyama is very popular by the neighborhood.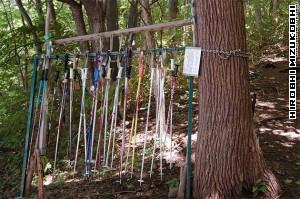 You can go to the Okurayama, a famous Ski Jump Stadium is there, through the Sankakuyama. Of course, you can go to the Sankakuyama through the Okurayama going to the observation platform of the jump stadium by lift.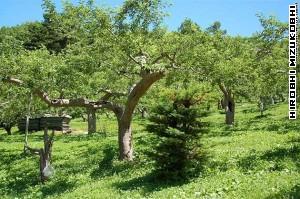 There are two entraces, the Yamanote and Miyanomori ones. The Yamanote entrance has a parking and a toilet, more helpful equipments, some stocks are available for making your mounting easier. Over the Yamanote entrance, you will see the apple farm, Sato Apple Farm. [divider]
 Access
Take a Tozai line to Nishi 28 Chome(西28丁目) and transfer a JR bus(循環西20, No.20) to Yamanote 4 jo 11 chome, 11 minutes
Take a Tozai line to Kotoni subway st.(地下鉄琴似駅) and transfer a JR bus(琴29, No.29) to Yamanote 4 jo 11 chome, 8 minutes