posted on September 8, 2014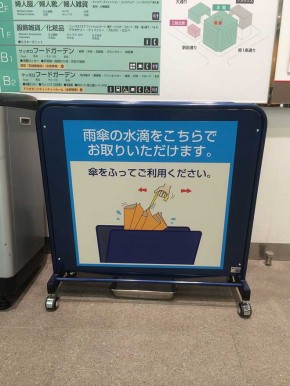 Do you know what it is for? You might see one at the entrance of the department stores. This is for wet umbrellas preventing from dropping rain. In the rainy day, people might be using this device for drying their umbrellas. Very easy to use. Just put your umbrella inside and shake it roundly. That's it. More, there are some umbrella covering machines,too.
Put your umbrella into the hole up to down. It makes your umbrella covered. See some photos to use. This is a kind of 'Omotenashi' for visitors. What do you say?