posted on March 16, 2021
This place is written as [誰もいない富良野スキー場] in Japanese.
These are so amazing sceneries that you can not find anyone in the famous ski area.
This is Furano Ski Area in 16th March, 2021. The next year from the first Covid-19 pandemic and passing one year nobody from abroad as well as the country.
For helping the tourist trade in Japan, the government had been making several campaigns for discount coupons such as max 10,000 yen off travel-coupon for staying hotel, JR and airline tickets.
Those coupons are so helpful and reasonable that people restart their travel and then ironically which brought more pandemic wave coincidently.
These were not happened only in Japan of course, I know.
We'd tried to go skiing such a quite narrow gap between pandemic outbreaks with super reasonable coupons.
Furano Ski Area as No.1
When it comes to go skiing, you may think about NISEKO, Yehaaa! This is one of the best Ski Area in Hokkaido, I love it too.
But Furano Ski Area is also famous and has good powder snow where was the place for FIS World Cup in 1977. Kitanomine zone is the venue of Giant slalom for men and women. After that,  it has several times for FIS World cup.
This is the right holy place of skiing for people in Hokkaido. That's why this is the most popular place and many people coming from everywhere.
But…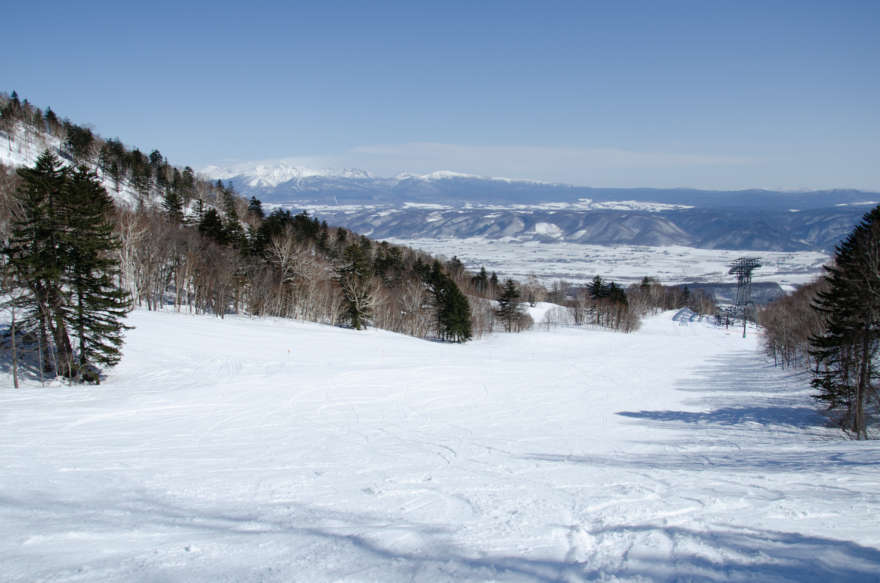 Nobody here and there.
This was so crazy, but we were so happy to keep this huge powder snow area to ourself. I've never seen this empty slopes in such these famous ski area.
Only I remembered the days when I was a child, I went to my local ski area, Bankei(not Sapporo) and the citizen ski area in Iwamizawa city, in the very early morning with my friends. Very few people there without us. We thought what a lucky guy we are and we kept going skiing over fresh snow that made us so great and have so mach fun to look back to see our traces.
This was a kind of déjà vu of my childhood memories and happened again!
So, I want you feel it the same as I did. And come to Furano Ski Area, the best winter experience you ever have.
Furano Prince Hotel
This is the best hotel for skiing.  Why? Because you exit a door, that is a ski slope!
This is a rare hotel that stands in the area of ski slope.  You don't need to bring heavy ski gears wearing heavy ski boots. Your private locker in the first floor that allows you to link smoothly with your equipments. And no need to find space for car parking.