posted on June 10, 2014
This place is written as [モエレ沼公園] in Japanese.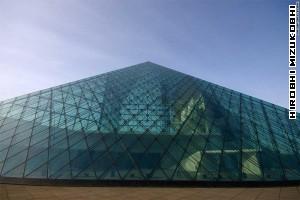 Moere-numa Park (モエレ沼公園) is located in the north-east of Sapporo. There are a baseball ground, outdoor sports fields, and many fields with play equipments designed by Isamu Noguchi, famous American Sculptor.
Access
Take a Toho Line(東豊線) to Kanjo-dori-higashi(環状通東).
Take a Chuo Bus(中央バス 東69 or 東79) to Moerenuma-Koen Higashi-guchi(モエレ沼公園東口).
10 min walk to the Glass Pyramid.