posted on July 27, 2014
This place is written as [宮の森ジャンプ競技場] in Japanese.
The Miyanomori Ski Jump Stadium (宮の森ジャンプ競技場 Miyanomori Janpu Kyōgijō), used to be called the Miyanomori-Schanze is located in the Miyanomori area, the west of the Sapporo central area. This is the place helded theWinter Olympic Game in 1972 and FIS Nordic World Ski Championships in 2007.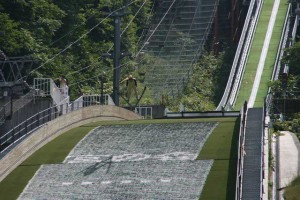 In 1972 Winter Olympic Game, Japanese jumpers got all of three medals, Yukio Kasaya as Gold, Shoji Konno as Silver, Seiji Aochi as Bronze. Japan had got any other medal except 70m Ski Jump, but many of Japanese remembered the great achievement by three jumpers. This is the normal hill size jump stadium, K90, hill-size100m, certificated by FIS. Many ski jump games take place here during the season, even if summer. Okurayama Ski Jump Stadium is so close to take 5 min by car. This is the historical place of the winter sports in Japan.
Access to Miyanomori Ski Jump Stadium
Take a Tozai line to Maruyama Koen(Maruyama Park)
Transfer a JR Bus(Maruyama Bus Terminal) to Miyanomori Schanze Bus stop and walk 10 min.