posted on September 5, 2021
This place is written as [チミケップ湖] in Japanese.
I have been here the lake Chimikeppu 3 times before this day. And I used to say 'I would bring a canoe' every time. But I didn't have any canoe or kayak at that time.
Today, I have. At last! We brought two kayaks for the lake Chimikeppu. It was a wonderful day. Moreover, The lake was completely calm and not so much people.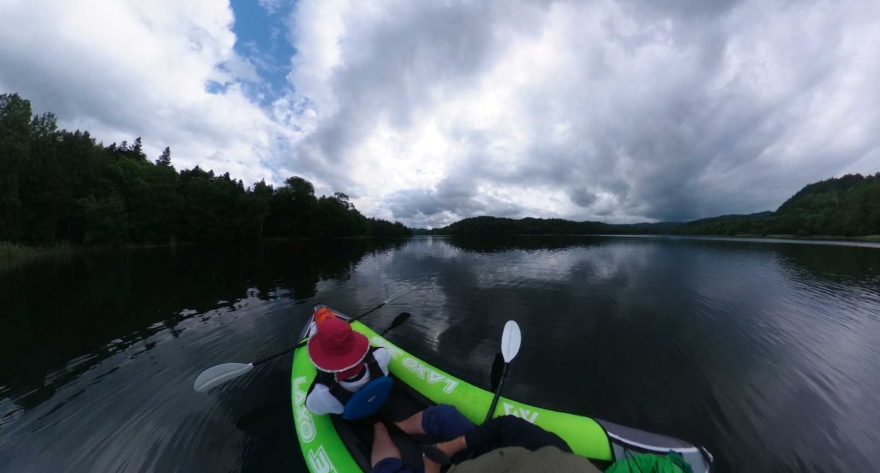 About Lake Chimikeppu
People say the name of 'Chimikeppu' derives from Ainu, 'cimi-ke-p' which means 'the place mountain streams shaved down and made landslip'. Supposedly crustal movements dammed up valleys which made the lake about 10,000 years ago.
There are some original wild creatures in the lake. For example, Kokanee salmon as we say 'Hime-masu', chub and Aegagropila linnaei called 'Marimo' are here. I thought Marimo inhabits only in Lake Akanko, it's not famous as Lake Akanko but also it is true Marimo has been here.
The lake has 20 meters depth at the most and 7.5 km around. Lake Chimikeppu is the beautiful small lake and completely calm. More, I'm not exaggerating to say this is one of the most lovely lake where I've been.
Kayaking on the calm
You would feel something left behind as you stand in front of the lake. Yes, it is canoe, kayak or SAP? The more you feel the more sunny day even if cloudy.
We brought two kayaks AQUA MARINA Laxo 2p which is "inflatable" kayak. After 10 minutes setup, we got sliding on the water. Almost no wave and completely calm weather condition.
The only Sound to hear was paddling and our voices.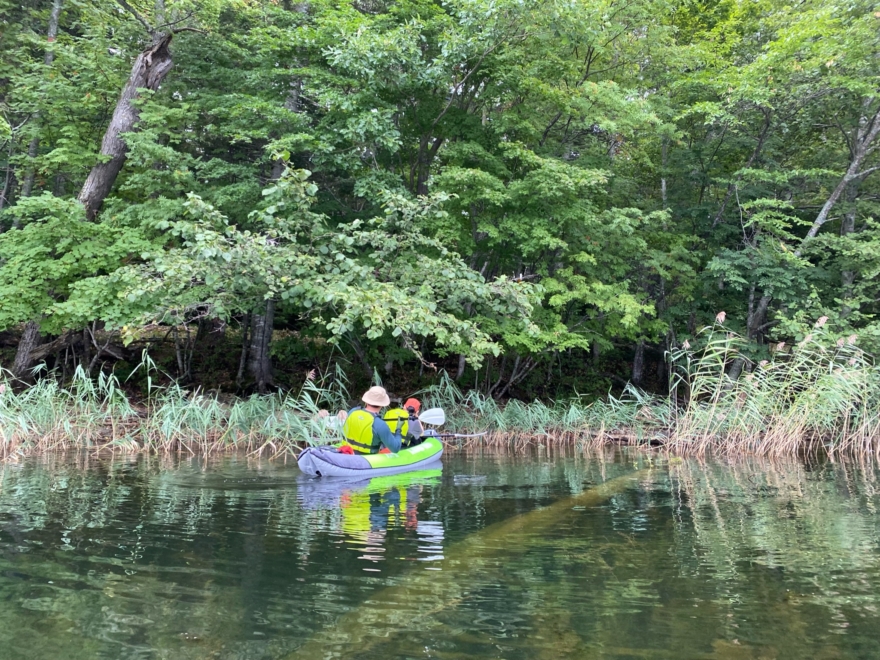 Camping at the lake side
Camping is available. It's free charge. Of course, You can use water supply and toilets.
That's fine for day camping with barbecue. Recently SAP(stand up paddle-board) is very popular. Lake Chimikeppuko used to have little wave motion so that you can enjoy marine sports safely.
It is not too much to say YOU HAVE TO WEAR A LIFE JACKET because the water is very cold even if in the summer and this is the place in the deep forest then you can not call HELP immediately.
Unfortunately the only difficult thing must be BUGs!
There are so may bugs here such as horse fly, gad fly, mosquito or something like that during the summer from the mid of July to the end of August.
You need something keeping bugs off like mosquito coil which you can get any supermarket or convenience store. It would be better you bring some insect sting care goods that save you also.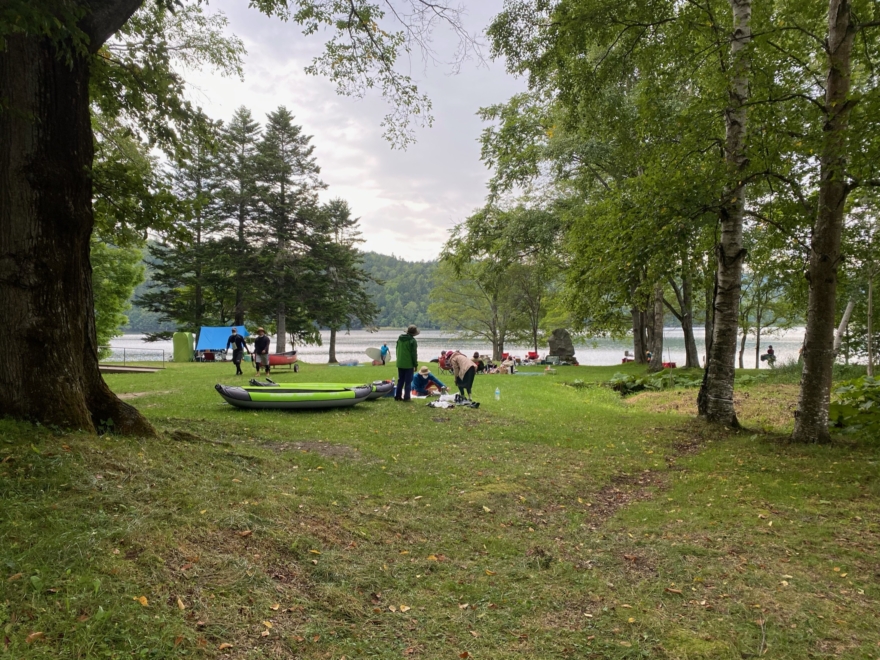 Trekking Course
There are some trekking courses for viewing the lake, watching birds and wild animals. You'll run into deer and squirrels called 'Ezo-risu'.
Higuma bears also inhabit here but it is said people see them once or twice a year not so much appearances. If you encounter a Higuma bear suddenly, don't run and DO NOT turn your back. Otherwise a bear pursues you as spoils of the chase. It is correct just step back quietly as watching the bear. I know it's easy to say … and I've not met him until now.
You have to let know your existence with a ringing bell or speaking aloud. It is said that population of bears are increasing every year in Hokkaido.
There are a couple of trekking courses between the parking and the Chimikeppu hotel. Yacho course – The wild bird course which entrance is right aside the parking which takes 20-30 minutes long trekking course.
Jumokuen course – The arboretum course stretching the bird course to the Chimikeppu hotel which takes another 20-30 minutes where you might see some deer and squirrels like below.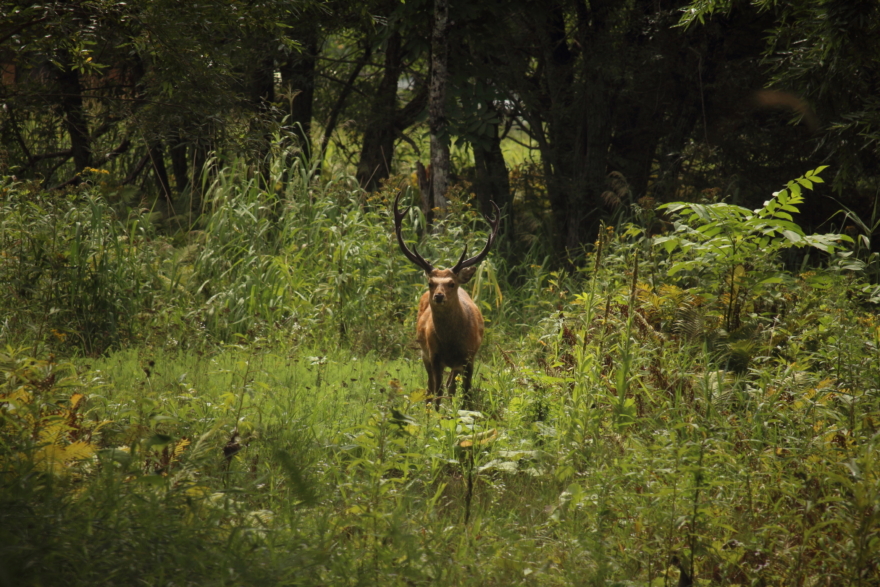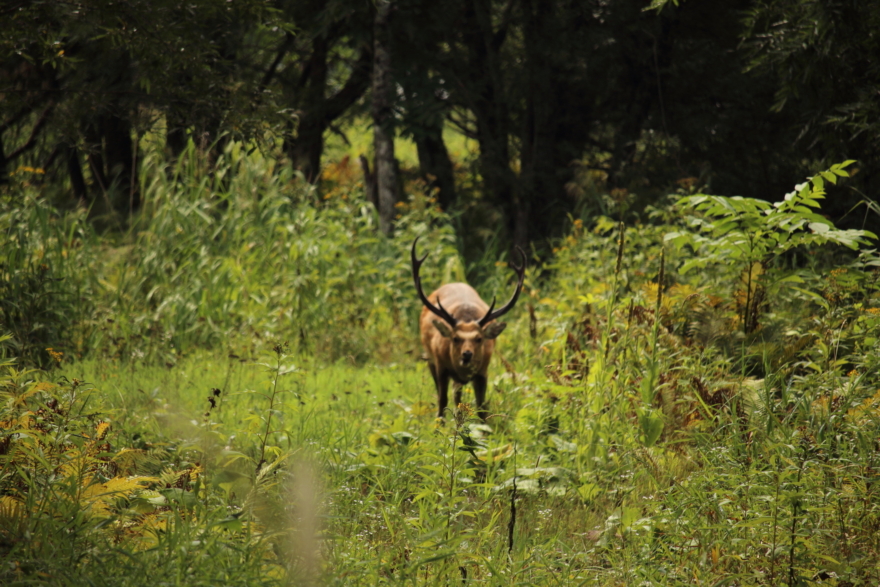 Access
Access by only car, no bus and no public transportation. See Googlemaps above for detailed information.
In winter, you can not go root 494 from Kitami city and Tsubetsu town because the road is closed until spring.
Root 682 is available all season because the hotel Chimikeppu open through the year which is the only hotel around Lake Chimikeppu. As French style dinner and 7 luxury rooms, this is very famous and popular.
The road around the lake Chimikeppu is unpaved and the width of road is narrow and road's shoulder is weak, so that you have to drive carefully.