posted on November 8, 2019
When you come to Kushiro, you should go to Washo Market to eat "Kattedon(勝手丼)" which means Seafood Donburi that you make as you like your topping raw fishes.
There are many fish shops where you can buy seafoods, I mean "Sashimi", raw fish like sushi, as you like also your rice and miso soup. The enough amount you want to eat at every shop you like. Then your "Seafood Donburi" is going to be completed perfectly. There are some tables and chairs to eat in the center of market.
If you don't like raw fish, you may find some grilled or fried fishes in Shijo tei (市場亭). You want Sushi? Go to Takezushi (竹寿司).
Washo Market Kattedon has been boom not only in Kushiro also Hokkaido.
Open
Jan – Mar: mon-sat 8:00-17:00 (closed Sunday)
Apr 1 – 27: mon-sat 8:00-18:00 (closed Sunday)
Apr 28 – Oct 27: mon-sat 8:00-18:00, sun 8:00-16:00
Oct 28 – Dec 1: mon-sat 8:00-18:00 (closed Sunday)
Dec 2 – 31: mon-sun 8:00-18:00
*Sunday is basically closed, but some shops is opened. Most fish shops are closed on Sunday.
Fresh toppings
Satomura (さとむら)
Maruichi Sato (マルイチ佐藤商店)
Kameshima Shimada (カネシマ嶋田商店)
Hashimoto shoten (橋本商店)
Yabe shoten (矢部商店)
Kaneshime Seno (かねしめ瀬野)
 Rice and Miso soup
Ohuchi shoten (大内商店)
Rofuan Houki (露風庵・邦紀)
Deli Iwasaki foods (岩崎惣菜食品)
Polaris (ポラリス)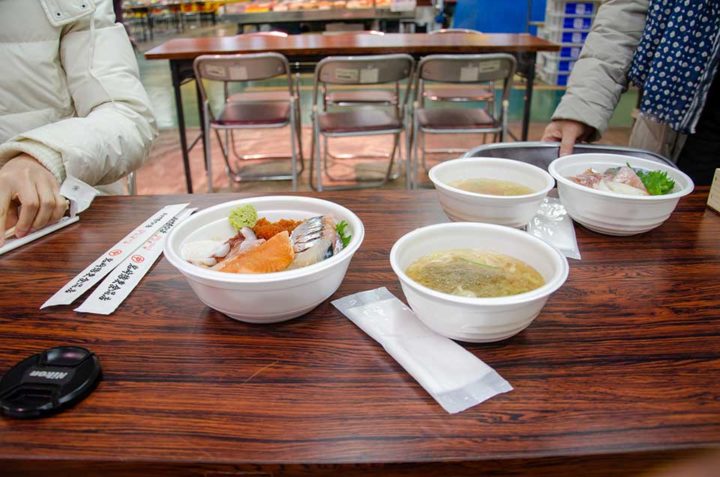 None mis Kattedon when he or she visit to Kushiro. Try it!