posted on November 21, 2021
This place is written as [白雲山を登る] in Japanese.
If you would like to visit secluded regions, Lake Shikaribetsuko is a better place. The lake is surrounded by mountains. Mt.Haku-un-zan is one of them.
The lake is located in Shikaoi town, East-Northern area of Hokkaido, about 3 hours from Sapporo by car on a highway.
Lake Shikaribetsuko is the only natural lake in Taisetsuzan National Park. The lake is located at 810m altitude, the highest lake in Hokkaido and has 100m depth.
Not so many tourists are here because of its secluded location. There is the only hotel, Fusui. Their dinner is the best! 
After leaving Hotel Fusui in the early mourning, we got to Mt.Haku-un-zan.
The entrance is at a small cove called "Kotei-senro(湖底線路)" which means "sunk line". You would see two small sightseeing ships which are lifted in winter.
You can park there but no toilet. There is the only toilet at the Shikaribetsuko Nature Center in front of hotel Fusui. 
You will get several information at the Nature Center. But I don't know if there is a english speaker or not. If not, they try to get you some useful information about outdoor activities such as canoeing, hiking and camping.
We got there in the bottom of November 2021, the mountain was covered with light snow. It's a little bit cold but getting hotter as hiking.
Mt.Haku-un-zan is 1,186m high, about 3hours and 4km hiking. Crampons are very helpful in winter season.
With blue sky and some clouds, there were a few hikers we met and monopolized the hole view of Lake Shikaribetsko from the top of mountain. 
In these mountain area, rock rabbits are here and there. But you can rarely see them because they are always very watchful even if you hear their crying. The best you can do is watching their footprints.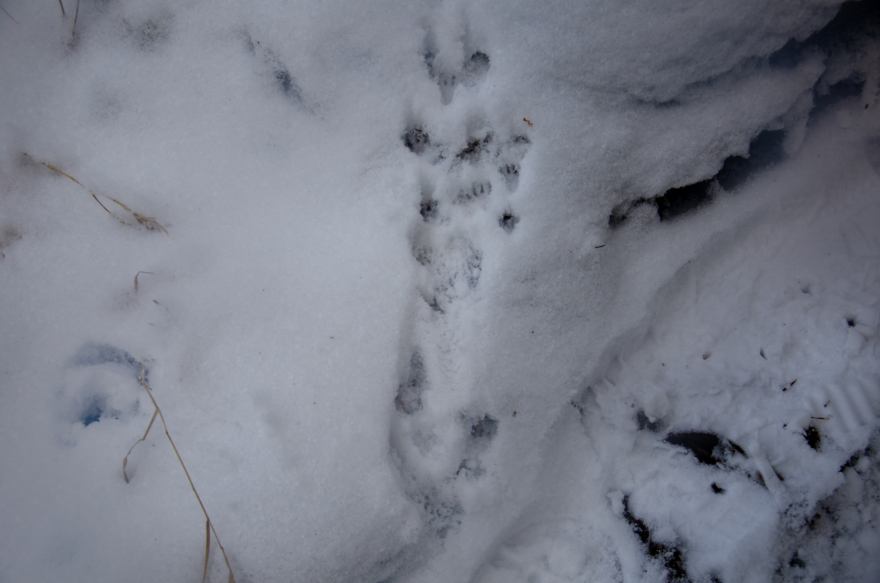 Maybe these are rock rabbits' footprints? 
Anyway, there are more beautiful experiences waiting for you. 
Here is a movie that shows a rock rabbit near Lake Shikaribetsuko, 2020-08-08.
It was a lucky day I met a rock rabbit at the first time. You will be showed for watching rock rabbits when you ask at the Nature Center.
Googlemaps shows a place I got the movie. This is the most famous place you can see them if you have a luck. 
By the way, I have met him or her only one time while I've tried for 4-5 times in last two years. I saw it at the first time, it's the beginner's luck?